Preschool Admissions Tips from Experts, Schools, and Moms Who've Been There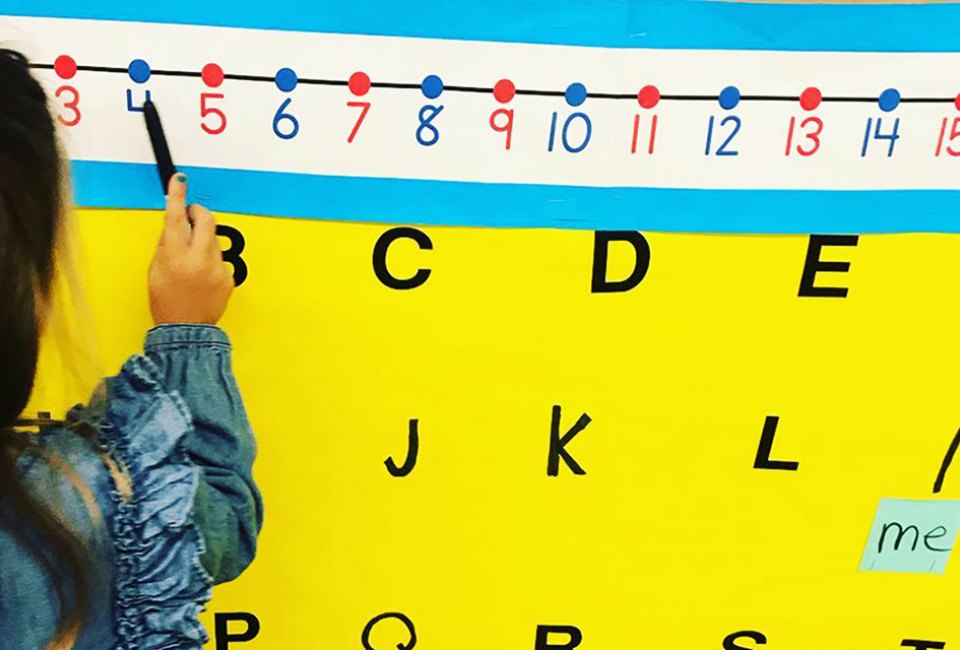 10/23/18
- By
Suzy Q
Finding the right preschool in NYC is a challenge for many parents. Of course you want to provide your kids with the best early education experience possible, but there's also cost and location to consider—and available spots can be in short supply at the most popular preschools. Plus, the sheer number of programs and educational philosophies (are you a Montessori family, or is your two year-old more of a Reggio-Emilia kinda toddler?) can be overwhelming.
Like a lot of other things in this city, finding a great preschool calls for a bit of advance planning and research. But with a few helpful tips, you can navigate the preschool admissions obstacle course. To demystify the process of getting into preschool in NYC, we reached out to admissions consultants, preschool directors, and parents who've been there, toured that. What we discovered is that there are as many different and "great" preschools as there are perfectly wonderful children. The right preschool situation is out there for your family. Also, use our NYC Preschool Guide, of course!
Begin Your Search Early
Consider starting your preschool search at least one year before you anticipate entry into a program. Megan, a Brooklyn mother of two, said that starting her search early, speaking with peers, and compiling a list of possible schools helped her to find the perfect program. "We started looking at preschools the January before my son would go to a twos program. I found it overwhelming to look at schools so far in advance and make decisions for a rapidly changing toddler. But that's how it is here." When admissions time rolled around the following January, her son was eventually accepted into Brooklyn Free Space, a preschool in her neighborhood.
Emily Shapiro, of Emily Shapiro Consulting, which offers school admissions guidance in NYC, also advises parents to start their preschool search early. She says starting your search early in the spring before you are thinking of placing your child into a program will give you time to put together your list of prospective schools, and take advantage of open houses. It's also the season to meet parents on neighborhood playgrounds and compare notes. Many schools offer fall open houses throughout the spring and fall, and application deadlines are usually due by the end of the year or early January.
Know What's Important to Your Family
When considering preschool choices, your child's happiness is at the top of the list, but also consider what is important to your family as a whole. One family organized their search by proximity, price, philosophy, and referrals from friends. A long commute to preschool was out of the question for their family. They factored travel time into their decision as well as preschools with access to trains.
Be Organized
Keep good records with specific dates and requirements for each school and "do what you are supposed to do, when you are supposed to do it," Shapiro advises. Keeping records will also help you monitor application fees, application due dates, school visits, and interviews. Also, keep notes about your child's development. Parents know their children pretty well, but keeping notes about their strengths, interests, and temperament will help you prepare for filling out applications or during a parent interview. Schools use this information to help them learn about your child and your family.
Learn Some Lingo
Preschools are as varied as, well, little kids' personalities. If you don't know the difference between play-based and STEM-focused preschool programs, it can be helpful to get familiar with some basic educational terminology. Brushing up on a bit of the lingo will help you understand what you are looking at during school visits and when browsing school websites. A few educational philosophies popular in NYC include Montessori, Inquiry-Based, Play-Based, Dual Language, and Nature-Based, to name just a few. Schools also have their own approaches to transitions (helping kids adjust at the beginning and end of the school year) and exmissions (the process that prepares children and families for the transition from preschool to elementary or ongoing school), which you may need to become familiar with.
But don't feel as if you need to become a master of jargon: You will learn as you go. Mikia Eatman, the Director of Operations at Brooklyn Free Space, says, "If you're not someone that works in education, it may be your first time in awhile thinking about what it is you value or believe in when it comes to learning. Read each school's mission statement, vision, philosophy. Really try to figure out what approach to education aligns with what you value within your home. Go to those open houses and tours and really get a feel for the school. Look on the walls and at the materials in each classroom—it is a good way to see what the adults value about their student's environment."
Visit the Mommy Poppins preschool directory to research schools by neighborhood and educational philosophy.
Think Logistics
With all the options out there, for many families finding the right preschool really comes down to budget and logistics. In addition to the school's philosophy, make sure you understand the details of the school's programs, pricing, and schedule, and whether they work for your family. Do they offer half-day programs, full-day, or a mix of both? Does your preschool have age-specific 2s and 3s programs or mixed age groups? Some families also look for preschool programs that feed into kindergarten or pre-kindergarten programs. (As if the preschool admission process wasn't challenging enough.)
You can learn a lot about how a preschool works day-to-day just by attending a school tour. As Megan, mom from Brooklyn, suggests, "Tour the places and ask questions. I remember we saw a school that had a really nice program, great staff, new and clean, but it was located in a basement with no windows—we liked the teachers and program but didn't apply because for us that was a deal breaker. It's something we wouldn't have considered asking about on the phone!"
Be Flexible
When putting together a list of schools, consider smaller neighborhood schools that may not impress co-workers, but will take very good care of your children, know what they are doing, and can assist with exmissions, suggests Emily Shapiro. "There should be more 'great' schools but there are reasons why there are not, like space, tuition, and real estate costs. There are not enough for it to be a comfortable process, but there are enough for people to get a good school for their child,"she says.
If you have a flexible schedule, being able to attend a school two days a week rather than three might open up your options to get into your desired program. However, if you know you need full-time childcare, don't bother applying for schools that don't offer it. And even if you fall in love with one preschool in particular, it's important to have multiple backups that you're also happy with. Shapiro recommends applying to 8-10 schools.
Keep It Simple
Preschool consultants and parents agree: Find a preschool that you like that works with your family's values and budget. Emily Shapiro says, "parents usually know their kids pretty well. It is critical that parents feel in sync and comfortable with the school. Parents have a much more formed personality than the children do."
Joyce Szuflita of School Help NYC agrees: "Find someplace that appeals to you, close to home, that you can afford. The choices are numerous enough that you don't need to go far to find something that satisfies. This school thing is a marathon, not a sprint."
Understand the School's Goals
There are several factors involved in putting together a successful preschool classroom and admissions is just one part of many. Whether or not you are admitted does not rely solely on your application, but whether the program is looking for boys, girls, or specific birthdates, to name but a few. At Brooklyn Free Space, for example, they use a lottery system and focus on diversity, gender and age equity per classroom. Seeing the admissions process from the side of the administrators may help keep your expectations and stress in perspective.
As a former preschool teacher and director, Emily Shapiro advises her clients to consider the administration's goals. "It's an odds game, a game of chance. Remember, early childhood educators are familiar with children—so maybe whether your child is cranky during an interview isn't as critical as you may think. Early childhood educators are not out to get you or be impressed by you, they are out to put together a class of children who will work well and play well together." She also recommends being personable and developing a civilized relationship with administrators, "so they are looking forward to seeing you every morning."
While being waitlisted is stressful, it's extremely common—and many preschool waitlists do move, so don't give up hope. While Megan, a mom whose son was waitlisted at first at their preschool, admits being in limbo did not feel great, she felt confident in her choice and glad when they finally did get a spot.
Manage the Stress
The reality is finding the right preschool is just one of many BIG decisions you will make on behalf of your child, so start learning how to manage the stress that accompanies these situations now. Joyce Szuflita of School Help NYC consults parents on ways to keep their stress in check. She says, "Just stop stressing! This is not a high stakes placement. It is an opportunity for your child to experience sweet and loving developmentally appropriate inquiry…If you are freaking out over preschool, you are never making it to middle school."
Consider a Consultant
Sometimes you just need someone to tell you "it will all be ok" and hold your hand through the process. If you are unfamiliar with early childhood education and want someone to interpret educational philosophy, help you understand the educational environment, and you have a considerable budget, hiring consultants like Emily Shapiro or Joyce Szuflita may be the right option for you. Their services help families handle the stress and anxiety associated with preschool admissions. Consultants provide useful information and keep families focused by providing clear steps to the path of success. Services can be expensive. However, different families, have different needs. Don't be afraid to discuss cost, available packages and your specific needs with a consultant.
Joyce Szuflita found out that she could be of help to others after going through the admissions process with her own family: "I navigated the school admissions process for my own children, and I realized that parents needed a translator and guide. Many families are not from here, and they are intimidated by what they feel are the 'rules' of the game. They don't know how to play. My job is to familiarize them with the options and help them to understand that there is no secret to finding a solid program where their children can be happy. The sheer range of choices can be paralyzing. I calm them down and assure them that they can manage it. I am essentially an older sister who has been through it and can give them the straight scoop. I often do as much unlicensed psychology and couples counseling as I do school information. I can put things in perspective."
Click Here to Sign Up!