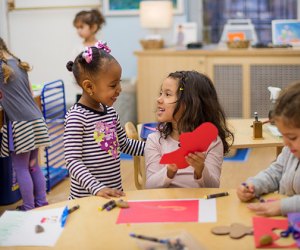 10 Montessori Preschools in New York City
Picking out a preschool is no simple feat. From dual-language and immersion programs to outdoor and nature-themed classes, there are so many options and, as always, so little time. But, if you're considering sending your child to a Montessori school, this roundup of some of the most popular ones in New York City could save you some stress.
For the uninitiated, Montessori is an educational philosophy developed more than a century ago that encourages kids to be independent and learn at their own pace. Typically students are grouped by ability rather than age, classrooms are outfitted with specific learning materials, and specially trained teachers act as observers and facilitators. Read on to see what makes these 10 NYC schools extra special, and you just might find the perfect fit for your preschooler.
Find more options in our Preschool Guide and Directory.
Manhattan
Montessori School of Manhattan — Tribeca and Financial District
Ages 2-6 years
The Montessori School of Manhattan offers a three-year preschool program at its Tribeca and FiDi locations, with an emphasis on nurturing children's curiosity and enabling them to explore and discover. Teachers are certified in Montessori methods and materials, and the school offers a number of specialty programs to complement the curriculum, including art theory and technique, education-based yoga, a multidisciplinary performing arts program, and Spanish-language instruction. Parents of enrolled children are encouraged to attend school workshops, participate in the Parents' Association, observe in their child's classroom, volunteer, and participate in school events. There is also a toddler program, which is designed to support the separation process and introduce children to the routines of school life.
Resurrection Episcopal Day School — Upper East Side
Ages 2½-5 years
Resurrection Episcopal combines the Montessori philosophy with the traditions of the Episcopal Church. Located in the parish house of the Church of the Resurrection, the school features five spacious classrooms—each termed a "casa," to promote a home environment—a library, large gymnasium, kitchen, garden, and protected, outdoor playground. In recognition of the school's Episcopal heritage, all students attend creative, age-appropriate, weekly chapel services that are conducted in the Judeo-Christian tradition. Sensitivity is paid to other religious beliefs and practices in school's multinational tradition. Children complete a three-year program and parents are supported throughout the elementary-school application process.
RELATED: 5 Ways to Ease the Transition to Preschool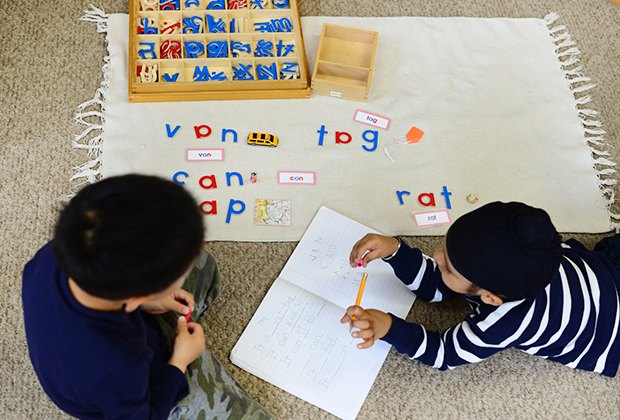 Twin Parks Montessori Schools maintains three separate campuses in the city, including next to Central Park.
Twin Parks Montessori Schools — Upper West Side (multiple locations)
Ages 3 months-5 years
Twin Parks Montessori is one of the largest accredited Montessori program in Manhattan, with three campuses across the Upper West Side: Central Park, Park West, and Riverside. The schools are some of the most spacious in the city, and include play tables and open floor areas. Classrooms are outfitted with authentic, child-sized Montessori materials, including a range of high-quality, age-appropriate items. Kids benefit from the schools' proximity to Central Park and Riverside Park. A peer mentor program enables older students to learn leadership skills by lending a hand in younger classrooms, and younger children benefit from older role models. Uniquely, parents can choose from a 10-month school-year program or a year-round program, as well as extended care until 8pm. Twin Parks' infant and toddler programs can accommodate students as young as 3 months old.
The Washington Market School — Tribeca
Ages 2-5 years
The Washington Market School, a nonprofit Montessori-affiliated early childhood center, operates out of two affiliated school sites in Tribeca. The Duane Street location offers half-day sessions for toddlers ages 2 and older who are not yet toilet trained, while the Hudson Street location primarily offers full-day sessions for potty-trained children ages 3 to 5. Both bright and open spaces were designed by architects with young children in mind, housing music lofts, art studios, libraries, gyms, as well as observation points, where parents and caregivers can watch little ones at work. In addition to its Montessori-based curriculum, the school embraces the Reggio Emilia philosophy, in which kids are encouraged to use symbolic languages, including drawing, sculpture, dramatic play, and writing, to articulate their understanding of learning experiences.
RELATED: 13 Popular Summer Camps for NYC Preschoolers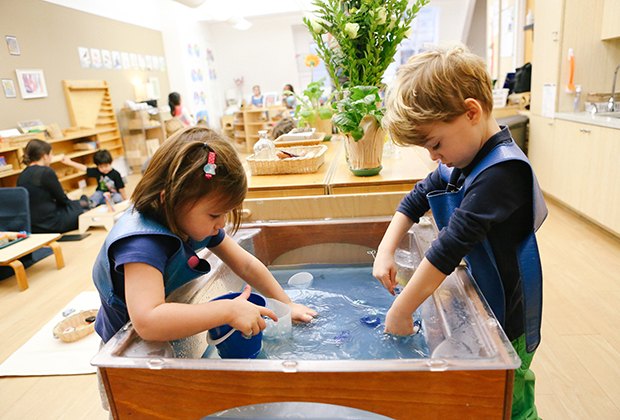 West Side Montessori School was renovated in 2009 to a more environmentally and ergonomically sound facility for children.
West Side Montessori School — Upper West Side
Ages 2-6 years
Housed in a large double-brownstone, the West Side Montessori School has eight large classrooms, a full-size gym, an outdoor rooftop play space, a library stocked with 6,500 children's books, and a full-service professional chef's kitchen. In addition, one classroom is home to the school's Teacher Education Program and in-house master's program in early childhood education. After a renovation in 2009, all facilities are now environmentally and ergonomically sound, complete with non-glare lighting and sustainable, nontoxic materials. The Multi-Age Program allows parents to choose from five-day-a-week morning, afternoon, full-day, or extended-day programs. The Twos Program has half-day and extended day options. Specialty programming for students includes weekly movement classes, monthly indoor and outdoor nature exploration, and semi-monthly visits from an art specialist.
Brooklyn
Brooklyn Heights Montessori School — Cobble Hill
Ages 2-14 years
The BHMS Lower School is comprised of the Twos, Preschool, and Lower Elementary programs while the Upper School accommodates children through eighth grade. Originally a basement classroom, the school was founded by a group of neighborhood parents and community leaders in 1965, and since has grown into a campus of three buildings, including a renovated firehouse complete with a performance space, terrace garden, and common room for community gatherings. The brightly lit and color-filled classrooms are stocked with traditional Montessori materials, as well as activities designed by the teachers themselves. Preschoolers enjoy weekly music classes and daily morning recess on the rooftop playground. The school offers financial assistance to those families unable to pay full tuition.
Montessori Day School of Brooklyn — Prospect Heights
Ages 2-5 years
What began as a drop-in program for the working families of the Atlantic Avenue YWCA in 1977 now provides primary and toddler programs for children 2 to 5. In addition to the Montessori-focused curriculum, the school offers preschoolers an array of enrichment activities, including Spanish, music, yoga, swimming, and soccer as well as piano on weekends at an additional cost. Students enjoy field trips to institutions throughout New York City, and frequent trips to the nearby Brooklyn Botanic Garden, Prospect Park, and the Brooklyn Museum of Art. Each class is led by a team of three teachers, and monthly classroom calendars are distributed to parents, identifying the themes, special projects, and daily activities children will focus on.
Williamsburg Montessori School — Williamsburg
Ages 3 months-9 years
The Williamsburg Montessori School is located in a new riverfront tower at Schaefer Landing on the East River. Its preschool serves children ages 2 and 3, while the nursery serves younger infants and toddlers, and the elementary school serves kids as old as 9. The school is open year-round, with early care starting at 7:30am and extended hours until 6pm, as well as partial-week and half-day options for younger children. Preschoolers enjoy special courses, including plant care and gardening, music and movement, yoga, and Spanish, in addition to the traditional Montessori curriculum. Each teacher holds a Montessori teaching certificate and the school exceeds the required staff-to-student ratios, ensuring all students receive attention and support.
Queens
Forest Hills Montessori School — Forest Hills
Ages 3-12 years
Here, preschool classes are designed for children 3 to 6 years of age. An elementary school caters to kids as old as 12. Parents can choose from morning, afternoon, or full-day sessions, and before- and after-school care programs run by teachers are available. The school is committed to providing children with a rigorous, classical education, combining the Montessori approach with a low student-teacher ratio and a family-oriented environment. Students enjoy daily outdoor recess, and the independence learned at school is strongly encouraged at home. In fact, parents are encouraged to dress their kids in practical clothes they can manage themselves, although there is a required dress code for the elementary school.
Les Enfants Montessori School — Astoria
Ages 20 months-9 years
Since its creation in 1980, Les Enfants has expanded from two rooms on the ground floor to a 16,000-square-foot building with 10 spacious classrooms, an auditorium and lunchroom, gymnasium, kitchen, and two outdoor playgrounds, including one with a multisprinkler water park. Its lower school, which welcomes children from 20 months to 6 years old, is comprised of a Toddlers Class, followed by Purple, Pink, and Yellow Classes based on stages of development and the skills taught. The early childhood program ends with pre-K or kindergarten before students have the option to enter the elementary school for first grade. Full- and half-day programs are available. After-school care, and transportation to and from school can be provided.
Find more Montessori schools in our NYC preschool directory.
Top photo: West Side Montessori School boasts a library housing 6,500 children's books. Photo courtesy of the school.