Big Bounce America Brings Inflatable Fun for Kids This Summer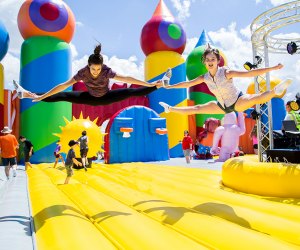 Kids, grab your best pair of socks and your most breathable T-shirts, because you've got some bouncing to do. The Big Bounce America, billed as "50 percent activity, 50 percent dance party," is coming to a location near you this summer.
Featuring 20,000-square-feet of inflatable fun, what's billed as the world's largest bounce house and its colorful surrounding village, offer something memorable and enticing for every age group. Besides the bouncing, there's even a water slide and a massive ball pit. It will hit a number of Mommy Poppins cities in the next few months, including Boston, the NYC suburbs, Philadelphia, Los Angeles, Houston, Texas, and even one of our favorite family vacation spots—Orlando.
We've got the scoop on what to expect, ticket info, and must-know info about this new family attraction.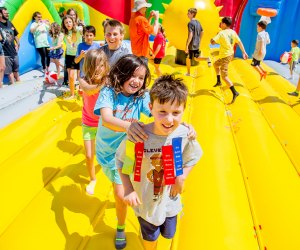 Each bounce session is divided by age to keep kids safe!
To ensure the safety and fun of participants, sessions are divided by age, without a minimum requirement—meaning if your toddler adores ball pits and getting bounced around, they're in luck.
Sessions, lasting one hour, are grouped as follows:
Toddler: Anyone age 3 or under and their parents or caregivers, who are limited to a maximum of four children per session. Each attendee, both kids and adults, requires a ticket to enter.
Junior: Anyone age 7 and under and their parents or caregivers. Children aged 4 and under must be accompanied by an adult, and each requires a ticket to enter.
Bigger Kids: Anyone age 15 and under and their parents or caregivers. The Big Bounce America notes that this session may be too boisterous for smaller children, who are advised to join the toddler or junior session for maximum comfort.
Adults: Anyone age 16 and older. No one 15 or under will be permitted.
Because every session is ticketed, with a vast majority of the tickets sold online, the only lines you'll experience will be waiting to have your ticket scanned.
So, what's inside this fantastic funhouse? Featuring much more than your typical bounce house, the massive structure appeals to participants of all ages by offering a range of activities and challenges. From obstacle runs, a dodge ball court, and basketball hoops to ball pits and slides, there's never a dull moment—unless you're seeking one. Then you're welcome to rest on an inflatable four-poster bed.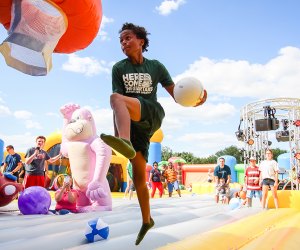 Music and games will accompany all the bouncing.
As you bounce, jump, and slam dunk, you can groove along to a soundtrack carefully curated for each age bracket. Test your balance like never before as you attempt to dance 'The Wobble' while bouncing to and fro. Little guys and gals will get a kick out of the inflatable forest, boats, trucks, and jungle animals that create the perfect photo op.
Though you may not want to exit the enormous inflatable, when your 60 minutes inside the bounce house expire, you can explore the surrounding village, which offers games, vendors, food, and smaller scale inflatables for a full day of adventure. Whether you arrive early or plan to stay late, you'll find plenty to do beyond the behemoth bouncer. Aspiring ninja warriors can run, jump, and bounce their way through mazes, swinging balls, and climbing walls to finish the challenge by slipping down a giant water slide. Smaller children can swim their way through the massive multi-colored ball pit that holds 1 million balls and up to 50 people. For those who prefer some old-school fun, corn-hole, table tennis, tether-ball, sack races, and hula-hoop contests offer a delightful throwback to beloved classic pastimes the whole family will enjoy together.
Excited to explore the world's biggest bouncer? Check out the following dates and locations to see when it the bounce house will be "blowing up" near your neighborhood. (In some areas, venues are yet to be determined but you can sign up to receive updates as locations become available.)
Dates and locations:
March 30, 31, April 1, 2: Orlando, Florida: Bill Frederick Park at Turkey Lake
June 1, 2, 3: Philadelphia: Check back for updates on location.
June 15, 16, 17: Hudson Valley, New York: Cousins Paintball, 380 Mt. Airy Road, New Windsor, NY
June 22-24 and June 27-July 1: Long Island, New York: Long Island Sports Park, 159 Edwards Ave. Calverton, NY
June 22, 23, 24: Los Angeles: Check back for updates on location.
July 6, 7, 8: Boston: Check back for updates on location.
August 17, 18, 19: Hartford, Connecticut: Check back for updates on location.
October 26, 27, 28: Houston: Check back for updates on this location.
Prices are as follows: Toddlers: $9, Juniors and Bigger Kids: $17, Adults: $25. An add-on $6 ticket grants admission to the Bounce Village.
All photos courtesy of The Big Bounce America