New York to Offer Free Gear to First-Time Campers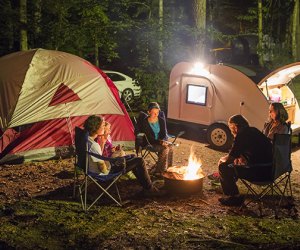 If you've ever thought, "I wish we camped more," but the risk of abandoned tents, sleeping bags, and coolers sitting in the corner of your garage, or your nonexistent storage space if you're in the city, stops you from gearing up and going, New York state's new First-Time Camper weekends might be just right for your family.
The state's Department of Environmental Conservation is launching a program to reserve a fully stocked campsite at select New York state campgrounds for a weekend getaway this summer, letting families test the waters before investing in the necessities. (And to find out who's really afraid of the dark. Kidding.)
Camping newbies will receive a tutorial via a Camping Ambassador upon arrival, helping them navigate the goods: a family tent, sleeping bags, sleeping pads, camp chairs, camp stove, lantern, and even firewood. The program includes the cost of the campsite rental (everything's FREE!) and will also offer scheduled how-to lessons and tours in paddling, fishing, and more.
You can go local for an overnight or make an extended trip of your stay from the eight campsites that dot New York. The Catskills Kenneth L. Wilson Campground just outside Woodstock is a 2.5-hour drive from New York City, while Wellesley Island State Park, which sits on the edge of Lake Ontario, is about a 6-hour drive. There's even an option for a campground on Lake George, one of our favorite upstate spots. (A word to the wise: Staying closer to home is a good idea for that first try.)
Visit the DEC's website to check out all camping locations; the program runs May 7 to August 25 and is available to NY residents only. Reservations are required and will be taken on a first-come, first-served basis starting May 17 by calling 518-474-6718.
Find more camping spots to try with the kids in the NYC-metro area, on Long Island and in the Hamptons, or in the Westchester area. And if you're in NYC, don't forget that the city already offers FREE campsites and gear for local families through its Urban Junior Rangers program.
Got a news tip about something new opening in your NYC neighborhood? Email us at nyc@mommypoppins.com.
Photo via Bigstock.