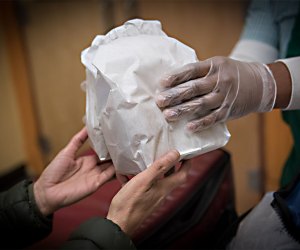 NYC Coronavirus Updates: NYC Schools Will Remain Closed, Regents Canceled, Dog Runs Shutter, More
In the past month, the one thing that's been constant in NYC is change: Changing schedules, changing conditions, changing rules, and regulations. It's hard to keep up with all the change, while also being quarantined in a tiny apartment and homeschooling little New Yorkers. With that in mind, we're rounding up a handful of NYC coronavirus updates particularly useful to our readers. Read on for the stories you might have missed this week.
For a helping hand, see our roundup of coronavirus resources for NYC families and our Stuck at Home Guide, which is chock full of boredom busters, activities, homeschooling help, and more.
NYC Schools Closed for Remainder of the Academic Year
To the dismay, but perhaps not surprise, of the parents of NYC's 1 million public school children, Mayor Bill de Blasio announced NYC public schools will not reopen this academic year. Students will continue to learn remotely at least through June. What will happen after that is still up in the air. Whether, like Michigan, the school year will be extended, or if schools will even open in September is not yet confirmed. Meanwhile, tens of thousands of school children are still without access to online learning due to lack of internet and devices. The long-term impacts of how all of this will affect children won't be known for some time. How does this impact your family? What does this news make you think about first? Join the discussion on our Facebook page.

Regents Exams Are Canceled
Last week's big announcement was that the public school spring break was off the calendar, and the DOE had previously announced state test cancelations. This week's big news is the June Regents exams have been canceled. Typically, high schoolers must pass five Regents exams to graduate and are given an opportunity to retake them, if necessary. For 2020, students enrolled in a Regents-level course who receive a passing grade are exempt from that exam. Seniors will be allowed to graduate and underclassmen will not have to make up the test at a late date.
RELATED: 20 Ways Teens and Kids Can Help Others During the Coronavirus Outbreak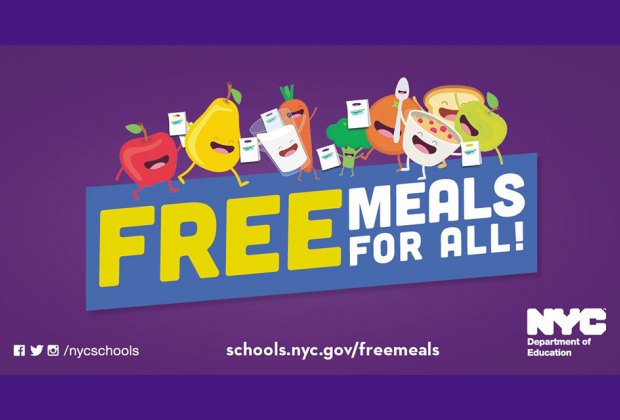 Three free meals will be available daily for all New Yorkers at more than 400 meal hubs across the five boroughs. Photo courtesy of NYC DOE
FREE Meals Available for All New Yorkers
When public schools closed on March 16, school food employees were deemed essential and continued to dole out three meals a day to school kids. This week, the meal service started feeding all New Yorkers three meals each weekday. To collect your meals, visit one of the 400 meal hubs city-wide. Vegetarian and halal options are available at each site, and three meals per day can be picked up in one trip for all adults and children in your household.
RELATED: FREE Resources for NYC Families During Coronavirus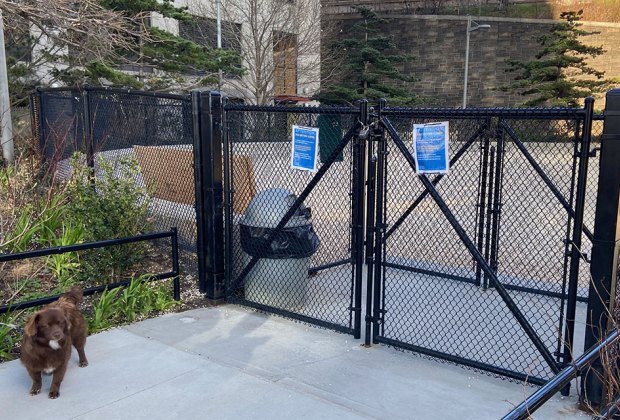 Even pups are feeling the ripple effect of the coronavirus with the closing of dog parks. Photo by Sara M.
Dog Runs Close
While NYC's public parks are still open, the spaces available for public use are getting increasingly smaller. Weeks ago, the city started removing basketball hoops and tennis nets to discourage group play; then, playgrounds were locked. Now, dog runs have been shuttered, too.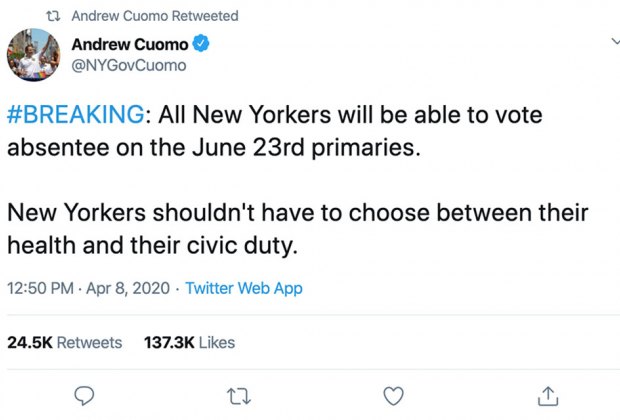 No New Yorkers will have to wait in line to vote in the June primaries. Photo courtesy of Andrew Cuomo via Twitter
Mail-In Voting for All
Though the state's presidential primary has been pushed back to June 23, Governor Andrew Cuomo announced on Twitter overnight that all New Yorkers will be eligible to vote by mail in the election. Visit the Board of Elections website to download an application. Applications can also be requested by phone at 1-866-VOTE-NYC. Postmark your application no later than seven days before the election.
Broadway Closure Extended
Broadway going dark was a jarring first crowd-control measure, and now we know theaters will remain closed until at least June 7. The initial closure was set to expire this Sunday, April 12. Ticket-holders for newly canceled performances should hear from their point of purchase soon regarding refunds or exchanges.
Summer Youth Employment Program Suspended
This popular summer program, which provided summer jobs for teens and young adults, has been suspended for summer 2020.

Learn the life-changing skill of meditation in just a few minutes a day with Headspace. Photo courtesy of Headspace
A Breath of Fresh Air
Meditation app Headspace announced this week that it was offering free meditations for New Yorkers. There are meditations to help cope with stress, send you into dreamland, and even specially designed kid-friendly meditation tracts to try.
Celebrating the Senior Class
Know an outstanding high school senior? CBS2 is looking to honor students who have missed out on so much during the spring of their senior year. Visit its website to nominate a student you believe deserves recognition.