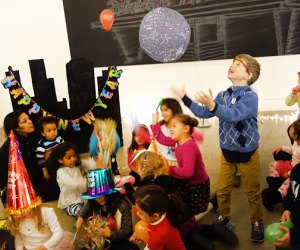 NYC New Year's Eve Celebrations for Preschoolers and Little Kids
Ringing in the new year at the iconic Times Square ball drop or at an impressive fireworks display are on many a native and traveler's NYC bucket list. But for new parents? Or those with a preschooler or toddler in tow? Let's be honest, you'll be lucky to be awake at 10pm.
Still, there are plenty of events in New York City for early-to-bed families. From museums to restaurants, read on for our best bets for ringing in 2017 with toddlers, preschoolers, and any kid or parent who prefers getting extra ZZZs over sticking around for the annual fireworks barrage.
Find family events happening all weekend in our New Year's roundup, and more seasonal fun in our Holiday Fun Guide.
Children's Museums and Play Spaces
Several children's museums have activities planned during the day that are free with regular admission.
Happy New You New Year's Eve Celebration – Crown Heights, Brooklyn
Head to the Brooklyn Children's Museum for this Kwanzaa-inspired celebration, where kids learn about the seven principles of the holiday, inspiring a fresh start for the new year. There will be crafting of zawadi, or gifts, to share with a friend or family member.
Ring in the New Year at CMA – Tribeca
The Children's Museum of the Arts celebrates the holiday 12 hours early with a countdown to noon. Kids get into the party spirit by crafting hats, animating fireworks in the media lab, and making 3D sparklers at the clay bar.
RELATED: 35 Things to Do with Kids Over Winter Break in NYC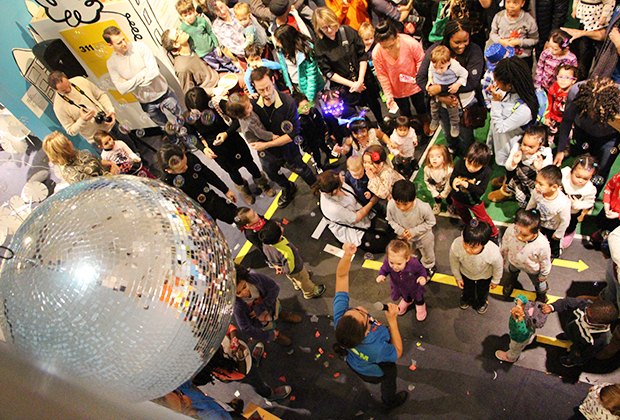 Party like a mini rock star at the Children's Museum of Manhattan's New Year's Eve extravaganza. Photo courtesy of CMOM.
New Year's Eve Extravaganza – Upper West Side
For a jam-packed New Year's Eve schedule, you can't beat the fun at the Children's Museum of Manhattan. It actually begins the day before, with workshops to make funky hats and glasses, helping you dress your best for the big countdown. Kids also can craft a noisemaker. Both workshops occur on Friday and Saturday, though you must sign up for the hat-and-glasses workshop when you arrive. Adding to the celebratory atmosphere on Saturday is a ball-drop countdown and parade through the space at noon, 2 and 4pm, plus a DJ-led dance party from 2:30 to 4pm.
New Year's Eve (Day) Party! – Richmond Terrace, Staten Island
Head to the Staten Island Children's Museum for a kid-friendly afternoon complete with music, snacks, and, of course, an age-appropriately timed countdown.
Bonus: A handful of local Kidville locations are hosting morning or afternoon parties. Tickets can be found on Eventbrite. Be sure to check with your local neighborhood, indoor play spot in Manhattan, Queens, or Brooklyn to see how it is celebrating, or if it will offer open-play hours.
Restaurants
BR Guest Restaurants – Various Manhattan Locations
The Atlantic Grill East Side, Bill's Bar & Burger, in Rockefeller Center, and Isabella's are hosting daytime fetes complete with apple cider toasts, face painting, balloons, and special family menus. Prices vary; call each restaurant for details.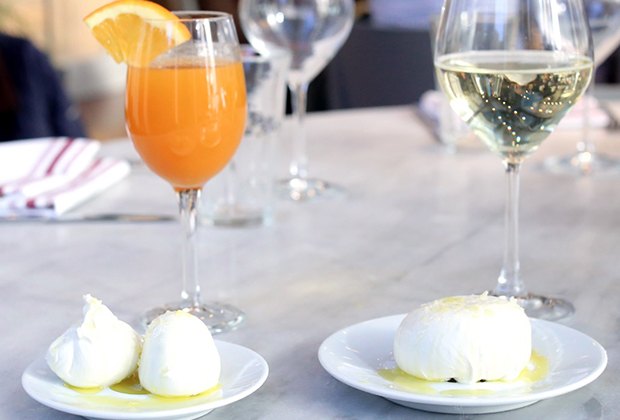 Eataly Downtown offers kids a 6pm countdown timed to match Italy's midnight. Photo courtesy of Eataly.
Countdown to Midnight at Eataly – Financial District
Head to the new downtown outpost of Eataly, where restaurant Orto e Mare is offering a countdown to midnight in the mother country. There is prosecco for adults, mocktails for kids, and an overwhelming supply of Italian favorites to put you into a food coma before the real ball drops.
Hill Country Brooklyn's NYE Fam Jam – Brooklyn Heights
This kid-friendly party gets rocking with some honky-tonk music and homey, comforting barbecue favorites. The party lasts from 4 to 7pm and includes an early countdown for the kids, plus face painting and crafts.
Top photo: Celebrate the new year with a host of creative activities at the Children's Museum of the Arts. Photo courtesy of CMA.