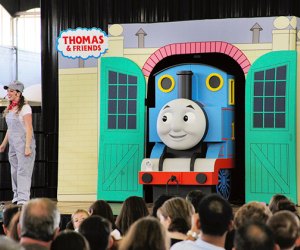 New Year's Weekend in NYC: Thomas, Fireworks, Museum Fun
All Weekend
All Aboard with Thomas and Friends at the New York Botanical Garden — Bronx Park
This cuter-than-cute mini-performance includes admission to the New York Botanical Garden's larger train show. After helping Thomas find his way from Knapford Station to Brendam Docks, kids can meet Thomas and snap a photo.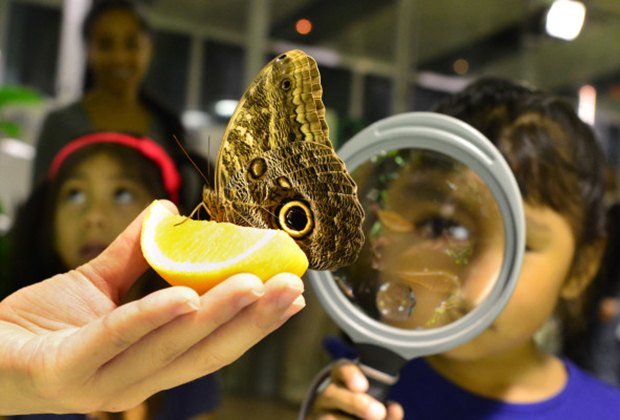 See butterflies up close at the AMNH's Butterfly Conservatory. Photo by D. Finnin/courtesy of AMNH

Butterfly Conservatory — Upper West Side
The American Museum of Natural History's (AMNH) live butterfly atrium is fast becoming a you-have-to-do-it-at-least-once New York mainstay. Afterward, hit any number of restaurants suggested in our guide to eateries around the AMNH.
Superhero-Themed Moving Image Studio — Astoria, Queens
The beyond-cool Museum of the Moving Image hosts animation, superhero masks, and superhero costume workshops followed by screenings of the Lego Batman Movie. All crafts are included in museum admission.
New Year's Eve Weekend Extravaganza — Upper West Side
At this two-day shindig at the Children's Museum of Manhattan (CMOM), kids create goofy glasses, shout countdowns to 2017, and dance to a kid-friendly DJ.
The Enlightenment of Mr. Mole — Noho
​Tony Award-winner B.H. Barry adapts The Wind in the Willows for the stage in this very-limited run at the Sheen Center's Black Box Theater.
Winter Holidays — Prospect Park, Brooklyn
Prospect Park's winter holiday activities begin on the Tuesday before New Year's weekend, but we list them again here because one: they're free, and two: working parents can join the fun on Saturday and Sunday. Meet an animal, play a bird's nerds game, explore with Discovery Packs, and more. FREE

See all weekend events.
Saturday, December 30
Kwanzaa 2017 — Upper West Side
The American Museum of Natural History's Kwanzaa celebrations are legendary—this is the 39th year—and have included surprise performances by guests like Savion Glover and Doug E. Fresh.
New Year's Jazz Brunch with Lucy Kalantari & the Jazz Cats — Sunset Park, Brooklyn
As part of the Rick and Roll Playhouse, Kalantari and band appear at Industry City for a sweet concert of kids music featuring songs from her EP It's The Holidays! FREE
Kwanzaa Celebration: Regeneration Night — Harlem
Head to the Apollo Theater for its 111th Kwanzaa celebration, with afternoon and evening shows both featuring Abdel Salaam's Forces of Nature Dance Theatre.
The Snow Queen — West Village
After a year developing this play in the New Victory LabWorks, Blessed Unrest brings its version of the Hans Christian Andersen fable to the New Ohio Theatre.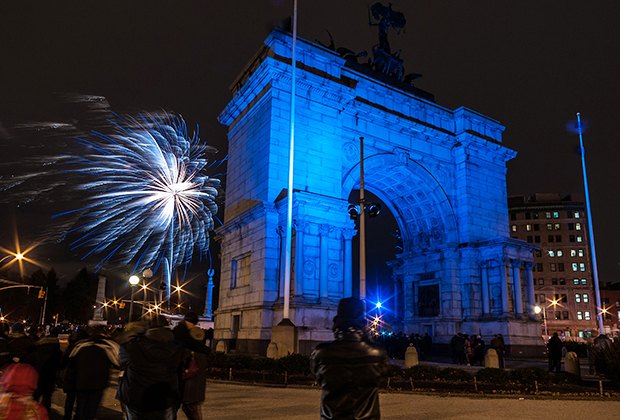 Prospect Park's New Year's Eve fireworks include live entertainment and free hot chocolate. Photo by Andrew Gardener/courtesy of Prospect Park Alliance
Sunday, December 31
New Year's Eve Fireworks — Prospect Park, Central Park, and Coney Island
Two of these three sets of fireworks include bonuses: In Coney Island, free rides and free skating augment live music. In Prospect Park, fireworks follow live music and free hot chocolate. In Central Park, you can participate in a four-mile fun-run at the stroke of midnight, but only registered runners can attend the pre-race festival, a change from previous years. FREE

Ring in the New Year at the Children's Museum of the Arts (CMA) — Tribeca
The CMA offers a full day of activities, including a kite-making workshop dedicated to Halley's Comet and a chance to sculpt an imaginary fireworks display at its legendary Clay Bar. Included in museum admission.
Little Makers: Make Some Noise — Flushing Meadows, Queens
At the New York Hall of Science (NYSCI), kids and families work together and craft noisemakers for a loud New Year's Eve. Included in museum admission. Check out our guide to maker spaces offering drop-in creator fun, as well as our guide to similar STEM activities across the city for more building fun.
Sunday Storytime at DiMenna — Upper West Side
At the New-York Historical Society, kids will hear Paul Owen Lewis' P. Bear's New Year's Party and then complete a crown-making craft.
New Year's Eve at the Muse: Onward and Upward — Bushwick, Brooklyn
Brooklyn's circus-arts incubator promises an afternoon of dancing for kids and pop-up performances, and then a countdown for those who won't be staying up late.
See all Sunday events, or check out our roundup on New Year's Eve celebrations across NYC.
Monday, January 1
"Come Calling" on New Year's Day — East Village
The New York City Parks Department's Merchant House Museum celebrates the semi-lost NYC tradition of formally "paying calls" on friends at the new year. Take part in a holiday raffle and learn more about 19th-century holiday customs.

Stay warm while you watch others take the January plunge at the Coney Island Polar Bear Swim. Photo by joenolanphotos via Flickr
Coney Island Polar Bear Swim — Coney Island, Brooklyn
Ocean too cold? Kids can still watch a parade and then enjoy the spectacle of seeing adults make themselves suffer—all for a good cause. FREE
New Year's Day Family Bowl — Williamsburg, Brooklyn
Celebrate the first frame of 2018 with 10 pins a-crashing at this Brooklyn bowling venue's family-friendly Sunday afternoon. No cover.
Magic at Coney: New Year's Day Matinee — Coney Island, Brooklyn
Coney Island USA and the Coney Island Circus Sideshow join forces for this multi-act, magic variety show in the 50-seat theater at the Coney Island Museum.
See all Monday events, or check out our guide to what's open on New Year's Day in NYC for families, from museums and performances to free outdoor fun.
Top photo: Thomas the Tank Engine rolls into the New York Botanical Garden to greet his young fans. Photo courtesy of NYBG.