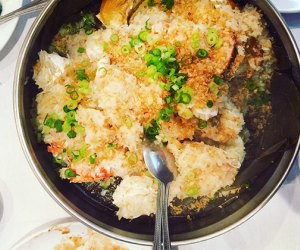 Enjoy a Lunar New Year Feast at These NYC Chinese Restaurants
Lunar New Year is one of the most important traditional holidays on the Chinese calendar, and what better way to ring in any new year than by feasting. Whether it's a tradition in your home or not, while you're enjoying the firecrackers and parades make sure you take time to eat at some of New York City's best purveyors of Chinese food. And when we say time, we mean a few hours.
Banquet dinners can consist of six to 12 courses. Every dish has symbolic significance: fish increases prosperity, noodles bring longevity, and dumplings promise wealth. My family, including my 1-year-old, love a good, traditional, carb-coma banquet. Four generations around one table, red envelopes being passed with love, and hours to spare on course after course? Now that's how to celebrate the New Year.
Book your own adventurous feast with the kids at one of these celebrated locations in Sunset Park, Brooklyn, Flushing, Queens, and Manhattan's Chinatown, or just stop in for a traditional Lunar New Year snack or dessert. And don't end the party at the dinner table. Lunar New Year in New York City is jammed with amazing parades and activities for the kiddies as well.
Queens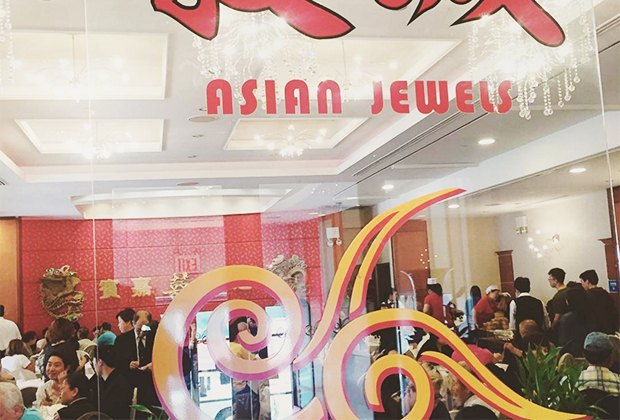 Enjoy dim sum by day or night at Asian Jewels. Photo by Gabriella Luisa Bonilla via Instagram.
Asian Jewels Seafood Restaurant – Flushing
133-30 39th Ave.
This place is great at night, but even better during the day. So sleep off that banquet meal and wake up for some dim sum. Of course, you can have dumplings for breakfast.
Imperial Palace – Flushing
136-13 37th Ave.
Impress your guests with abalone and Dungeness crab dishes at this traditional (and often crowded) restaurant.
Mulan – Flushing
136-17 39th Ave., second floor
Mulan is a great compromise for novice banquet eaters. The upscale trendy décor and fantastic service lean toward impressing a Western crowd, while the menu has some top-notch fusion and traditional dishes. The steak and mashed potatoes dish is amazing.
New Flushing Bakery – Flushing
135-45 Roosevelt Ave.
After you pick up your Nian Gao, don't forget to grab a dozen Portuguese egg tarts at this location. The top of the tart's custard is caramelized like crème brulee. Dreamy.
Wan Chai Seafood Restaurant – Flushing
135-11 40th Rd.
Although seafood is a staple at the Lunar New Year, make sure you get some Peking duck as well, served on freshly steamed buns.
RELATED: 50 Things to Do in Brooklyn with Kids this Winter
Brooklyn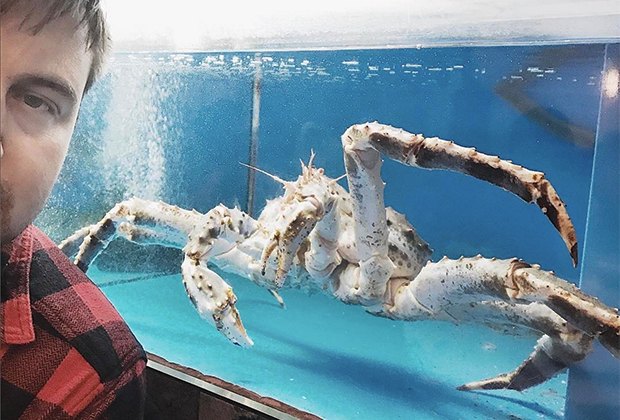 Seeing live King Crab paraded in front of your table is always an exciting moment especially for the kiddies. Photo by Rachel Krause via Instagram.
East Harbor Seafood Palace – Dyker Heights
714 65th St.
Order the Alaskan king crab steamed egg, a delicate crab egg drop-esque soup served in the half shell of a giant king crab. Total decadence, and totally worth it.
Golden Imperial Palace – Sunset Park
618 62nd St.
Lobster salad with lightly sweet Asian mayonnaise and fruit is a great way to start your meal on the right foot.
Pacificana – Sunset Park
813 55th St.
A traditional banquet often starts with a cold cut platter, and I don't mean antipasto. Pacificana offers the thinly sliced chilled meats and tripe that are mostly served for enthusiastic older generations. They ARE tasty if you try not to think about what mystery meat you're eating.
Manhattan
Jing Fong Restaurant – Chinatown
20 Elizabeth St.
I have a special place in my heart for Jing Fong. The escalator that takes you to the massive second-floor dining room will always be a part of my childhood. You'll have an amazing experience for both dim sum and dinner.
And if you can't stop for a whole banquet dinner, grab lunch or a snack at either of these destinations:
Aji Ichiban USA –​ Chinatown
37 Mott St.
While watching the famous parades in Chinatown, don't forget to get the relatives a traditional gift of dried fruits and nuts. Red dates are for prosperity and wealth. Peanuts are for longevity. And, of course, sweets are for a sweet life.
RELATED: 25 Things to Eat, See, and Do with Kids in Chinatown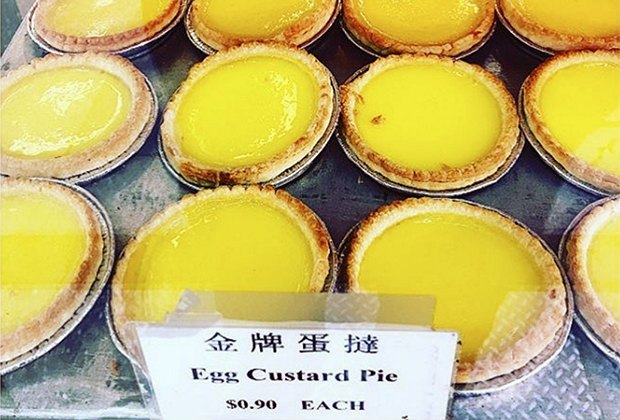 Egg custard is a traditional Lunar New Year delight. Photo by petajai via Instagram.
Lung Moon Bakery – Chinatown
81 Mulberry St.
This traditional bakery serves Lunar New Year treats such as delicious sweet Nian Gao (sticky rice cake). You can also grab some of my other favorites here: Jian Dui (fried sesame balls with red bean paste) and Dan Tat (egg custard tart).
Top photo: Enjoy Dungeness crab stuffed with sticky rice at Imperial Palace. Photo by ye.jim via Instagram.