Totally FREE and Crazy Cool Art NYC Kids Can See Outdoors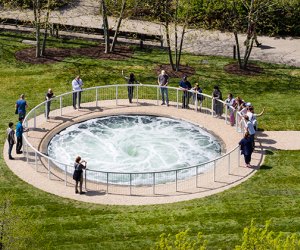 One of the best things about living in an urban area is the access to culture. It's everywhere! From concerts and museums to festivals and parks, there's something to learn and appreciate every time you turn around, especially this summer.
Public art is an excellent (and FREE!) way to introduce your kids to (mostly) hands-on art, without opening your wallet. As the weather heats up, head outdoors to enjoy some of the coolest installations around town, from a giant whirlpool to murals and even some kooky goats.
If you like FREE events (there's only one answer to that question), check out our FREE guide, full of museums, sports program, movies, and more.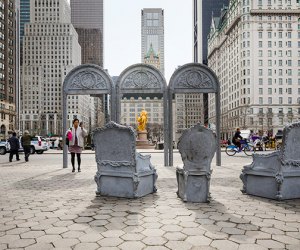 Liz Glynn's Open House features lavish Louis XIV sofas, chairs, footstools and doorways, with an urban twist: they are all cast in concrete. It evokes the lavish styles of the elite at turn of the 20th century in contrast with its surroundings at the entrance of Central Park. Get a waffle from the Wafels & Dinges truck (which is often parked beside it) and have a seat, then head off into Central Park afterward. On display through September 2017.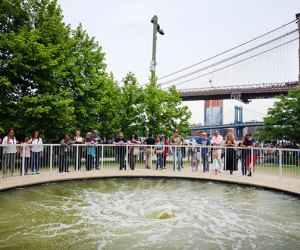 Kids and adults alike will be mesmerized by Anish Kapoor's Descension, a giant whirlpool installed in Brooklyn Bridge Park, which runs 9am to 9pm daily. The 26-foot (diameter) swirling water sculpture is sure to capture your attention. But be sure not to throw any gravel inside the waters or the security guard will yell at you. On display through September 2017. Photo by the author.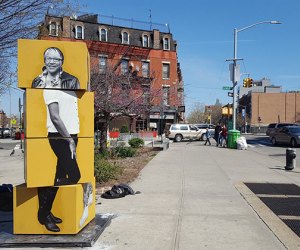 Exquisite Corpse by Fanny Allié, installed at Clinton Hill's Putnam Plaza, takes its name from the Surrealist drawing game. Passerbys can rotate the panels to create different people.On display through March 2018. Photo courtesy of DOT.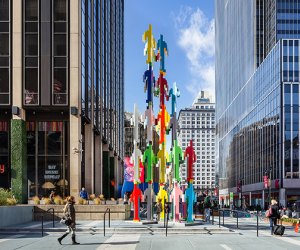 Plaza33, the pedestrian plaza near Penn Station, is the site of Jonathan Borofsky's Human Structures. Kids will love walking underneath the 36-foot tall colorful tower and gazing upward. Photo courtesy of Plaza33.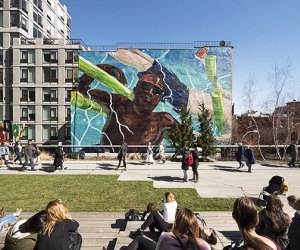 Stroll The High Line and take in Henry Taylor's the floaters, a massive mural depicting a bird's eye view of the artist and a friend relaxing in a pool. Warning: you may want to take a dip afterwards. On display through March 2018.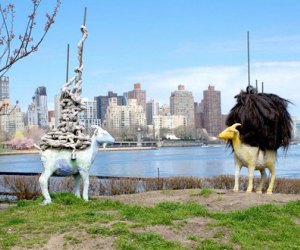 For the nature-starved NYC kid, head to Socrates Sculpture Park to see Nari Ward's wacky goat sculptures. On display through September 2017.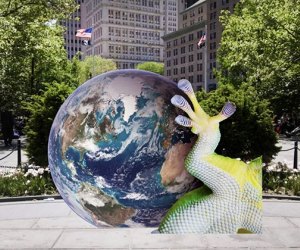 Opening June 22 in City Hall Park, Katja Novitskova's seven panel sci-fi series, Earth Potential, explores our perceptions of the natural world. On display through November 2017.