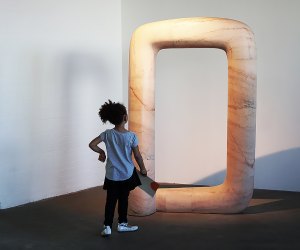 10 Free Things To Do in Queens When It's Freezing
As temperatures drop and the days grow shorter, there's no need to stay at home and get stir crazy. Queens has a lot to offer families when it comes to museums, libraries, bookstores, nature centers, and education programs—not surprising for one of New York's most vibrant boroughs. If your budget is feeling the post-holiday pinch, this list of the best free activities you can enjoy with kids in Queens during the cold months can keep everybody in the family entertained.
Ready to venture out to other boroughs for more seasonal fun? Check out our Guide to Winter Events and Activities in NYC, including free things to do in Staten Island when it's freezing. You can also find out what's happening daily in your neighborhood in our Event Calendar.
Astoria's Museum of the Moving Image has an ongoing Jim Henson exhibition, which features nearly 300 objects from Henson's extraordinary career. If you love the Muppets, this will be a special treat. You'll find Kermit the Frog, Miss Piggy, Big Bird, Elmo, and more than 40 other puppets created by Henson. Visitors can experience puppeteering by designing a puppet character and interacting with it on screen. Museum of the Moving Image is great to visit with kids, who can explore different art media—from photographs to sketches to film. The museum offers free admission on Fridays from 4pm to 8pm. Admission is also free for NYC teachers with valid ID, and for active duty service members.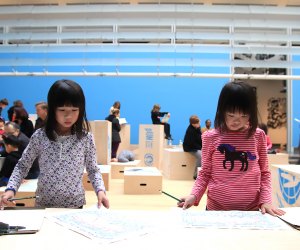 Be inspired to make your own art at the Queens Museum.
OUR LATEST VIDEOS
2. Create your own art at the Queens Museum.
Located in the heart of Flushing Meadows Corona Park, the Queens Museum offers several workshops geared toward families. Drop-in Family Art Workshops are held every Sunday from 1:30-4:30pm in different art studios or museum locations each week, with no advance registration required. The museum also houses an Art Lab where kids and adults can share their creativity by writing, drawing, and exploring various art forms. Here's the best part: Admission is suggested, so you can pay what you wish or enter free.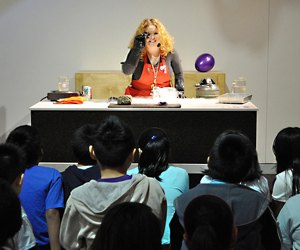 New York Hall of Science is a family-friendly and interactive science museum.
There's plenty of enjoyment for all ages at the NYSCI, another gem in Flushing Meadows. Older kids can check out a variety of permanent exhibits while learning along the way. Want to know how gravity works, or understand the basics of human anatomy? It's all there at your fingertips. If you're visiting with toddlers, Preschool Place is the perfect spot for active little ones to blow off some steam (and for parents to take a break). The enclosed room is designed to meet the developmental needs of kids up to 6 years of age. NYSCI also holds daily interactive 15-minute demos with educators who show how science works. The lower level is dedicated to the Design Lab, divided into several stations where kids can make, design, and engineer structures using different materials. NYSCI offers free general admission on Fridays from 2-5pm, and on Sundays from 10-11am.
If you need a little zen in your life, the Noguchi Museum is the place to visit. This lesser-known museum in Long Island City was designed by Japanese-American sculptor Isamu Noguchi. It features a sculpture garden for parents to reflect among trees, shrubs, and vines native to Japan. Meanwhile, kids can explore the many rock-like sculptures in all seasons. On the first Sunday of every month, the museum holds an Open Studio program for families to discover the galleries and then capture the experience in their own art. Adults have to pay $10 to enter, but there are perks for bringing the whole family. Kids under 12 get in for free. Admission is free for everyone on the first Friday of every month.
5. Bring your toddler to story time at Astoria Bookshop.
Story time at a local library is a favorite pastime for many NYC parents. But libraries aren't the only places where kids can gather around a book and sing songs. Every Thursday morning at 11am, Astoria Bookshop hosts a story time, which is free and open to the public. While the book selection is usually tailored to babies and toddlers, all ages are welcome.
Taking the whole family to the movies can be expensive, especially if you factor in all the extras like popcorn and drinks. Alternatively, you can head over to the Ozone Park branch of the Queens Public Library to watch a free movie between now and January 31. The movies—rated either G or PG—are shown every other Friday from 3:30-5pm. It's a perfect after-school activity that will have you back at home in time for dinner. If you have mixed-age kids, the library provides free computer access in half-hour time slots. Friv.com is a library-approved website, so older kids can enjoy a few games while their younger siblings watch a movie.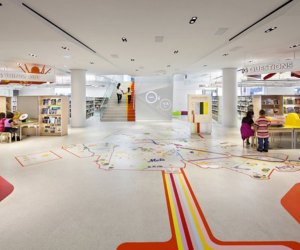 Head to the newly renovated Children's Library Discovery Center for a day.
We're not done with libraries just yet. Queens is home to one of the coolest public libraries that doubles as a science museum. Jamaica's Children's Library Discovery Center, which opened in 2011, has hands-on interactive exhibits and learning labs aimed at kids ages 3 to 12. Kids will love the giant, interactive map of Queens, and the many different programs the library has to offer like arts and crafts. Another tool available through the library is the PowerKids Life Science database. The resource, designed for kids in grades 3 through 6, promotes digital literacy and provides homework help.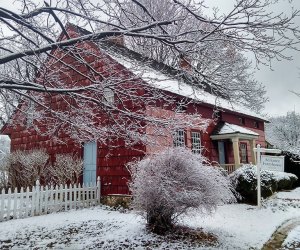 The Queens County Farm Museum brings a little bit of country to the city.
The Queens County Farm Museum brings a little bit of country to the city. The farm invites visitors to check out its new winter reading room, which has been transformed from a summer kitchen. Inside the reading room, adults and kids will find a selection of fiction and non-fiction books on topics like cooking, gardening, animals, farming, science, and local history. To keep its youngest visitors engaged, the room will have an assortment of farm-related toys to play with. At the end of December (26, 27, 28) the farm hosts its annual Holiday Open House from 12-4pm. During the free annual event at the Adriance Farmhouse, kids enjoy holiday-inspired crafts and adults mulled cider throughout the afternoon.
The Alley Pond Environmental Center (APEC) in Little Neck offers the right blend of outdoor and indoor fun. Take a brisk walk on the Alley Pond boardwalk through a salt marsh, meadow, fen, and forest. Then head inside the APEC building to warm up. The animal room is a kid favorite. You can get up close and personal with mammals, reptiles, birds, and insects—there are more than 80 animals to discover, including Luna the singing lovebird. The building is open seven days a week, except for major holidays. Monday through Friday APEC is open from 9am-4:30pm, with some closures on the weekends for special events. Walking trails are open from dawn to dusk all year. Admission is free and so is parking.
10. Visit the LEGO and Disney Store at Queens Center Mall.
Sometimes all you need is a mall outing on a cold day. Luckily, Queens Center Mall has plenty of stores to satisfy the whole family. Both the LEGO and Disney Store are located next to each other on the first level, so you don't have to drag the kids through the entire mall to get there. The Disney Store is perfect for little ones, who can play in an interactive area with a movie screen. The LEGO store is better suited for older kids. Inside the small but well-stocked store, kids can browse different LEGO creations and sample a large variety of minifigures. Don't forget to check the store calendar for free events hosted each month like Mini Builds. Queens Center Mall also hosts free events for kids on the first Saturday of every month.
Unless noted, photos courtesy of the venues