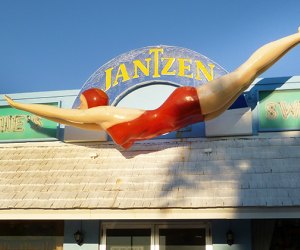 25 Things To Do with Kids in Daytona Beach, Florida
With 23 miles of sand and surf, no wonder Daytona Beach is a vacation favorite. Swimming and sand castles combine with an old-fashioned pier, arcade games and salt-water taffy for a throwback family vacation of the finest caliber.
This Florida beach attracts a magnetic force, but this town boasts a range of non-beach attractions. Famous as the birthplace of auto racing, no visit is complete without a pit stop at the Daytona International Speedway. Motorbikes are a major presence in Daytona Beach and you'll see bike enthusiasts of all ages cruising around town. Rainy days are no problem, as the Smithsonian-affiliated Museum of Arts & Sciences will keep the kids entertained.
It's true that spring break is big here, but once the college kids leave, families rule. The vibe is pure Americana and the retro feel translates to prices. Budget-friendly hotel, restaurants and attractions add to the appeal.
Until this year, there were no nonstop flights to Daytona Beach from NYC, so the trip required a harried connection. JetBlue has just started daily nonstop service from JFK, reducing travel time to a seamless 2 hours and 20 minutes.
Here's our list of the best things to do in this unpretentious, boisterous and fun town.

Rent boards and lounge in chairs all day at the beach, the main attraction in Daytona. Photo courtesy of Daytona Beach CVB.
1. Hit the 12-mile car-free section of Daytona's beach where you can rent boogie boards, stand-up paddleboards, chairs and everything else you need to stay the day. (Another section of the beach permits car, so you may want to avoid it with young kids.)
2. Pick up a board and lessons at Daytona Surfing School to test out the legendary surf at Daytona and neighboring Ormond Beach.
3. Kids under 16 won't need a license to cast a line off the Sunglow Pier, a great spot to give fishing a try. Kids under 16 don't need a license, and people over 16 may purchase one here. They rent poles and bait. Crabby Joe's offers a great view and refreshments.
4. For a novel bike ride, spin your wheels directly on the hard-packed sand. Beachside kiosks rent bikes in a variety of sizes.
RELATED: 23 of Our Favorite Kid-Friendly Resorts for All-Inclusive Family Fun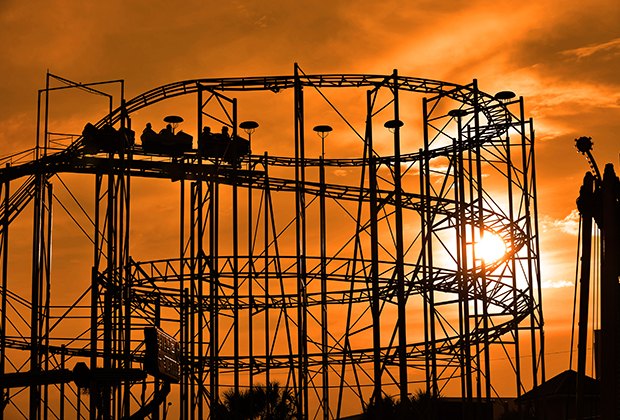 Ride the roller coaster at sunset. Photo courtesy of Daytona Beach CVB.
5. The Daytona boardwalk is an American classic that looks straight out of a period movie starring Annette Funicello and Frankie Avalon. Try the rides, pizza, hand-pulled taffy, arcade games and a carnival atmosphere and you're sure to win over the kids.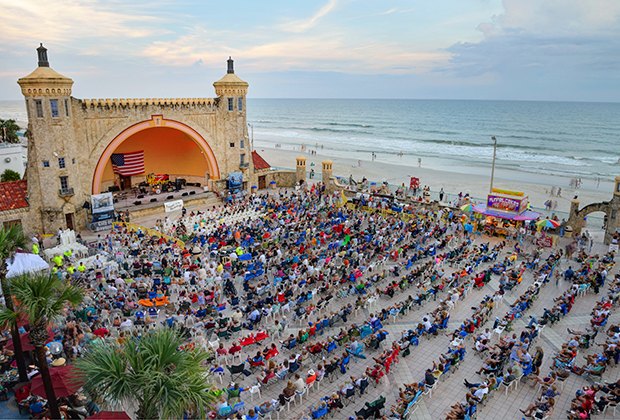 Catch a free beachside concert at ​Daytona Beach Bandshell. Photo courtesy of Daytona Beach CVB.
6. See a FREE concert at the Daytona Beach Bandshell, which holds a gratis music series from May-September.
7. NASCAR fans and speed freaks will want to take a tour of the Daytona International Speedway where they can check out the infield and pass through NASCAR garages.
8. A new planetarium, a collection of Coca-Cola memorabilia, vintage trains and a prehistoric ground sloth are just some of the many gems at the Museum of Arts & Sciences (MOAS). The children's section has hands-on activities that lean local, including the chance to build your own race car. The Cuban art collection is the biggest in the country, so sneak a peek.
RELATED: 25 Things to Do with Kids in Naples, Florida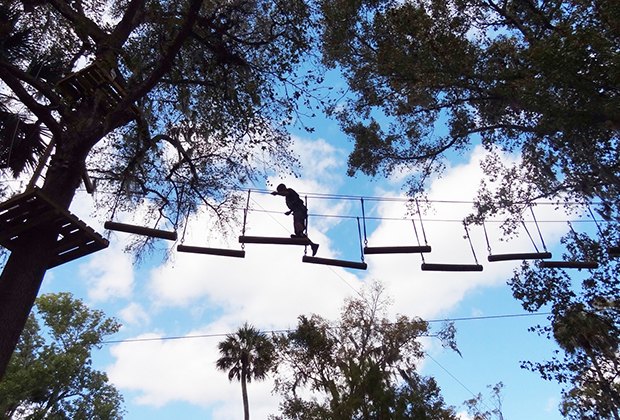 Enjoy a treetop adventure at Zoom Air Adventure Park. Photo courtesy of Daytona Beach CVB.
9. The Tuscawilla Preserve, located on the MOAS grounds, is a great place to let the kids romp, or little daredevils over 54 inches can try the zipline course at Daytona Beach Zipline Adventure on the grounds.
10. Stay the day at the MOAS grounds and see the Cici and Hyatt Brown Museum of Art, which houses a vast collection of Florida-centric watercolor and oil paintings. The bright colors should appeal to arty kids and the spacious setting is stroller-friendly.
11. Splash about at Daytona Lagoon, a water park along the boardwalk with go-carts, mini golf and dozens of arcade games will thrill tots to teens. Pay-one-price and stay all day.

Catch a ballgame at Jackie Robinson Ballpark. Photo courtesy of Daytona Beach CVB.
12. See the Daytona Tortugas, the minor league affiliate of the Cincinnati Reds, swing their bats at the Jackie Robinson Ballpark.
13. Volusia County is home to a wide array of biodiversity and a number of FREE local programs encourage interaction with nature. Guided bike rides, hikes, paddles and eco-buggy tours are offered throughout the year. For more information and schedules visit .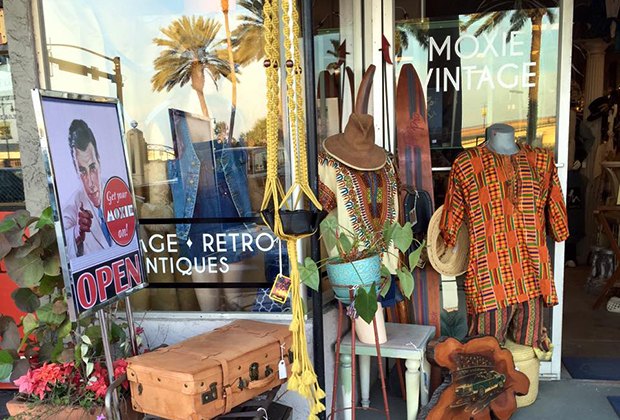 Score some funky duds at Moxie Vintage. Photo courtesy of the store.
​Beach Street Shopping in Downtown Daytona Beach
14. Daytona Beach has an unusually high number of vintage clothing shops, but Moxie Vintage is a standout. If you're traveling with a tween or teen fashionista, you'll find bargains aplenty.
15. Daytona Magic Shop is one of Florida's last remaining brick and mortar magic shops. It carries a wide variety of magic tricks, novelties and jokes, and the helpful staff is happy to demonstrate.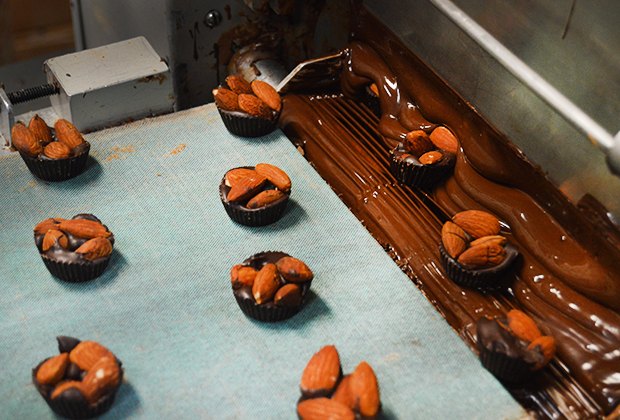 Tour the Angell & Phelps Chocolate Factory and see how chocolate is made. Photo courtesy of the factory.
16. Willie Wonka must have vacationed in Daytona Beach, because the local Angell & Phelps Chocolate Factory is pure imagination. The free factory tour takes you behind the scenes where you'll watch the hands-on process before being treated to your choice of two complimentary samples.
Neighboring Towns You Won't Want to Miss
17. Charm-filled DeLand's downtown is old-school Florida at its finest. It's a pedestrian's dream with boutiques, restaurants, an art museum and a farmers' market surrounded by colorful public murals. Noticeably absent are chain stores. Rent a bike at DeLand Cyclery and pedal straight to Pat and Toni's Sweet Things.
18. New Smyrna Beach is a compact, art-infused beach beauty and a respite from the bustle of Daytona Beach. Browse independent shops, friendly bars and low-key eateries. The Hub is a communal studio space where over 75 working artists create and exhibit. It also offers a wide range of drop-in art workshops for adults and children.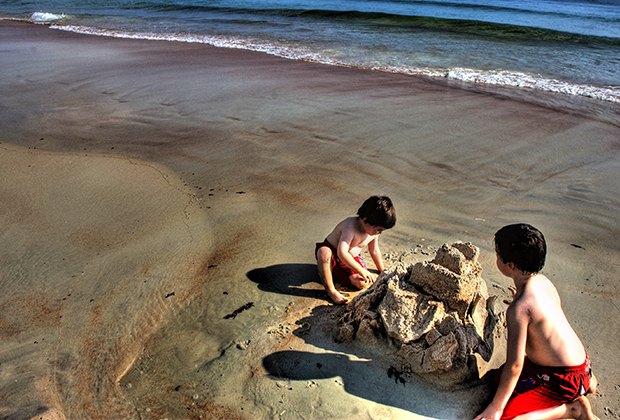 Ormond Beach is a great beach for families—and surfers. Photo by Ed Coyle via Flickr.

19. Known as The Birthplace of Speed, car racing on the sand got its start in Ormond Beach. It's right next door to Daytona Beach and is a great place to watch the surfers. Andy Romano Park is a very clean beach with free parking, making it very popular with families.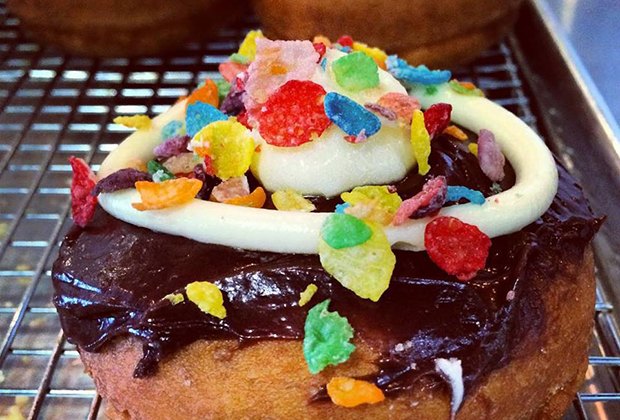 Create a custom donut masterpiece at Donnie's Donuts. Photo courtesy of the shop.
Dining
20. Donnie's Donuts serves 125 vintage varieties of freshly fried treats. Still can't find a flavor to please your palate? They customize, fulfilling your deepest donut fantasy.
21. Old Spanish Sugar Mill and Griddle House is located inside De Leon Springs State Park. Each table has a griddle in the center. The staff brings you pitchers of batter that pour directly onto the grill for do-it-yourself pancakes. After you've had your fill, rent a canoe, kayak or paddleboat and float on Spring Garden Run in the Lake Woodruff National Wildlife Refuge.
22. The casual Dancing Avocado Kitchen caters to families, including vegan and vegetarians. The bathroom is even stocked with baby supplies, including spare diapers. They serve healthy smoothies, sandwiches and salads. Bring home a bottle of the house hot sauce, made from Bob Marley's recipe.
Stay
23. The Hampton Inn New Smyrna Beach is surrounded by lush plants, green fronds and tropical trees and has the feel of a boutique hotel. Rooms are sparkling clean. A bountiful free breakfast is included in the room rate.
24. The Hilton Daytona Beach Oceanfront Resort boasts over 700 rooms, so it isn't exactly intimate, but its beachfront location on a car-free stretch just steps from the pier is perfect. There's a kiddie pool and one-hour per day of bike rental is included in the room rate.
25. Hyatt Place Daytona Beach-Oceanfront offers clean, spacious rooms with a view of the ocean. The free breakfast is a nice touch.
Top image: Check out the vintage Jantzen diving girl sign, around since the 1960s. Photo by Richard Elzey via Flickr.