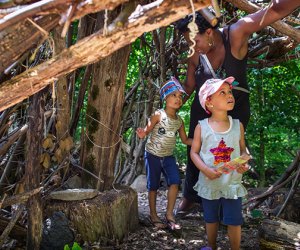 Best Events for Preschoolers in NYC This Summer – Mostly Free!
Summer may be the best time to have a preschooler in New York City. Yes, the days are longer, but there is so much to do! From free concerts and festivals to swimming, sand-sculpting, and star-gazing, not a week goes by without outings and activities that will truly make lasting summer memories.
With this list of our best picks for summer events with your preschooler, you'll find yourself wanting to stay in town to take advantage of it all. Best of all? It's almost all FREE.
Check out our Summer Fun Guide for NYC Kids for more to do for every age in every borough.
The Princess, the Emperor and the Duck — Central Park/Upper West Side
Ongoing; times vary, so see link above.
Catch this preschooler-friendly retelling of Hans Christian Andersen's classic fairy tales at the iconic Swedish Cottage Marionette Theatre. An owl narrates. What could be better?
Summer Reading Storytime — Brooklyn Bridge Park
Wednesdays, June 7 through August 2
Head for Pier 3 in Brooklyn Bridge Park for this outdoor summer reading series for kids presented by the Brooklyn Heights Library. There will be sing-alongs too, and of course, that harbor view and breeze. FREE
Madison Square Park Concerts for Kids — Flatiron
Thursdays, June 8 through July 27
Interactive, outdoors, and super fun, this is a must-do event for preschoolers. This year's free lineup is sure to get little ones clapping and dancing with bands like Jazzy Ash and the Leaping Lizards and The Not-Its. Stick around after these concerts for special park-themed activities. FREE
Rooftop Films at Bronx Terminal Market — the Bronx
Tuesdays, June 13, July 11, and August 15
610 Exterior Street, Level 6, garage roof deck
This family-friendly film series on the roof of the mall's parking deck includes pre-show activities starting at 7pm. The lineup includes The Secret Life of Pets on June 13, Moana on July 11, and Zootopia on August 15. FREE
Puppetry Arts Festival of Brooklyn — Park Slope, Brooklyn
Sunday, June 25
Stop by the J.J. Byrne Playground to play games, do arts and crafts, and see some puppet shows. The first 200 kids get a free gift bag! FREE
Music in the Grove — Fort Greene, Brooklyn
Wednesdays, June 21 to August 2, with two Sunday shows on July 16 and July 30
This free concert series features some of NYC's best-loved kid bands, including Rolie Polie Guacamole and Hopalong Andrew. FREE
CityParks PuppetMobile: Cinderella Samba — citywide
Wednesday, June 21 to Wednesday, August 30
The FREE PuppetMobile is on the move again! This year the traveling puppet theater, presented by the CityParks Foundation, offers up a new spin on the timeless fairy tale Cinderella by moving it to Rio de Janeiro where our damsel learns the samba. Performances will take place in parks and playgrounds and will be open to the public. FREE
RELATED: 25 Things to Do with NYC Tots Before They Turn 5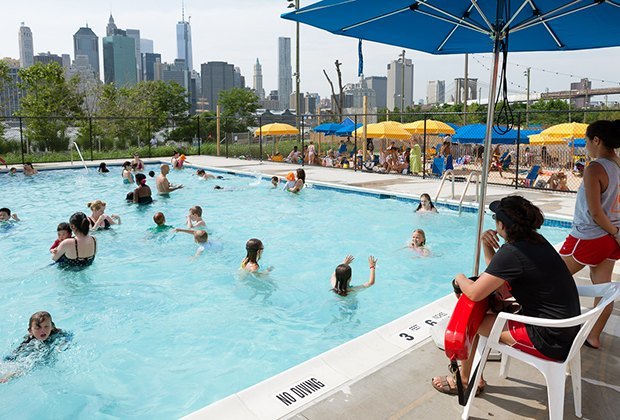 Brooklyn Bridge Park's Pop-Up pool is just the right size for kids. Photo by Etienne Frossard/courtesy of BBP.
NYC Pools Open — Citywide
June 29 through Labor Day weekend
Hit one of our favorite city pools for a free swim when they open for the season. There are lots of options in all five boroughs, so choose the one closest to you for a stress-free summer day. FREE
Goldilocks and the 3 Bears — Park Slope, Brooklyn
Saturday, July 1-Sunday, July 2; Saturday, July 22-Sunday, July 23; Saturday, August 12-Sunday, August 13; Saturday, August 26-Sunday, August 27
Hand puppets help retell this familiar tale of a dissatisfied girl with blond locks. Presented by the Slope's Puppetworks. By the way, small puppets means it's very hard for shy or young preschoolers to become frightened by the way, making it a great theater intro for little ones.
Independence Day Celebration at Historic Richmond Town — Staten Island
Saturday, July 1
Looking for a preschooler-friendly Fourth of July celebration that won't ruin bedtime or send them screaming and crying from all the noise? Check out the old-fashioned Independence Day celebration at Staten Island's historic Richmond Town. There will be pie-baking, ice cream churning, period costumes, a dramatic reading of the Declaration of Independence, model railroad displays, and a tot-friendly pinwheel parade, all happening between the reasonable hours of 12pm–4 pm.
Summer Movie Express — Brooklyn, Queens, and Long Island
Tuesdays and Wednesdays, July 4-August 30
Catch $1 newish release movies for kids, including preschooler favorites, such as Trolls, Sing, and the Lego Batman Movie, at this discounted summer series hosted at select UA (Regal) theaters.
RiverFlicks for Kids — Pier 46 in Hudson River Park
Fridays, July 7–August 18
Get there early to claim a spot for this kid-oriented series. The lineup includes The Secret Life of Pets on July 7, Trolls on July 14, Willy Wonka & The Chocolate Factory (1971) on July 21, Kubo and the Two Strings on July 28, and Sing on August 4. The event includes free popcorn! FREE
Manhattanhenge —Manhattan
Wednesday, July 12 and Thursday, July 13
Four times a year, the sun sets in a position that is exactly aligned with the Manhattan street grid. Two of those days are in July, so don't miss this free opportunity to drop some science on your kiddos. FREE
City of Water Day — Governors Island
Saturday, July 15
This annual celebration of New York City's waterfronts takes place on Governors Island and Hoboken's Maxwell Place Park, along with pop-up events elsewhere citywide. Enjoy kayaking, paddle-boarding, and land-based art and science activities. FREE, but advance registration required for boat activities.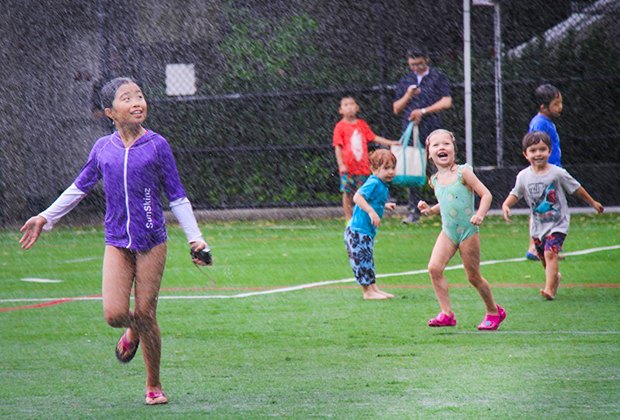 Beat the heat by running through the high-powered sprinklers on Asphalt Green's athletic field. Photo courtesy of Asphalt Green.
Asphalt Green's Sprinkler Day – Upper East Side
Saturday, July 15
Spend the day cooling off outdoors on the athletic field at Asphalt Green. All the high-powered sprinklers will be on, and it's time to play! All you need to bring is a towel. FREE
Come Out and Play Family Day — Governors Island
Saturday, July 22
Enjoy a full day of games for families and kids of all ages. This year's theme is Time Travel. The event runs 11am–4pm, but games are all day so you can play anytime. FREE
Sunset Film Festival — Upper East Side
Tuesday, July 25
Basketball/hockey courts in Carl Schurz Park
Bring your kids to watch Moana in this beautiful space along the East River, and enjoy free popcorn with the event. FREE
Coney Island Nostalgia Train — Manhattan to Brooklyn
Sunday, July 30
Got a real train fan? Splurge for a ride on the vintage Train of Many Metals with the New York Transit Museum as the locomotive takes its first ride on the new Second Avenue line. Then ride it all the way to Coney Island for some amusement park fun!
RELATED: 15 Popular Preschool Summer Camps in NYC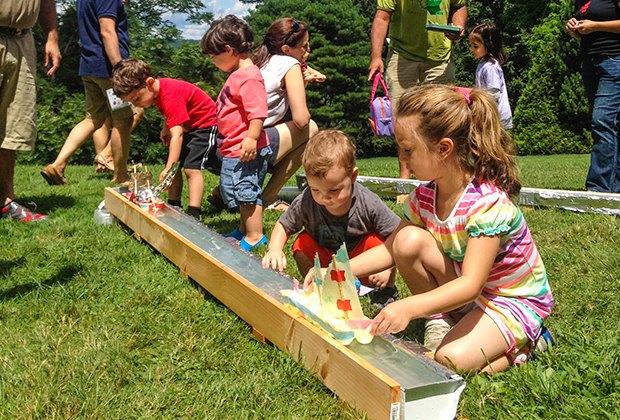 Make your own river raft at one of Wave Hill's Family Art Projects. Photo by Joshua Bright/courtesy of Wave Hill.
Wave Hill Family Art Projects — The Bronx
Saturday and Sunday mornings through August 27
We love this gorgeous garden in all seasons, but it's particularly compelling on warm summer days. Toddlers can draw, write and explore the limits of their imaginations at this public garden and cultural center overlooking the Hudson River. Admission fees apply but activity is FREE.
Hindu Lamp Ceremony — Brooklyn Bridge Park
Saturday, August 5
Decorate your own palm leaf lamp at the park's Pebble Beach and release it into the East River. Teach your kids about the Aarti ceremony that asks for protection from mother river. FREE
SummerStage Family Day — Central Park Rumsey Playfield
Saturday, August 12
Indie music-loving parents and tots will rock out to this family concert featuring They Might Be Giants and Bill Childs. The performance will feature songs about science for the little ones. FREE
Summer Streets — Manhattan
Saturdays, August 5, 12, and 19
On each of these Saturdays, stroll (or scoot) a car-free, 7-mile stretch from the Upper East Side to the Brooklyn Bridge, exploring free interactive rest stops. Expect live performances and water features along the way, including a return of the giant water slide. FREE
Hong Kong Dragon Boat Festival — Corona, Queens
Saturday, August 12 and Sunday, August 13
Watch hundreds of dragon boat teams compete on the lake at Flushing Meadows Corona park, and celebrate Chinese culture with food, music, art, and other activities. FREE
RELATED: NYC Beaches, Pools, and Water Guide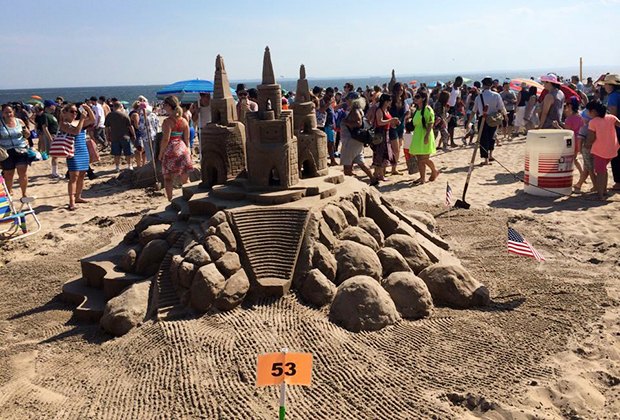 See the amazing sand sculptures at Coney. Photo by Raven Snook.
Coney Island Sand-Sculpting Contest — Coney Island
Saturday, August 19
Anyone can enter this annual sand-sculpting extravaganza, so bring your buckets, shovels, and cups if you want to dig in and compete. Or, just come to gawk at the sand masterpieces created by the professionals. FREE
FlyNYC Kite Festival — Riverside Park
Saturday, August 19
Bring a kite or come and make one at this annual kite festival that also features live music. FREE
Partial Solar Eclipse — Everywhere
Monday, August 21
People are flocking to certain parts of the U.S. to see this rare total solar eclipse, which is when the moon passes between the earth and the sun. In New York City, you won't see the total eclipse, but you will be able to see a partial eclipse, from 1:23pm to 4pm. FREE
Arthur Ashe Kids' Day — Arthur Ashe Stadium
Saturday, August 26
Get the kids excited about tennis with a full day of activities, including watching the pros practice. There's also face-painting, juggling, balloon artists, hair braiding, and storytime. FREE, although the afternoon performances cost.
Top photo: Family Art Project at Wave Hill. Photo by Joshua Bright/courtesy of Wave Hill.