Who Needs Spinal Tap? Check Out Manhattanhenge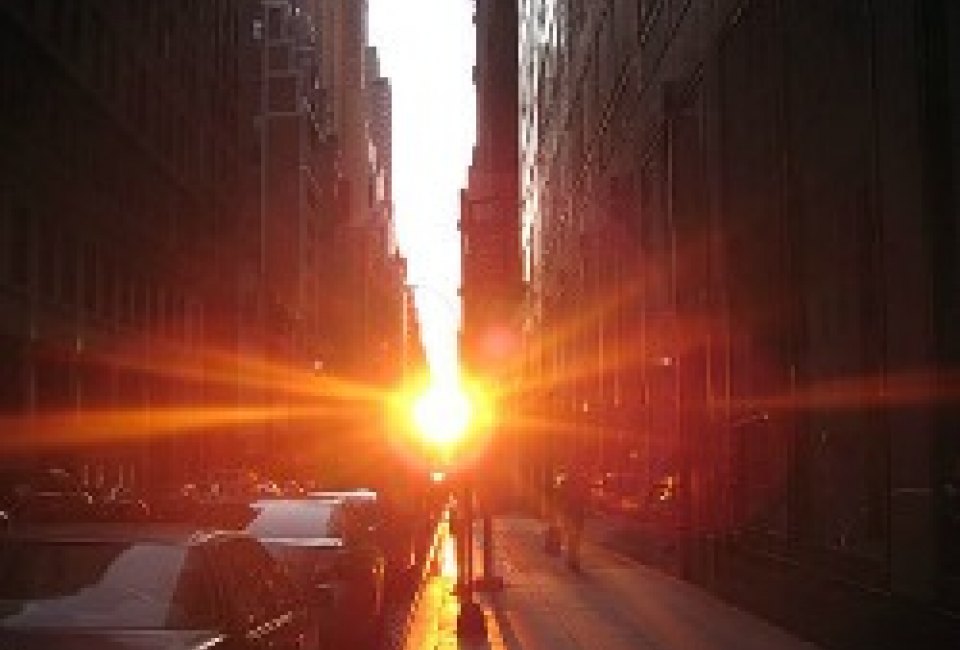 5/1/15
- By
Anna Fader
One of the things about raising your kids in NYC is that your neighbors are just as likely to be famous writers, artists or scientists as they are to be the more run-of-the-mill, US Weekly celebrities. In our building, giggling teenage girls hang out in the lobby hoping to get help with their physics homework from our resident celebrity astrophysicist.

Besides homework help, having a resident astrophysicist means you know about all the really big, life-shaping astrological happenings. So I share with you, my faithful readers, the astrological tip of the month.
As opposed to popular belief, the NYC street grid is not on the North-South axis. It is actually 30 degrees off. But a few times a year the sun's axis is parallel to the street grid. On those days, the sun sets straight down the street so if you go to the far east end of a street that goes all the way across the island (like 34th or 42nd Streets) you can watch it sink straight down across the whole city.

If you want to see it, you'll want to get to the east end of an eligible street on Friday, May 29 (half sun on the grid) and Saturday, May 30 (full sun on the grid) around 8:12pm, and then again on Sunday, July 12 (full sun) and Monday, July 13 (half sun) around 8:20pm. For more info about Manhattanhenge, check out this great article by Neil deGrasse Tyson, American astrophysicist and director of the Hayden Planetarium.
This post was originally published in May 2007.

Sign up for our free
newsletters.
Mommy Poppins is a family activity website that helps people find things to do with kids.
©
2023
MommyPoppins. All Rights Reserved.
mp-prod4-v4.32.99
Click Here to Sign Up!
i