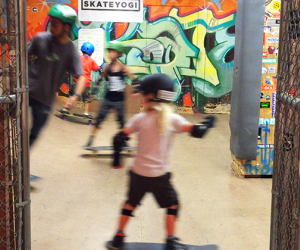 6 Skateboarding Classes for NYC Skater Kids
Whether your kid is just learning to ollie or is an advanced skater perfecting her frontside noseslide, there are plenty of skateboarding masters around NYC ready to teach the next generation.
We rounded up six great skateboarding classes where kids ages 4 and up can hone their skills from Manhattan to Staten Island, and of course, Brooklyn. Worried about this new sport involving possible asphalt face-plants that your kid is hounding you about? Well, it's also a great workout, building strength, flexibility and coordination—oh, and a decent mode of transportation!
Find more NYC classes in our Classes Guide and Directory Listings.
Most venues and skateboard schools ask students to bring their own helmets. A few include pads and boards with the lesson price; others offer board and pad rentals as add-ons. While owning your own equipment has advantages, renting a few times for lessons can be a good way to figure out if a child has a real interest and dedication beyond the first try.
Once your child is comfortable with skateboarding basics and safety, be sure to visit some of the city's many public skate parks. Of course, always use protective gear.
Everyday Athlete — Brooklyn Heights
Ages 4 and older
Skateboarding Saturdays are limited to eight kids and focus on teaching participants to ride while honing basic skills, including coordination, agility and balance. Students should bring their own helmets; the venue can supply skateboards and knee, elbow and wrist guards.
Homage Skateboard Academy — Gowanus
All ages*
The indoor Homage Skateboard Academy is not to be confused with the Homage Skate Shop, at a separate location. The Brooklyn skateboard academy welcomes students of all ages and ability levels with after-school classes, private and group lessons and school break camps. Homage offers board and pad rentals. (*Several of Homage's group lessons are restricted to ages 5 and up, but toddlers are welcome to private sessions.)
RELATED: BMX Park Opens in Williamsburg with Family Vibe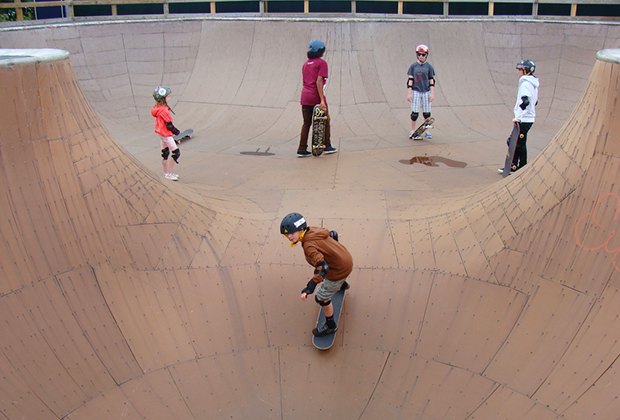 Intermediate skaters learn more advanced tricks at Louie's Skateboarding School, while beginners pick up riding basics like proper form.
Louie's Skateboarding School — Manhattan, Brooklyn and Queens
Ages 4 and older
Louie's offers private individual and group lessons for all ages and ability levels at skate parks throughout New York City. It also offers full equipment rental. It was founded by a native New Yorker and ex-pro skater Luiz Louie.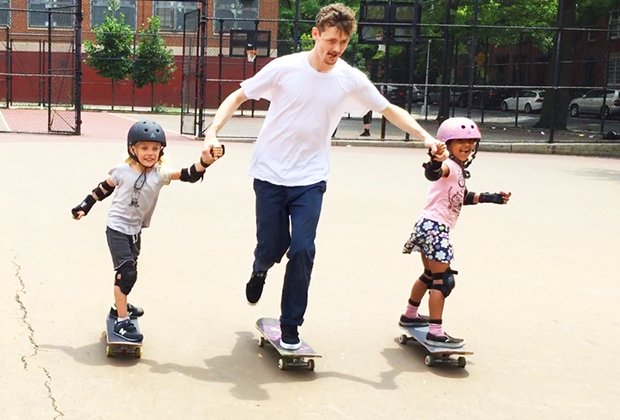 The Skateyogi takes a chill but hands-on approach to teaching kids and adults skateboarding in Park Slope.
Skateyogi — Park Slope
Ages 4 and older
With classes, after-school programs, drop-in hours and a summer camp, Skateyogi schools kids (and adults) in the art of skateboarding, whether it be learning to navigate a mellow sidewalk or perfecting a McTwist on the ramps at Skate Brooklyn, where classes take place. Skateboard, helmet and pad rental fees are included in the cost of classes.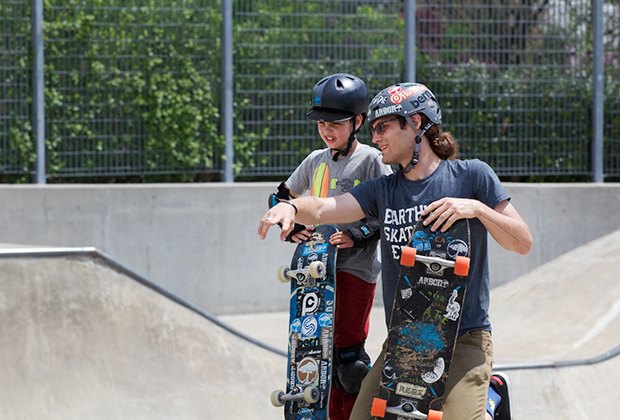 Lessons with Sure Skateboards take place in public parks and skate parks and emphasize skating as a great way to get around town.
Sure Skateboards — West Village
Ages 4 and older
With weekend drop-in sessions at NYC public parks and skate parks, Sure Skateboards helps even the youngest skateboarders learn the basics and safety. Founded by an ex-pro skater, the company mission is to promote skateboarding as a viable form of transportation throughout the city, while also providing instruction about other forms of specialized skateboarding. Sure offers private and group lessons; skaters must provide their own helmets, skateboards and protective gear.
5050 Skatepark — Staten Island
Ages 5 and older
This 8,000-square-foot rec center offers one-on-one lessons and daily open-ride sessions. The indoor park offers helmet rentals, but skaters must bring their own boards and pads. The venue is also open to scooters and BMX bikers, so the younger set will find a mellower and less crowded atmosphere on weekdays and weekend mornings.
Top image: Kids practice on the ramps at Skate Brooklyn during a Skateyogi class. All photos provided by the venues.