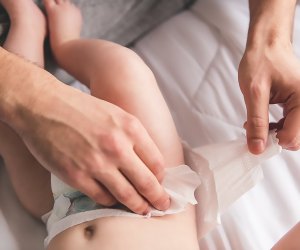 Diaper Duty Equality: Men's Restrooms Must Now Include Changing Tables in NY
New York parents, rejoice: Changing tables are now required in men's and women's restrooms statewide. Life with a newborn can be hard enough, so this news, on the heels of other legislation requiring safe (and clean) places to breastfeed, makes New York more baby-friendly than ever.
The law, which went into effect on New Year's Day, was passed as part of Governor Andrew Cuomo's fiscal year 2019 budget and permanently changes the state building code to require all "new or substantially renovated buildings with publicly accessible restrooms to provide safe and compliant changing tables" to both men and women. Buildings covered by the legislation include restaurants, retail spaces, movie theaters, parks, DMV offices and more. Each publicly accessible floor must have a changing table accessible to both sexes, plus signage directing parents to that spot.
New York is the first state to mandate changing tables accessible to both men and women. State Senator Brad Hoylman penned the bill that ultimately led to the change and said, "It's not just moms who change diapers. Dads need to step up and do their part of the dirty work, too. By including my bill for requiring baby changing stations in both male and female restrooms in the final budget, Governor Cuomo and the legislature are taking an important step in recognizing changing parental norms, including a new generation of gay dads like me who no longer should have to change their babies on the bathroom floor because there's no changing station in the men's restroom."
A similar law was passed by the New York City Council early last year.