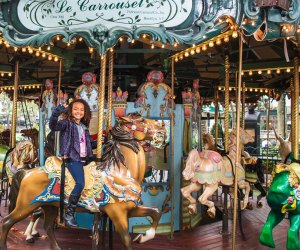 A Holiday Weekend Itinerary in NYC with Preschoolers
We are all fully aware that a tired child is an unhappy child—which makes for an unhappy family, especially when said brood is trying to simultaneously fend off tantrums and take in the town during the holidays.
That's why we've created a NYC holiday itinerary specifically geared to the
under-five set
: something a little more mellow for those preschoolers
visiting from out of town
, or even locals wanting to check out all the
holidays festivities
the city has to offer. It's set of activities that respects the limits of a preschooler's emotional and physical mileage.
Planning ahead? Check out what special events might be taking place during your visit with our always-up-to-date
NYC Event Calendar
.
Saturday
Start your day at Brookfield Place, the new shopping center extraordinaire at the World Financial Center, and head to the Hudson Eats food court on the second floor. The Saturday Morning Show starts at 10am with music, followed by a magic show at 11am. There are lots of choices for food for before, during, or after the show. There's also a great light show called Luminaries in the Winter Garden at Brookfield Place, ideal for small children, and of course, Santa is holding court at this time of year.
Step outside to some of the best playgrounds and waterfront parks of Battery Park City, or hit the ice skating rink!
RELATED: 25 Top Things to Do with NYC Preschoolers Before They Turn 5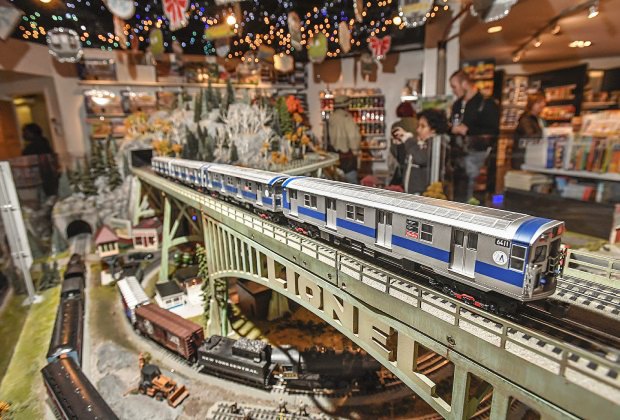 Trains that'll mesmerize in Grand Central. Photo courtesy of the New York Transit Museum
From the Winter Garden you can walk through the stunning new Oculus, an indoor design-centric atrium filled with shops, and jump on an uptown 4, 5, or 6 train to Grand Central. In Grand Central, check out the train show at the New York Transit Museum Gallery Annex. Use our guide to find more things to do and where to eat in Grand Central Terminal.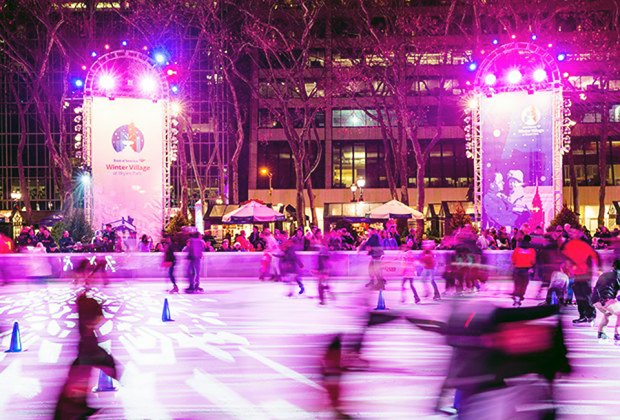 Take a spin on the ice with your little one. Photo by Angelito Jusay/Bryant Park Winter Village
Walk down 42nd St to Bryant Park where you'll find Winter Village with ice skating, a holiday market, and lots of other activities, including a FREE visit with Santa. Kids might like a spin on Le Carrousel. Check the Bryant Park website to scope out all the goodies they offer so you know what to look for.
So far this day has been 100% free activities so if you want to splurge, and still have energy, a holiday show would be a great cap to this magical day. Of course there's The Radio City Music Hall Christmas Spectacular, but they might enjoy that more when they are older. Instead, I would recommend The Big Apple Circus and the Gazillion Bubble Show.
Sunday
Ready for more? Start your day on the Upper West Side and take advantage of the early start time of little ones to beat the crowds for breakfast at the whimsical Alice's Tea Cup. Then head to the New-York Historical Society's special holiday exhibit, Holiday Express: Toys and Trains from the Jerni Collection. At 11:30 on Sundays there's a storytime perfect for little ones. You're also right near the American Museum of Natural History if you'd rather do dinosaurs.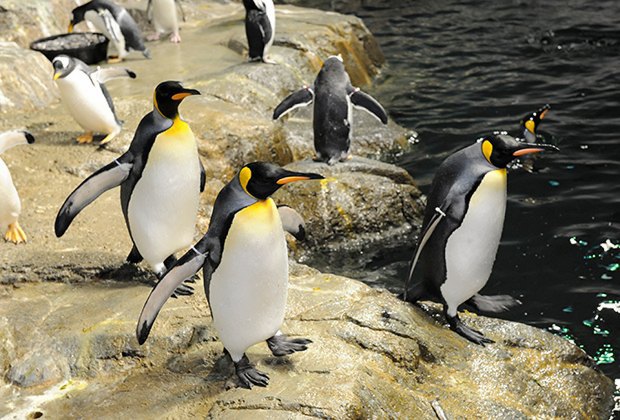 Visit the penguins at the Central Park Zoo. Photo courtesy of the Central Park Zoo
After your museum fix, head into Central Park for some playground time. You could catch The Three Bears Holiday Bash at 1pm at the Swedish Cottage Marrionette Theatre. Then explore your way across Central Park toward the Central Park Zoo. If you're not up for the walk, the 72 Bus from 72nd and Central Park West will take you right there. The zoo's indoor rainforest exhibit is always nice on a cold winter day. They feed the penguins at 2:30 (also indoors) and the sea lions at 3:30. Don't miss the Children's Zoo and if you can hit it on the hour or half hour, as the mechanical Delacourte Clock gives a nice little show.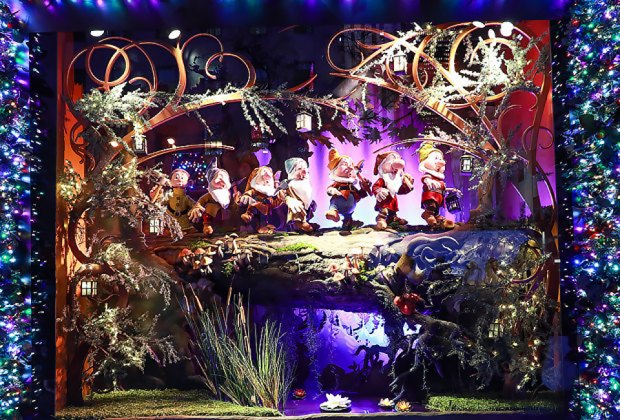 See the dwarves in the Snow White themed Saks windows. Photo courtesy of Saks Fifth Avenue
Dusk is the perfect time to go see the holiday window displays, many of which are just a few blocks away. If you're feeling indulgent you could also make a stop at Dylan's Candy Bar, a huge candy emporium. Depending on where you end up you can walk or take a break on the Fifth Avenue bus down to Rockefeller Center to see the holiday tree. Pop into the brand-new American Girl Doll Store or the fun-to-play-in LEGO or Nintendo store. There are lots of eating options near Rockefeller Center if you're ready for dinner. Or, you may want to head to Herald Square to see the wonderful Macy's windows or even book a visit to see Santa if you skipped him before.
Whenever I'm near Herald Square I love to head to NYC's Koreatown. Not only do I love Korean BBQ, but it's fun for kids to see their own food cooking right on the table, plus there are all the interesting little side dishes to try. If you aren't up for a big sit-down meal, my favorite stop in KTown is Food Gallery 32, a small food court with fast food Korean options. Don't miss the very first shop on the left which sells taiyaki, fish-shaped waffles filled with yummy custard.
We packed in a lot of to-dos into this little weekend, probably more than little kids can actually do, but we love wringing the most fun we can out of NYC, especially during the holidays!