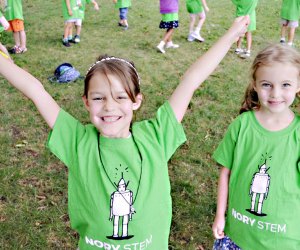 Spring Break Camps for Private and Independent School Kids in NYC
Most private and independent schools in NYC have a two-week spring break (as opposed to the one-week-long winter and spring breaks public school kids get), during which parents need to keep the little ones busy. Fortunately, NYC has no shortage of camp options for the private and independent school spring break, which runs from March 15 to April 1 for the 2019 school year.
We've rounded up over a dozen programs with camp offerings during the two-week break for private and independent schools. It's always worth checking with your local play space or other neighborhood kid spot to see what's on offer. Be sure to click through to the camps' official sites for more details, including hours and pricing.
Oh, and get ahead of the game by checking out our Summer Camp Guide!
Academic Enrichment Camps
Backpacks + Binoculars – Multiple locations, Brooklyn
Ages 4–10
The brainchild of NY City Explorers, this program takes kids on excursions across all five boroughs. Art and science experiments, scavenger hunts, and nature explorations challenge kids to problem solve and think critically about the world around them.

At Camp Intrepid Kids do activities relating to the museum's collection of aircraft, spacecraft, and watercraft. Photo by Janet Bloom
Camp Intrepid – Midtown West
Ages 5–10
Head to the Intrepid Sea, Air and Space Museum to spend a week immersed in themes relating to the museum's collection of aircraft, spacecraft, and watercraft. This year's theme for spring break camp focuses on Earth Day, where kids will learn about sustainability on both the Earth and in space.
RoboFun – Upper West Side
Ages 5–11
Students in kindergarten through sixth grades build working Lego robots in the morning and work on video game design in the afternoon. RoboFun also offers half-day camp options, focused on Lego robotics, coding, game design, stop motion animation, and circuitry.
RELATED: Homeschooling: Great Resources for NYC Families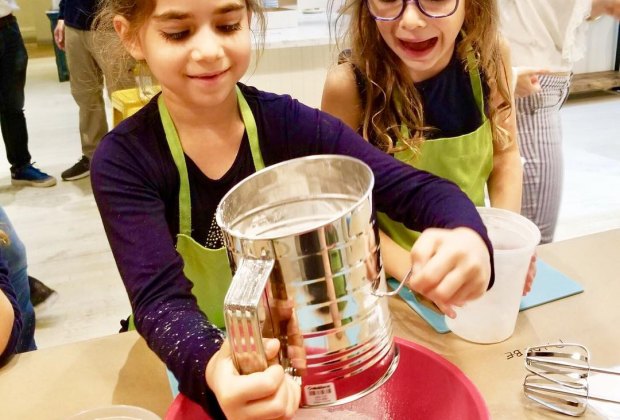 Foodie kids can go on a culinary adventure at Taste Buds Kitchen Camp. Photo courtesy of Taste Buds

Taste Buds Kitchen – Chelsea
Ages 4–17
Little foodies can get their game on at this spot's cooking camp. Taste Buds offers half-day programs divided by ages 4–8 in the morning and ages 9–13 in the afternoons. There's also an Urban Foodies Camp from 10am–1pm for ages 11–16, and an Advanced Camp for ages 13–17 in the afternoons. Kids learn how to make delicacies like cardamom pastries from India, soda bread from Down Under, and Japanese-inspired sushi rolls.
Sports Camps
Asphalt Green – Upper East Side & Battery Park City
Ages 4–12
This popular pair of athletic complexes groups kids by age (4–5, 6–7, and 8–12) and lets them play all kinds of sports, including soccer, baseball, basketball, and gymnastics. Campers also spend time swimming.
The Baseball Center NYC – Upper West Side
Ages 4–12
Little sluggers can hit the popular Baseball Center Diamond Camp whenever public schools are closed. Campers hone their skills performing drills and swinging in the batting cages. Half-day options are available and full-day pickup is at 3pm.
NYC Elite Gymnastics Camp – Tribeca
Ages 5–12
Activities at this camp include coaching on all Olympic gymnastics events, as well as trampoline and pit play. Campers will also enjoy the jumping inflatable, arts & crafts, dance, tennis, and park play (weather permitting).
Performing and Visual Arts Camps
Spring Art Colony – Hudson Square
Ages 6–12
The Children's Museum of the Arts offers four spring break programs at its state-of-the-art space. Young artists and environmentalists will create art with everything from leaves and sticks to natural dyes and handmade paper. Teaching Artists will expose students to a variety of ways to manipulate materials at this camp.
RELATED: Free and Cheap After-School Programs for NYC Kids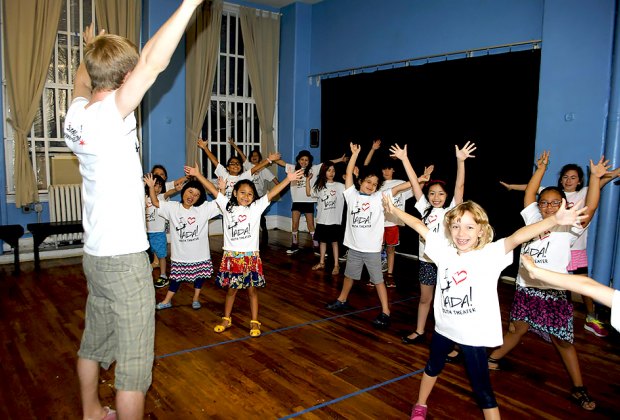 If your kid is ready to hit the stage then TADA! Musical Theater Camp is the place to be!
TADA! Musical Theater Camps – Chelsea
Ages 6–14
Aspiring Broadway stars can work with real theater pros to create a mini-musical. The production is staged to an audience of families on the final day.
Take Two Film Academy – Lincoln Square
Ages 5–16
Students work with local filmmakers to create their own original short movies. Kids learn to write, direct, act, shoot and edit using professional cameras and Final Cut Pro X.
The Fashion Class — Midtown West
Ages 6–12
Kids get a crash course in designing, sewing, and even walking the runway at this fashionista camp. Field trips and face time with professional models are on tap. Full-week campers will come away with three newly sewn garments. Projects change daily, making it great for returning campers.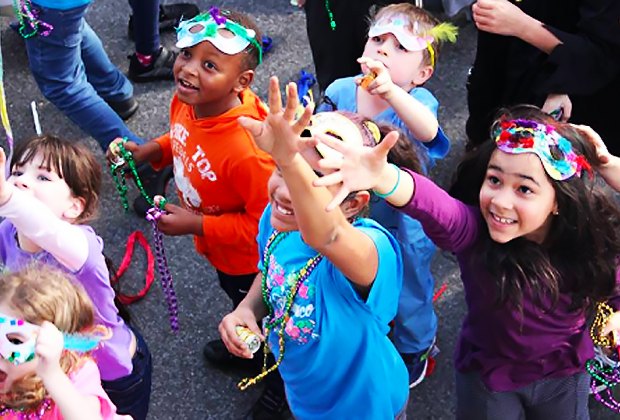 Artists and experts come together to create specialized learning moments in a safe setting at ACT Holiday Camp. Photo courtesy of ACT
General-Interest Camps
ACT Holiday Camp – Morningside Heights
Ages 5–11
Kids enjoy arts and crafts, cooking, circus arts, sports, and playing in the iconic cathedral (or on the grounds, weather permitting). On Wednesday there's a field trip to the Uptown Sports Complex for gymnastics, batting cage, and dance.
NORY – Multiple locations in Manhattan and Brooklyn
Ages 3–12
This camp offers a little bit of everything, which makes it hard to define! Choose from combo swim and STEM programs to soccer and STEM. Kids will learn everything from a backstroke to robotics at this break camp. Half day, full day, and extended day options available.