Homeschooling: Great Resources for NYC Families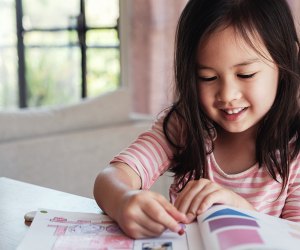 2/7/19
- By
Suzy Q
Have you ever thought about what it would be like to homeschool your child? With its richness of museums, family programs, concerts, architecture, and parks and playgrounds, New York City might just be the best classroom in the world. But for many families, figuring out how to homeschool can be daunting. Here are a few resources to help you get started on your homeschooling journey.
Every family that chooses to homeschool has its own motivations for doing so. Different learning styles, educational needs, and interests are just a few reasons why the traditional classroom may not be a good fit for your child. For those who say to themselves, "Oh, I could never homeschool—it's so hard, and I am not a teacher!", you may be surprised at how many resources exist to help homeschooling families in NYC. Tinamarie Panyard, a homeschool parent and the director of Different Directions, a homeschool educational collective, puts it this way: "I think of myself as the principal of my daughter's school. It's not that I feel like I have to teach her every subject. It's my job to find the resources, the classes, teachers, the mentors who will help her be who she wants to be. So I would say it is not as hard as we think it is, and it is so worth the effort. Homeschooling is the best thing my family has ever done."
Here are 5 resources to get you started on your homeschooling journey. Whether you are contemplating entering the world of homeschooling or are in the thick of homeschooling now, these resources will help to take the guesswork out homeschooling.
Where to Start: The NYC Department of Education's Office of Home Schooling
NYC DOE Office of Home Schooling
333 Seventh Avenue, Floor 7
The NYC Department of Education's Office of Home Schooling is every homeschooling family's first stop. The Office of Home Schooling requires you to make a Statement of Intent to homeschool your child. You may submit the Letter of Intent via email to Letterofintent@schools.nyc.gov by July 1, or in person at the Office of Home Schooling. Insiders' tip: Do not be alarmed if you cannot reach anyone by phone at the Office of Home Schooling. If you go in person to drop off your IHIP, there may just be a box labeled "IHIP" waiting for you. Do your best to deliver paperwork on time and keep good records.
Once you've submitted your letter of intent, the DOE will send you a packet in the mail with important paperwork, including documents for your Individualized Home Instruction Plan (IHIP). Basically, your IHIP is where you explain what you plan to teach and what resources you plan to use to aid with instruction. After your IHIP has been submitted, you are responsible for four quarterly reports, defining how much of your home instruction plan has been successfully completed as the year proceeds. (By the way, did you know homeschooled students get free MetroCards? That's right! The application for fall and spring MetroCards is part of the homeschooling packet from the DOE.)
For some, the prospect of creating a year-long educational plan for their child is daunting—and the administrative and bureaucratic requirements of the NYDOE may be overwhelming, too. One resource you can use to help with filing your paperwork is the Filing Fundamentals workshop offered by Joanna Lodin of Fearless Homeschooling—read on for details below.
Resources for Homeschooling Families in NYC
Fearless Homeschooling Workshops
339 W. 47th Street
Joanna Allen Lodin, a homeschool veteran, offers Fearless Homeschooling Workshops that include a series called "Filing Fundamentals," which cover NYC homeschooling regulations and the required paperwork. Lodin can help you understand the entire process, offer paperwork tips and tricks, and even provide samples of the whole process from soup to nuts—for FREE!
Joanna Allen Lodin is a mother to 3 sons, all of whom were homeschooled from start to finish. "We began homeschooling in 1995 in response to our oldest son, who was an intense and precocious learner. He had the ability to focus deeply on his interests at an early age, and we believed that this was a trait that deserved to be protected. We knew that a traditional school schedule would just frustrate him and his enthusiastic curiosity could get him into trouble, so we began seeking out an alternative to school. We re-committed to homeschooling each year and as each of our sons developed. They are very different people and learners, and we met each where he was, supporting their interests along the way," she says.
Fearless Homeschooling grew out of the consulting, mentoring, and coaching that Lodin had been doing since the late '90s. In 2013 it was suggested that she offer a group information session rather than individual consultations. After she held her first group workshop, Fearless Homeschooling was born.
In addition to Filing Fundamentals, Lodin offers workshops on Crafting the High School Transcript (for college applications), The College Conversation for Teens and Parents, Developing a Homeschooling Philosophy, and a session on Overcoming Challenges. New programming is created upon request.
As Lodin says, "There are quite literally thousands of resources available for homeschoolers. The hard part is zeroing in on what each child needs in response to his/her interests and learning style. I think if you start with what your child is curious about and follow that lead, you're on the right track."
RELATED: STEM Programs for NYC Kids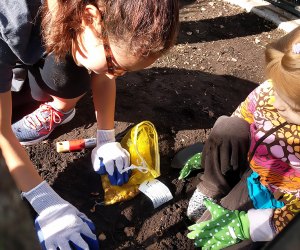 Course offerings at Different Directions are determined by a core group of families and the children enrolled in the program.
Different Directions
339 W. 47th Street
Different Directions is a homeschooling organization that offers resources and community for NYC homeschool families. "We do not attempt to be a school, we are a collective community center that supports the homeschooling mission, whatever your homeschooling mission is…so it's a great place to find support and like-minded people," says Tinamarie Panyard, Operating Director of Different Directions.
Educators and professionals of different backgrounds teach classes at Different Directions. You will find teachers, homeschooling parents who were former teachers, and other professionals who share their expertise with one another and with the organization. Director Tinamarie Panyard is herself a professional storyteller who has worked in the New York City public and private school system in the past. She uses storytelling to teach geography class to middle schoolers. She also teaches social studies and science to elementary aged children and hosts educational playgroups for children ages 5-7. "One mom has a Masters in Math and teaches the high school math and physics class. It is a really great sharing of parents' talents, and skills that will help us raise our children together," Panyard says.
Different Directions serves approximately 120 families each year. Their course offerings are determined by a core group of families as well as by the children enrolled in the program. Classes are offered for children age 3 through high school. For parents, the organization hosts special events, support groups, and workshops such as Fearless Homeschooling and PUNK (Parents Understanding Neurodiverse Kids). For kids, Different Directions sponsors lots of social gatherings, such as movie nights and holiday parties, and an annual musical theater production, in which students collaborate with a professional composer to create a 2-hour original musical based on literature. (This year's musical, based on a combination of works by Sherlock Holmes, Nancy Drew, and The Hardy Boys, will debut in June 2019!) Different Directions has also become the stewards of Ramon Aponte Playground, located steps away from their studio, and will partner with the NYC Parks Department this year.
To register for classes visit their website, review the courses and click inquiry and registration. A teacher will contact you and tell you more about the course. Teachers are responsible for signing students up for their classes, and then you will be invited to register with Different Directions.
RELATED: Awesome Classes for NYC Kids from Preschoolers to Teens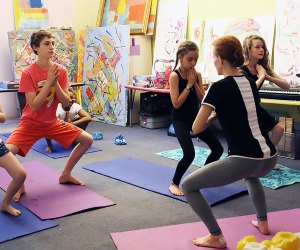 The ROC Network for Learning provides a wide variety of learning resources to homeschooling families.
The ROC Network for Learning
Second Avenue and East 2nd Street
The ROC Network for Learning, fondly known as "The ROC," has been providing academic resources, life skills, and career goal opportunities for hundreds of families, teens, and kids for nearly 12 years. Founded by Melle Randall, a single mother of three children, The ROC is a way for families to share collaboratively to educate their kids. "All kinds of families came together to share teachers, talents, advice, referrals, input, resources, and to support each other," Randall says. The ROC helps homeschooling families nurture a lifelong love of learning within a warm and welcoming community, while extending support, relief, and comfort for families new to homeschooling. On her first day of homeschooling, one relieved mom said: "We just jumped off the cliff, and the ROC provided us a parachute."
The ROC's Network for Learning partners with traditional institutions, programs, teachers, professionals, and businesses to help connect students and families with homeschooling resources to create independent, customized, and fun learning opportunities. Visit their website to learn more, or watch their 45-second whiteboard video about what they do.
Museum Resources & Other Programs for Homeschooling Families
In addition to homeschooling organizations in NYC, several cultural institutions in New York City provide resources specifically designed for homeschoolers, or that are accessible to the homeschool community.
Courses for Teens at the American Museum of Natural History
Central Park West & 79th Street
The American Museum of Natural History offers various ways for NYC high school students to learn from the museum community. Their programs for teens include paid internships, a range of hands-on science courses, and research opportunities like The Brown Scholars program, a 2-year intensive course focused on the intersection of computer science and science for high school girls.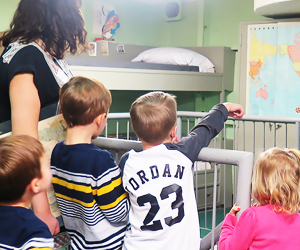 The Intrepid Sea, Air & Space Museum offers Homeschool Days.
College Now
College Now is a FREE college transition program for NYC DOE high school students. It is a partnership between 17 CUNY undergraduate colleges and the NYC DOE. High school students can become college ready before graduating from high school by earning college credits, learning about college and the career process through campus visits, seminars, and workshops.
Intrepid Sea, Air & Space Museum Homeschool Programs
Pier 86, West Side Highway at W. 46th Street
The Intrepid, a converted aircraft carrier and National Historic Landmark and museum, offers Homeschool Days throughout the year with lessons designed for homeschooling families. Past programs have featured talks, educator-led tours, and exploration of various topics through historical artifacts, photographs, and demonstrations. Time is set aside for students and their families to explore the Museum on their own and participate in a self-guided scavenger hunt.
Liberty Science Center Home School Workshop Programs
Liberty State Park, Jersey City, NJ
Right across the river, the Liberty Science Center offers half-day workshops for homeschool students ages 4-14 that supplement a science curriculum with inquiry-based, hands-on exploration of topics ranging from biology to natural science to archaeology.
New-York Historical Society Homeschool Academy
170 Central Park West
The New-York Historical Society's Homeschool Academy offers lessons for students ages 7-17 that are designed to supplement a homeschool curriculum. Students learn about New York and American history, from the early colonies through the 20th century, through art-making, academic lessons, and the study of Broadway musicals, as well as curated visits to the museum's galleries and exhibitions.
Unless noted, photos courtesy of the programs/museum