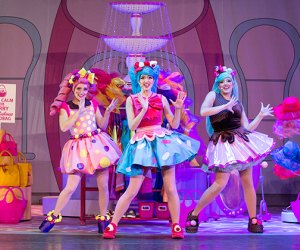 Shopkins Live Review: The Shoppies Shop It Up Onstage
The Shopkins gang took to the stage this September in their very first live show, Shopkins Live! Shop It Up! Based on Moose Toys' popular line of tiny, collectible grocery store items—and the animated series on YouTube—the show features life-size versions of characters like Lippy Lips (a tube of lipstick) and Kooky Cookie (a chocolate chip cookie).
The show, which I caught in New Jersey with two preschool-age kids (and a theater full of mostly girls ages 4-8, decked out in Shopkins gear), was a full assault of rainbow colors, upbeat singing, and coordinated dance moves. It's campy, silly, and pure fun for little fans of the figurines.
Read on for our full review of this children's theater show, which continues its North American tour into 2018, hitting more than 75 cities and metro areas, including Tarrytown, New York (September 26), two more New Jersey theaters (September 27-28), Westbury, New York (October 1), Houston (October 20), and Hollywood, California (November 18).
While the webisodes focus on the little animated grocery items come to life, the live show stars Jessicake and several of her other human Shoppie pals: Bubbleisha, Peppa-Mint, Rainbow Kate, Cocolette, Polli Polish, and a surprise guest.
The Shoppies are all tricked out in tulle party dresses, multi-hued wigs, platform shoes, and makeup as they rush to get Shopville ready for a fashion show, food fair, and more fun and games. They're under strict orders from Shady Diva (you will laugh when she's rolled out on a platform by two bodyguards, I swear!) not to mess anything up, and of course things go wrong and the ladies must work together to fix it.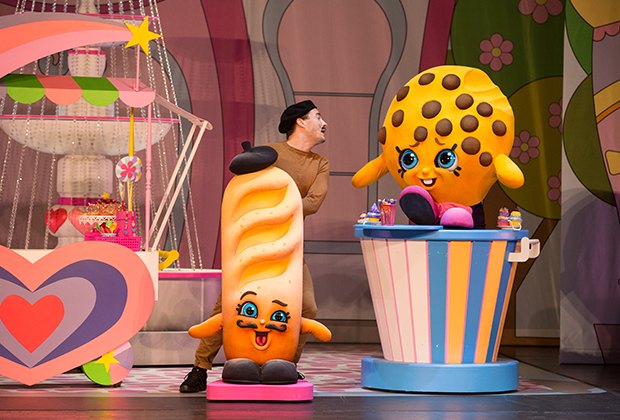 Slick Breadstick is on the hunt for the perfect dance partner. Will it be Kooky Cookie?
The non-human Shopkins figurines make appearances as oversize plushies with voice-overs and puppet-handlers. At other times, they appear on screens mounted to the stage, a callback to the animated show. Apple Blossom, Poppy Corn, Strawberry Kiss, Lippy Lips, and Kooky Cookie all hit the stage. Shopkins' very first male character, Slick Breadstick—a mustachioed baguette with a French accent—plays a starring role, too. His over-the-top persona might be a little hard to take for the parents, but the kids in the audience laughed along with with him throughout the show.
When I asked the 4-year-olds in my crew about their favorite part of the show, they shouted in unison: the singing! And I have to agree. The Shoppies perform 11 original songs, and they really are the best part, perhaps along with the top-notch costuming. From the title song, Shop It Up, to This Is How We Party and the feel-good Count On Me, the Shoppies get the whole audience grooving. There's even a Taylor-Swift-reminiscent Sugar Shakes number: "Shhhimmer, shake it off!"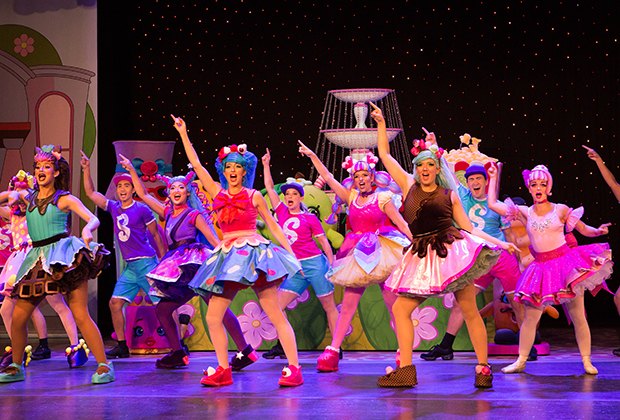 The Shoppies demonstrate their dance moves throughout the musical.
Also impressive were the wordless, break dance-inspired dance performances by the popcorn kernels and a series of condiments with eyes taped all over their bodies. Performed in the glow of black lights, these inventive, acrobatic dances made even the parents take notice.
Messages might feel mixed: there's much fawning over the right makeup and outfits and plenty of "OM-double G" phrases thrown in, but we're also shown (and told) to "reach for the stars" to make your dreams come true and that "girls can do anything." "It's very pink," laughed one mom friend I caught up with in the concession line during intermission. Later, she admitted that her daughter had asked when they could "go back" to the show.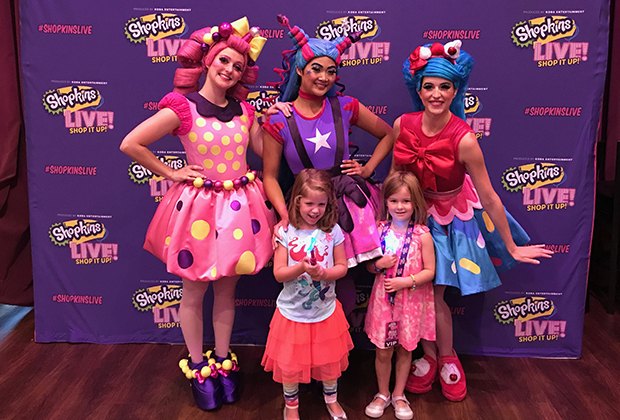 The VIP package comes with a meet-and-greet with the Shoppies. Photo by the author
That's the thing about these big character shows—they might feel a bit commercial, especially when your kid is begging you for a $20 blinking wand that you know will be broken within the week, but for young children, it's just another way to stretch their imaginations, and they love it. The shows bring to life one of their beloved characters, whether that's Elsa from Frozen, SpongeBob Squarepants, PJ Masks, or the Apple Blossom Shopkin. In fact, my daughter was disappointed that she didn't get to meet Apple Blossom, only the human Shoppies. "Are they real, too?" she asked.
The show is presented by Koba Entertainment, which also produced Dora The Explorer, Bubble Guppies, and Strawberry Shortcake children's shows, along with Moose Toys, the Australian company that created and sells the toy line.
Shopkins Live! Shop It Up! opened September 14 in Buffalo, New York, and has scheduled tour dates through February 2018, with more appearances expected to be added. The show runs 90 minutes, including a 15-minute intermission. Tickets start at around $29 but go up from there. The VIP package is essentially a chance to take a photo with the Shoppies after the show, but it also comes with prime seating and a Shopkins merchandise item (a drawstring bag in our case).
Unless otherwise noted, photos by Cylla von Tiedemann