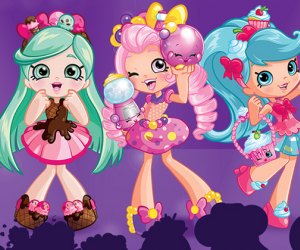 Shopkins Live! Brings Your Kids' Favorite Toy Collectible to the Stage
A new children's musical featuring Shopkins, the tiny plastic grocery and household-themed collectibles with names such as Milk Bud, Choc Chips, and Heels, opens in September.
Shopkins Live! Shop It Up! kicks off its national tour in Buffalo, New York on September 14, stopping in more than 75 U.S. cities, including Mommy Poppins regions such as Boston, Long Island, Connecticut, Westchester, across New Jersey, Philadelphia, Houston, and the Los Angeles area.
The new show stars seven "Shoppies"—Jessicake, Bubbleisha, Peppa-Min, and more of the sugar sweet girl gang—along with several Shopkins characters, including Kooky Cookie, Shady Diva, and Lippy Lips, as they get their town of Shopville ready for a "Funtastic Food and Fashion Fair." Expect plenty of songs, silliness, and foodie fashion pageantry.
The show runs about 90 minutes with a 15-minute intermission. (We expect some serious temptations at the concession stand!)
Unfamiliar with the Shopkins craze? Your kid probably can give you an earful. Bella Basket and D'Lish Donut might not sound like a hot toy item, but to your kid (or at least to mine) they are "the cutest!" Sales of the tiny figurines (usually recommended for ages 5 and older due to the small size) skyrocketed to the No. 1 toy position just a year after they were released by Moose Toys in 2014. Kids seem to love watching them on YouTube through the animated cartoon or just watching other kids (or adults) unwrap new ones or create mini dramas.
The franchise has seven seasons of online animated shows and counting. It recently released its first movie—Shopkins: Chef Club—with Universal Pictures Home Entertainment. This is its first live theater production. It's presented by Koba Entertainment, which has also produced Dora The Explorer and Strawberry Shortcake children's shows, along with Moose Toys, the Australian company that created and sells the toyline.
Tickets went on sale April 28. Purchase at ShopkinsLiveOnTour.com. More cities will be added later into the year.
Image courtesy of Koba Entertainment and Moose Toys.