The Best Playgrounds in South Orange and Maplewood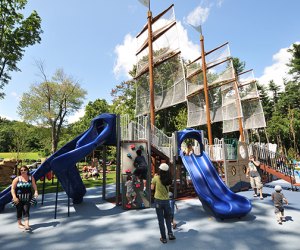 When my husband and I finally settled into our new neighborhood in Maplewood, one of the first questions we asked the locals was: "Are there any playgrounds nearby?" Luckily for us – and for our toddler – there are a myriad of playground options all within a 15-minute-or-less drive from most points in South Orange or Maplewood (known among locals as SOMA). There really is something for everyone. We've even got some tips on which playgrounds to hit at different times of the week – and which to try depending on the weather forecast. Read on!
Grove Park – South Orange
Located in a shady, secluded part of South Orange, Grove Park is affectionately known in our house as the "tunnel playground." A tubular play structure is connected with several climbable and slide-able tunnels, which all come together in a giant "bubble" in the center. In addition to the tunnels, there are climbing walls and swings. Grove Park's benefits include its small, neighborhood feel and the multitude of animals we see there – a variety of birds and lots of squirrels – which makes this park a perfect place for a nature walk in addition to your active play. Easy street parking nearby.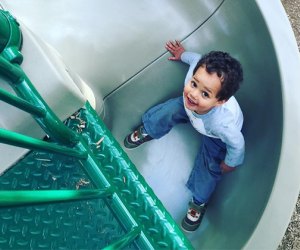 Enjoying the twisty slide at Farrell Field. Photo by spdock via Instagram.
Farrell Field – South Orange
Farrell Field is another South Orange gem. It's smaller than Grove Park and there are also fewer parking spaces, but if the lot is full it's pretty easy to park on a side street and make a quick walk over. Farrell Field gets a lot of sun and is a great park for smaller kids, with preschool age being the primary focus here. There are climbing structures, slides, swings, and even a school bus complete with windows and steering wheel that makes for some excellent dramatic play scenarios.

Little climbers will keep busy at Maplecrest. Photo by acherilus via Instagram.

Maplecrest Park – Maplewood
Located in the College Hill/Hilton section of Maplewood, this playground is moderately sized, with a toddler-size play structure as well as a larger one with three twisty slides (always a favorite in our family). Earlier this year, Maplecrest unveiled a brand-new skate park, and you can often see teens and adults practicing their skateboard, scooter, and bike tricks. Maplecrest is only about a five-minute walk to the Hilton branch of the Maplewood library, which is wonderful for making an afternoon of this area (or a fun place to check out should a rainstorm spoil your outdoor plans). Weekends tend to be busy, as well as summer, when camps also use the fields for instruction. A parking lot is adjacent, so it's easy to park and play.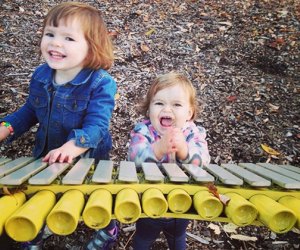 Kids will love to hit the keys at Memorial Park's xylophone. Photo by Courtney Reimer via Instagram.

Memorial Park – Maplewood
Located just across from the Maplewood NJ Transit Station, this playground is housed near one of the nicest parks in Maplewood. Perhaps you've attended the July 4th celebration in Memorial Park or rocked out to the stellar lineups at Maplewoodstock? Spacious baseball fields, tennis and basketball courts, and a well-loved duck and turtle pond complete the area, with lots of walking paths for strollers. The playground itself offers shade for sunny days as well as two large play structures, one for younger kids and another for older, more adept climbers, plus lots of swings. Recently, many of the playgrounds in Maplewood were given new wood chip makeovers, so the ground is softer than it was in months past. Another highlight is the musical instrument collection, which includes a large xylophone, vertical chimes, and drums. On my most recent visit, one small drum needed repair, but it didn't diminish any of our music-making fun. This playground tends to be one of the busier ones in town, partly due to its nearness to the train station, but there's lots of parking nearby.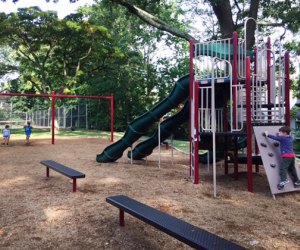 Orchard playground is a lovely, shaded spot with big trees. Photo by the author.
Orchard Park – Maplewood
This hidden gem, sometimes known as the "secret park," is a wonderfully self-contained playground that also houses a multipurpose field as well as two tennis courts. The playground, and indeed the whole park, is set back from any street traffic, making it extra safe for kids to run, bike, and play freely. There are two climbing structures, lots of slides of varying sizes, and some extra goodies like spinners and a vintage seesaw. Bathrooms are located by the field house and picnic benches, although they are sometimes locked. Lots of shade makes this a great destination for a sunny day.

Mushroom "stepping stones" are a favorite at the Regatta Playground. Photo by Rose Gordon Sala.
Regatta Playground – West Orange
While this destination playground isn't located in SOMA (it's technically located in West Orange), it's well worth the little bit of extra travel time. Part of the South Mountain Reservation, this sprawling playground is one of the best for families with kids of all ages. The design is centered around two sailing ships – which makes sense, given that the playground overlooks the waterfront, where paddle boats are available during summer months. Regatta Playground has a soft, springy ground that cushions bumps and falls from the fantastic climbing structures, some of which resemble fossil-strewn boulders. It is truly a whimsical place, with spinning trees, a dragonfly seesaw, and a suspension bridge that connects "stepping stones" of mushrooms and tree stumps. In recent months a new section opened, adding a tall rope-climbing structure and rows and rows of swings to the mix. Best of all, there are enough Adirondack chairs for everyone to take a rest. Parking is available across the street, and bathrooms are plentiful as well.
Top image: Regatta Playground's Pirate Ship. Photo courtesy of Essex County.