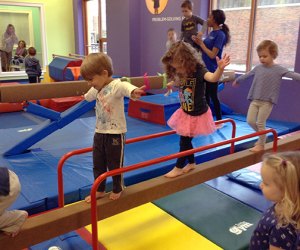 Best Indoor Play Spaces in Essex County for NJ Kids
It might not feel like it now, but winter is on its way – and that means that you and the kids will soon be spending lots of time inside. The good news? You don't necessarily need to stay home. Battle boredom and fight off cabin fever with a visit to one of these 11 indoor hot spots in Essex County. To find even more indoor fun throughout New Jersey, check out our comprehensive guide to indoor playgrounds, kid gyms, sports centers, and fun zones.

Funtime Junction – Fairfield
Kids begging to go to Chuck E. Cheese? Check out Funtime Junction instead. This large indoor play palace includes a soft, two-story playground, a Sesame Street–themed bounce house, arcade games, Laser Tag, and even a helicopter ride. Closed on Mondays, but walk-ins are welcome every other day of the week. General admission is $9.95 for kids over 2 ($5 for the littles). A few dollars more gives you access to the bouncy house ($13.95), or get unlimited rides plus Laser Tag for $16.95. Pizza, drinks, and snacks are available for purchase. Socks are required, and adults are always free.
JUMPnasium – Fairfield
Instead of bouncing off the walls at home, let your kids bounce at JumpNasium. This indoor inflatable playground provides 13,000 square feet of gigantic inflatables, including giant slides, climbers, a moon bounce, and trampoline basketball, plus arcade games and air hockey. Open jump is 70 minutes long and time slots fill up quickly, so make your reservation online before you go. Tickets are $9.95 per child and adults are free. Kids must be 34" or taller to jump on most inflatables, but don't worry; there's plenty of non-bouncy stuff for toddlers to play on, too.
My Gym – West Orange
Here's one gym you'll actually want to visit regularly. This international chain is popular for classes, camps, and birthday parties. Kids can start as young as 6 weeks old in Little Bundles and go all the way up to 8-year-old Champions. There are also cardio exercise classes for 7-to-10-year-olds and ballet/jazz combo for preschool dancers. The one-time family membership fee is $75, and four weeks of classes cost $94, with an 8 week minimum, and includes unlimited open gym play. Sign up for a free trial class and save $75 if you join the same day.
RELATED: Best Indoor Play Spaces in Bergen County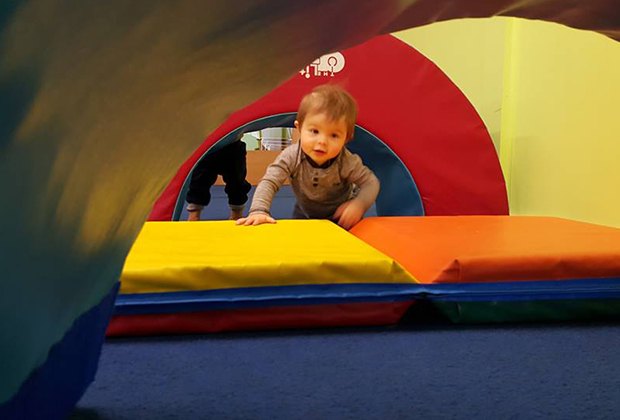 Parent and child class at The Little Gym of Caldwell. Photo by Devlin Olivia Hunt.
The Little Gym – Livingston, Montclair, and Caldwell
Give your living room leaper a soft spot to land at The Little Gym. Balance beams, uneven bars, and floor mats set the scene at this indoor gym facility, which is perfect for little tumblers to get the wiggles out. Beyond its gymnastics program, The Little Gym also offers sports, dance, and music classes, plus parent and child classes for babies and toddlers 4 months to 3 years. Tuition plans start at $20 per class, and birthday parties and camps are also available.
Branch Brook Park Roller Skating Center – Newark
Get everyone up on their feet with a trip to the skating rink. On Monday nights from 6-9 p.m., enjoy affordable family fun with $2 admission. Rent a "Skate Mates" ($7) to help toddler and beginner skaters balance so they can join in, too. You can also grab dinner from the café, which serves pizza, chicken fingers, and drinks. Weekend admission rates range from $8-9 per child and $9-10 for adults; skate rentals are always $4 per person. Non-skating adults must pay $2 to watch.
Kidville – Montclair
Keep active kids busy at this one-stop family destination that offers creative classes, camps, and an indoor play space. Choose from a varied schedule of gym, music, art, science, and dance classes for newborns up to age 6 designed to help growing bodies and minds develop. Membership starts at $125 per month and includes class enrollment, play space access, and special perks such as discounts on Kidville's signature birthday parties.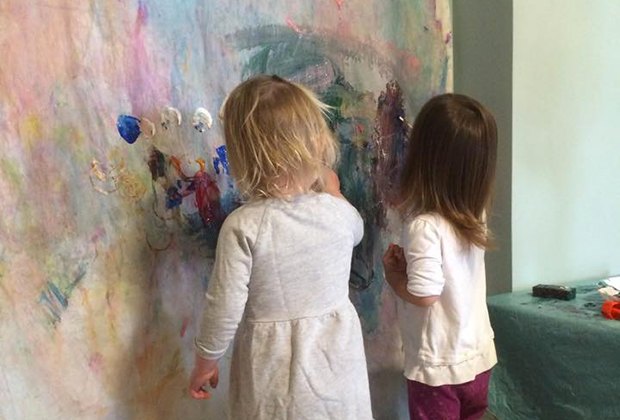 Fingerpainting on the wall at Work and Play.
Work and Play – South Orange
Work and Play is a co-working facility that offers childcare for members (memberships start at $75) who use the upstairs workspace. However, you don't have to be a member to take advantage of the wide variety of classes offered there. Open to everyone from toddlers to adults, the classes provide stimulating sensory experiences, including water play, woodwork, and watercolor painting. Reserve your spot online for $15, or pay $20 at the door (space permitting). The spacious and welcoming downstairs studio, which opens up to an outdoor play area where nature workshops are also held, doubles as a birthday party venue and special event space for community-centric pop-up shops.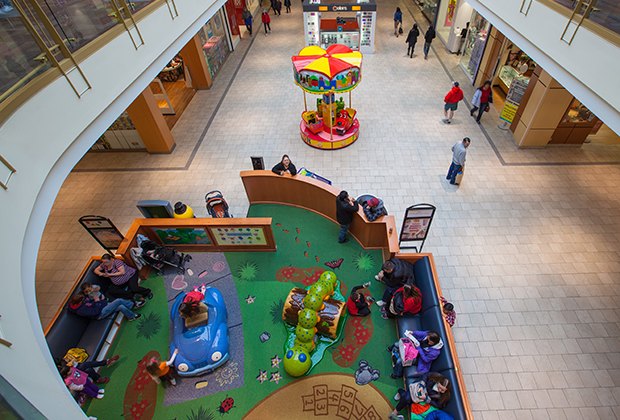 Kidgits Indoor Playground at Livingston Mall. Photo by Mark Wyville.
Kidgits Indoor Playground – Livingston Mall
While you're stocking up on coats, hats, and mittens at the mall, check out this gem right inside the shopping center. Located on the lower level near Sears, this carpeted playground allows kids to kick off their shoes and blow off some post-shopping steam. The main slide structure is surrounded by several stationary climbers, including a bright blue car, tugboat, and rocket ship. Large puzzles and a mirror toward the back are great for toddlers and crawlers. Just outside the play area is a mini carousel for kids who want to be on the move. There's also comfortable seating for grown-ups, a Dunkin' Donuts a few feet away, and free Wi-Fi.
Brunswick Zone Belleville Lanes – Belleville
Let the good times roll at this family-friendly bowling alley. With games starting at $4.29 per person (shoe rentals are $5.02), Brunswick Zone features features 32 lanes and a rockin' playlist of Top 40 tunes. Automatic bumpers and lightweight balls will score big time with your little ones, and kids will also love it when the lights go down for glow-in-the-dark cosmic bowl. Lane-side food service is a nice bonus, and their kids' meals – including favorites like hot dogs and pizza – are a great deal. Check out the party packages if you're looking for winter birthday party ideas.
Barnes & Noble – Livingston Mall
What better place to enjoy a good book than at a bookstore? Stop by every Tuesday, Thursday or Saturday morning at 10am for Kids' Storytime. Buy the book, or browse for other titles to add to your child's library. Afterwards, kids can play at the Thomas & Friends train table, listen to another story at the Nook station, or use the Lego table, while you enjoy your caffeine fix from the Starbucks café right inside the store.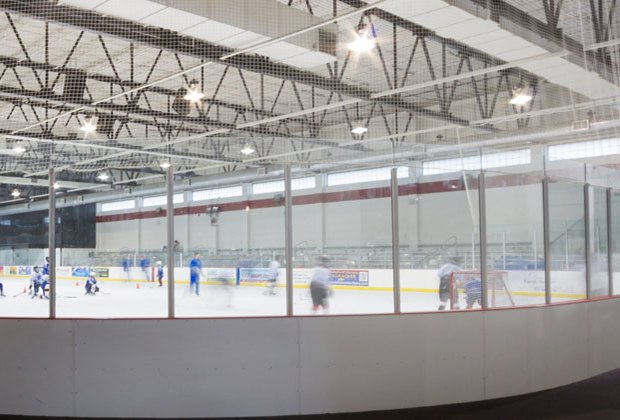 Richard J. Codey Arena in West Orange. Photo courtesy of Essex County Parks.
Richard J. Codey Arena – West Orange
Open to the public for ice skating, hockey, skating lessons, and birthday parties, Codey Arena offers a cool time for everyone. The former South Mountain Arena was renovated in 2005 to include party rooms, a concession stand, pro shop, and arcade. Public skating is available Tuesday, Thursday, Friday, Saturday, and Sunday at $6 per child and $8 for adults (skate rentals are $4). The rink also offers private or group ice skating lessons through Learn to Skate USA. Pint-sized hockey fans will love that this rink once served as the practice facility for the New Jersey Devils – and in keeping with that tradition, it now offers private hockey sessions or family stick time (both are $15 per skater).
Updated October 19, 2016
Toddler gymnastics class at The Little Gym of Montclair. Photo by Lori Testa/courtesy of the gym. Unless otherwise noted, all photos courtesy of the venues.