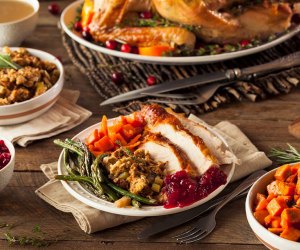 10 Thanksgiving Dinner Takeout Spots in New Jersey
Thanksgiving may be a day to bond with your family and maybe watch some football, but let's face it: It's also a heck of a lot of cooking, cleaning, and organizing. In a season where family gatherings may be smaller and simpler than usual, a festive, pre-made Thanksgiving dinner takeout meal is an easy way to feed the family.
Restaurant curbside pick up has become part of our new normal, and it's the perfect way to take the stress out of Thanksgiving dinner. So, ditch the fuss of cooking, and try ordering a homemade Thanksgiving meal to-go from one of these restaurants or grocery stores. Doing so leaves you with more time to tune into the big Macy's Thanksgiving Day Parade or plot a family-friendly hike to work off some of those holiday calories.
Subscribe to our FREE newsletters to get stories like this delivered to your inbox.
Restaurants and Catering Services Offering Thanksgiving Dinner in New Jersey
A caterer, event space, and reception center, the Hazlet location is where homemade, fresh, and tasty meals are made. The Thanksgiving menu includes a turkey (or ham or both) main dish in 16-, 18-, or 22-pounds turkey (cold, hot, and whole), plus yummy sides like a vegetable platter, stuffed shells or manicotti, candied yams, string beans almandine, bread and sausage stuffing, and more. End on a sweet note with apple or pumpkin pie or cheesecake. Orders can be picked up or delivered on Thanksgiving eve or Day.
Let Feast Catering provide your family's Thanksgiving dinner spread. A Thanksgiving dinner for four includes turkey, soup, stuffing, potatoes, vegetables, bread, and pie. Entrees, such as turkey or ham, soups, including pumpkin and split pea, and hors d'oeuvres, like stuffed mushrooms and coconut shrimp, may be purchased a la carte as well. Orders must be placed by Friday, November 20, to be picked up Wednesday, November 25.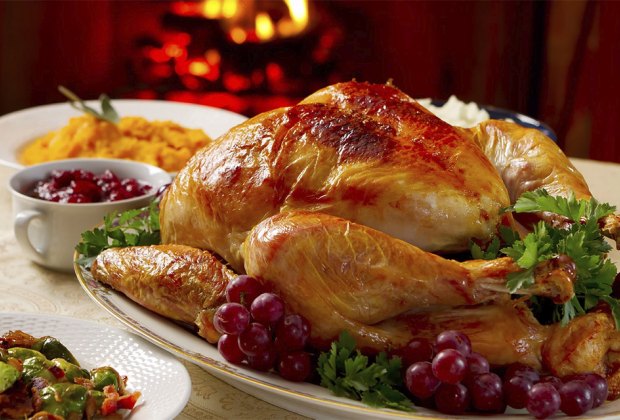 Maddalena's CheeseCake & Catering offers delicious Thanksgiving meals for families.
Pick up a hot turkey right on Thanksgiving Day from Maddalena's curbside. The traditional holiday meal includes turkey, stuffing, vegetables, potatoes, and other trimmings, which can be heated at home and served alongside a fully cooked turkey that's packed in an insulated box and remains hot until you're ready to carve it. Maddalena's famous cheesecake or apple crumb pie is the grand finale of the feast. Orders must be placed by Thursday, November 19.
Pierrot makes it easy to host a Thanksgiving gathering at home. The food arrives warm in insulated boxes, ready to serve. A complete dinner for 10 or 20 guests features an 18-pound turkey, stuffing, rolls, vegetables, mashed potatoes, and cranberry compote. A la carte delicacies include turkey, ham, vegetables, soup, lasagna, rolls, and more. Orders must be placed by Saturday, November 21 for pickup Thanksgiving Day, Thursday, November 26.
Stage House provides everything you need for a complete Thanksgiving feast. Meal packages serve anywhere from 8-20 hungry guests and arrive in disposable, reheatable packaging. Meals include turkeys, potatoes, stuffing, vegetables, bread, cranberry sauce, and a choice of pumpkin or apple pie.
Blend's Thanksgiving to-go menu can feed a couple or a crew of up to 12. Order for a big group, and you'll pick up a meal that includes an 18-pound turkey as the main course. Gourmet accouterments include sausage stuffing, sweet potato casserole, truffle potato puree, green bean casserole, butternut squash soup, and more. Choose apple, pecan, or pumpkin pie for a sweet finish. Orders must be received by Sunday, November 22.
Pony up for a Thanksgiving spread from this country saloon. Dinner packages, 5-10 guests, feature turkey, gravy, ham, cranberries, salad, potatoes, yams, rolls, veggies, and apple or pumpkin pie. Orders must be in by Wednesday, November 25, for pick up Thanksgiving Day.
RELATED: Free Things To Do Online For the November Holidays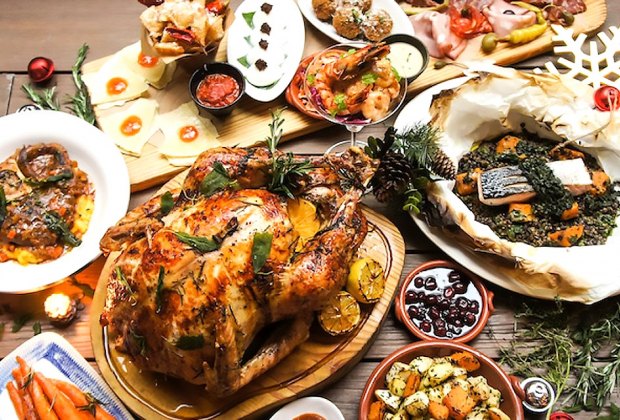 Morton Williams Marketplace offers an extensive Thanksgiving takeout menu.
Grocery Stores Offering Thanksgiving Dinner To-Go in New Jersey
This super-sized supermarket (you can seriously get lost in there) is stocked with an impressive selection of entrees and side dishes, making it a smart choice to let them cater your 2020 Thanksgiving dinner. Its extensive menu includes a la carte options such as a premium roasted turkey with gravy or other entrees, homemade stuffing, potato, cranberry sauce, and appetizers. All orders must be placed by Monday, November 23, to be picked up Thursday, November 26.
Kings offers a variety of healthy and hearty options for Thanksgiving spreads this year. Choose from packages that include herb-roasted boneless turkey, organic oven-roasted turkey, cider-glazed boneless turkey, freshly cooked antibiotic-free turkey, and more. Meal packages serve from six up to 16 guests and are accompanied by stuffing, potatoes, more sides, and pie. An additional side dish packages are available as well. Contact your local store for ordering information.
Shoprite – Multiple Locations
Fill your friends and families' bellies with holiday favorites from Shoprite's Friendsgiving Feast. The budget-friendly meal bundle serves 15 guests and includes an entree, six sides, and apple pie. You may opt to create your own menu with entree selections, like turkey or ham, an array of side dishes, like butternut squash, stuffing, and mac and cheese, topped off with apple pie. Contact your local store for ordering information.
This post, originally published in 2012, has been updated for 2020. All photos courtesy of the respective venues