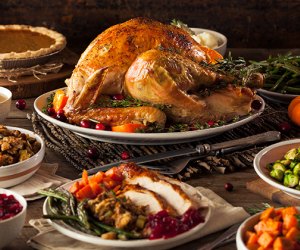 Turkey Takeout! 10 Places to Pre-Order your Thanksgiving Meal in New Jersey
It's Turkey Lurkey time! Well, almost. Thanksgiving may be a day to bond with your family and maybe watch some football, but let's face it: it's also a heck of a lot of cooking, cleaning, and organizing – with the kids running amok, of course. If the thought of playing host or hostess this holiday season stresses you out, why not call in some reinforcements and order a pre-made Thanksgiving meal that can be delivered or picked up? Sure, you could eat out – but if you'd rather stay home without the fuss of cooking, try ordering a homemade Thanksgiving meal from one of these local, or online, shops.
Ashley Marketplace – South Orange
Ashley's delicious Prix-Fixe Thanksgiving dinner includes soup, whole roasted turkey, cranberry sauce, gravy, two vegetable choices, dinner rolls, and a pie. The all-natural turkeys available include 8-10 lbs, 10-12 lbs, and 18 lbs. Kosher and organic turkey also available. There are also options to order the courses individually. Local delivery is available through Thanksgiving Eve, or you can pick up on Thanksgiving Day from the shop before noon. All food will require reheating. View the Thanksgiving menu here.
Anthony David's – Hoboken
More than just a popular cafe with awesome outdoor seating, Anthony David also has your Thanksgiving needs covered. The 2017 Thanksgiving menu includes soup, appetizers, pastas, turkey entrees (of course), sides, and desserts. The absolute last day to place an order is the morning of November 20 for a pick up on Thanksgiving morning. You can place an order online here (via email) or print out this form and bring it into the cafe ASAP.
Fresh Direct – Statewide
The popular grocery delivery service offers quite a few turkey options this season. The following turkeys are available for pre-order via the site: A complete large dinner with a 14-16 lb cooked bird, a medium Thanksgiving dinner with a 12-14 lb bird, or a small dinner with a 3-5 lb turkey. Many sides are available a la carte or included in your meal order, such as cornbread, gravy, and mashed potatoes. All turkeys are raised without antibiotics; traditional turkeys that you cook on your own, as well as kosher turkeys, are also available. Meal orders must be placed by November 21 for a Thanksgiving Day delivery. Click here for menu.
The Fresh Market – Bedminster, Montvale
For in-store pick-up, The Fresh Market is currently offering traditional, deluxe, and smaller gathering meal options which can be ordered online. Or, you can just order the turkey alone, by pound, and place that order online as well. The turkey can be fully-cooked or not, it's your call. Yummy sides include Yukon gold potatoes, herb stuffing, corn soufflé, gravy, yeast rolls, cranberry relish, and more. Orders must be picked up before Thanksgiving since The Fresh Market shops are closed on Thanksgiving Day.
Jacques Exclusive Catering – Hazlet
A caterer, event space, and reception center, the Hazlet location is where homemade, fresh and tasty meals are made. The Thanksgiving menu includes a turkey (and/or ham) dinner offering the following bird options: a 16-, 18-, or 22-lb turkey (cold, hot, and whole); and other yummy foods such as a vegetable platter, stuffed shells or manicotti, candied yams, string beans almondine, bread and sausage stuffing, and more. On Thanksgiving Day, Jacques caters/delivers to Monmouth County, and the day before Thanksgiving they'll deliver statewide and even to Brooklyn and Staten Island. Jacques also offers pick-up on Thanksgiving Day at their Hazlet location. Please place orders via phone immediately.
Morton Williams Marketplace – Jersey City
This super-sized supermarket (you can seriously get lost in there) is stocked with an impressive selection of deli meats, making it a smart choice to let them cater your 2017 Thanksgiving meal. Their extensive menul includes a la carte options such as a premium roasted turkey with gravy or other entrees, homemade stuffing, potato, cranberry sauce, soups, appetizers and pie. All orders must be placed by November 20 to be picked up on November 23. The online order form can be found here.
Rastelli Market Fresh – Deptford, Marlton
The traditional Thanksgiving dinner package serves either 6 to 8 or 12 to 14 guests and includes a whole turkey (10 to 12 lbs, or 18 to 20 lbs), traditional stuffing, mashed potatoes, veggie medley, turkey gravy, cranberry sauce, and more. If you want your turkey cooked, add $14.99; Rastelli's master chefs will perfectly cook your turkey to a golden brown finish. Please place your order via phone or email asap; view the Thanksgiving menu – which includes sweets and a plethora of a la carte sides – here.
Wegman's – Mt. Laurel, Ocean, and other locations
The supermarket chain offers many Thanksgiving dinner options for NJ families seeking a catering option. Place an online order for a hand-carved roasted turkey dinner (the turkey contains no antibiotics, MSG, gluten or nitrates), a classic turkey dinner, or a premium dinner; there are options ranging from 6 to 12 people. Each dinner option offers different sides. Available zesty side dishes include stuffing, green bean and mushroom casserole, butternut squash puree, seasoned green beans, cranberry orange relish, and more.
Whole Foods – Millburn and other locations
Whole Foods offers an array of organic and healthy choices, whether you're hosting a small get together for four or a feast for 12. Each store's website lists Thanksgiving packages by price. They offer a classic menu (everything but the kitchen sink!), a simple menu (basic sides), vegetarian, vegan, and "small" – great for about six people. There's even an "unexpected" menu option, for those who prefer an 'outside of the box' meal: spicy Cornish hens instead of turkey; sweet potato salad instead of marshmallow sweet potatoes; green beans with fresh mint instead of casserole. Available sides include whole wheat dinner rolls, Brussels sprouts, green bean casserole, braised pineapple, and much more. Place an order online or in-store for pick-up only.
Christopher's Kitchen- Morganville
Whether you're hosting a small gathering or a large celebration, this catering company offers Thanksgiving takeout options for any crowd. Choose from meals that serve 4-6, 8-10 or 14-16 and include turkey, potatoes, stuffing, vegetables and desserts. Add-ons such as appetizers, soups, sides, desserts and additional entrees are available, as well as gluten-free selections. Orders must be in by November 16 and should be picked up on Wednesday, Thanksgiving eve. Delivery is available for an additional fee on Tuesday and Wednesday.
Happy Thanksgiving!
Originally published 2012; updated November 2017
Photo via Bigstock