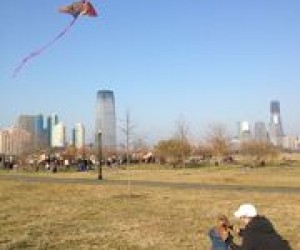 Celebrate Outdoors! Kids' Birthday Parties at New Jersey Parks
It's pretty easy for both kids and parents to get swept up with birthday party fever when that special day rolls around each year. And why not? Birthdays are an excuse for gooey cake, fun food, family & friends. But some of these so-called kids' parties can get out of hand pretty quickly. By the time you book a venue, hire entertainers and maybe even have the food catered, these little get-togethers have turned into over-the-top extravaganzas. I still recall the look on my husband's face when I told him the cost of hosting an equestrian-themed party complete with pony rides!
Since spring is upon us and it's safe to say we can pretty much count on mild, breezy weather for a couple of months to come, let's take a look at a handful of New Jersey parks where kids can have some old-fashioned fun, let loose and just be, well..kids! And best of all, parents can actually enjoy the big day without morphing into crazed party planners with no budget left for a birthday gift!

Liberty State Park (Jersey City, NJ)
Probably one of the most well-known parks in our area, Liberty State boasts amazing views of the Statue of Liberty and Manhattan skyline from across the Hudson. But don't count this one out as a tourist venue. Liberty State has one of the biggest playgrounds in New Jersey, surrounded by grills and picnic tables with a beautiful boardwalk meandering from one side of this expansive park to the other. Parties at Liberty State are free for up to 50 people and include the use of a grill and 8 picnic tables. Advance reservations are a must. Reserve a picnic spot right next to their enormous playground (suitable for every age from toddlers to big kids), bring a cooler with drinks, order a pizza and cake, throw in some family-friendly music and you've got yourself a casual party with built-in entertainment for kids and beautiful views for the adults! Note that Liberty State Park does not allow balloons on their grounds, but other decorations such as streamers are fine. Please visit Liberty State Park's website or call (201) 915-3402 for more information and to book a picnic area.
Somerset County Parks & Environmental Education Center (Bridgewater, NJ)
Somerset County's division of parks and recreation encompasses a vast expanse of outdoor experiences, from golf courses to riding stables to of course, beautiful parks and nature trails. If you're looking for a park that does a bit more of the planning for you, their Environmental Education Center has creative packages that fit the bill. Choose from 3 party themes: 'Super Science,' 'Cool Critters' or 'Where the Wild Things Live.' Note that the party room can only hold up to about 15 people (and children must be ages 5 & up) so if you've got a big crowd with varying ages, it might be best to find an alternative venue. The Environmental Education Center recommends booking your celebration at least 4 months in advance. For more information visit the Somerset County Parks website or call (908) 766-2489.
Monmouth County Parks Systems (Lincroft, NJ)
If you're looking to get the kids outside for a celebration, Monmouth County Parks Division offers an impressive array of party packages for just about every age group and interest. Unlike Somerset County, Monmouth's parties require that you provide both food, cake AND paper goods for your guests but they promise to take care of the rest! From arts & crafts parties for the toddler and preschool set at the Dorbrook Recreation Area to "Boat Tour" and "Nature Adventure" shindigs at the Manasquan Reservoir, these themed-events are like parties at parks, version 2.0. You'll get the best of both worlds – guests can soak up a casual summer afternoon, while park personnel make sure everyone is engaged and entertained (and maybe even learn a thing or two about nature in the process.) Visit the Monmouth County Parks System website for more info and pricing on each package and contact information to book your party for each specific venue.
Jenkinson's Boardwalk (Point Pleasant, NJ)
Does a beach count as a park? As a Floridian, I say 100% yes! South Jersey's beautiful beaches are wonderful places to soak up summer and sunshine. July and August celebrations can be tough with so many people out of town but the beach is a destination in itself and you can bet that whoever's available will come celebrate. Jenkinson's Boardwalk in Point Pleasant offers a pretty darn classic "down the shore" experience, including a boardwalk dotted with taffy, pizza and ice cream joints, amusement park rides and even a quaint well-kept aquarium that's just the right size for the 5 and under set (and a perfect refuge from the heat). Jenkinson's offers several party packages that help you and your guests make the most of the day. When your guests have had enough amusement, pizza and sweets, grab a towel and just relax on the sand for the rest of the lazy afternoon. Please note that parties require a minimum of 10 children. Visit the Jenkinson's Boardwalk website for more information on specific party packages or call (732) 892-3274.

Okay, so now you've got a range of options, from the do-it-yourself grill-out to a guided nature walk. If you go the "do-it-yourself" route, be sure and call the park to check about obtaining a permit or reserving a picnic spot or gazebo (most charge very minimal rental fees). If you decide on a more organized themed-party option, be sure and book several months out, especially if you'd prefer a Saturday afternoon (the most popular time slot).
Whether you find yourself at the beach, a state park or a nature center, an outdoor shindig can be an old-fashioned and fun way to celebrate another year!
Originally published 2012