Trunk-or-Treats in New Jersey for Halloween 2021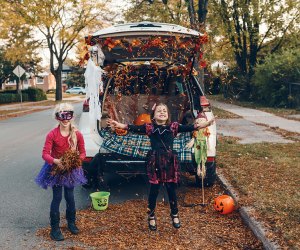 For a safer alternative to trick-or-treating, New Jersey kids can collect goodies at a variety of family-friendly trunk-or-treat events. Instead of wandering door-to-door, young trick-or-treaters can load up their Halloween bags with candy from decorated cars.
These trunk-or-treats—many of which are FREE—take place in parking lots, parks, and on blocked-off streets. They sometimes include parades, costume contests, and other Halloween activities. Another bonus for sugar-crazed kids: Many of these trunk-or-treats take place before Halloween. That means double the loot if you make your plans right!
For more boo-tiful Halloween fun, check out our Halloween Guide for New Jersey Families, which includes our picks for the best places to trick-or-treat in New Jersey, 20+ FREE Halloween events, and more.