Now (Finally) Open: An Awesome New Playground in West Hollywood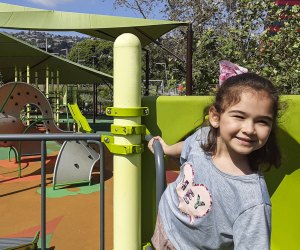 10/3/22
- By
Ana Belibasis
If your child is anything like mine, they get bored with visiting your same old beloved neighborhood playground week in and week out. So, I was excited to hear that after years of closure, West Hollywood Playground at West Hollywood Park had finally reopened. I had heard raves about it in years past, but it's been closed practically my daughter's whole life. Let me cut to the chase: it was worth the wait, and I have a new favorite playground! Better than that, my daughter has a new favorite playground; in fact, she had so much fun at the rock climbing and music-making stations that she insisted we go back the very next day. Read on to discover why this inclusive, all-ages playground is our new favorite, and why I think you'll love it, too.
If you're looking for a new playground to add to your repertoire, we've made lists of the best playgrounds in Los Angeles and also amazing playgrounds specifically designed for toddlers in our Favorite Parks and Playgrounds of Los Angeles Guide.
The Playground That Wouldn't Open, Finally Did
The West Hollywood Park's overall renovation plans have been 18 years in the making! The park used to have a small but wonderful toddler playground, a slightly bigger big kid playground, and lots of space for riding bikes and scooters. But when renovations began on the all-new Aquatic and Recreation Center, the parks were ripped up. Eventually (there were permitting issues; there are always permitting issues) the dog park reopened, and then this past summer the Aquatic Center reopened. But there were piles of dirt and taped-off equipment where the playground should be.
In September, that changed and this unconventional playground, which is visually inviting from the moment you lay eyes on it, is now open.
It's an enclosed fenced playground, and that's always a big plus in my book. The playground is divided into two areas, one's designed for children ages 2- 5, and the other one for the bigger kids, ages 5-12. There is a locked gate, so unless you have a little MacGyver, the area is quite secure. The playground is adjacent to the library, tennis courts, Aquatic Center, and park grounds, which include a dog park. It's perfect for families with little kids, big kids, some of each, and even fur babies.

The equipment is so new, cool, and fun that it makes parents want to be kids again!
A Safe and Secure Play Area for Little Kids
The area for the tiny tots has the cutest slides, swings, tunnels, and even a little sand pit. There are two picnic tables and a couple of concrete seating areas for when parents and kids want to take a break. There's no food allowed in the playground, and only water is permitted, so plan accordingly. This rule keeps the grounds exceedingly clean.
RELATED: 23 Awesome Indoor Playgrounds in Los Angeles: Indoor Play Spaces for Hot (or Rainy?) Days

Kids are happy to "hang out" here all day.
The playground has rubber flooring throughout, which is awesome for little ones just learning to walk. There's a bathroom inside the playground area, and it's also clean and well-kept. The sun isn't an issue here no matter the time of day, because there are cantilever shades over both structures. The playground encourages inclusive play structures and has ramps for special needs access to the play areas.
In short, it's a perfect, safe, and easy-to-visit playground for even first-time moms with tiny ones. It's worth a visit, no matter how old your kids are.
But honestly, the playground for the older kids is where West Hollywood Playground really shines...
RELATED: 15 Top Playgrounds with Shade in Los Angeles

Multiple slides, for every kind of kid.
Rock Climbing, Mighty Slides, and More for Bigger Kids
The play area designed for children 5-12 consists of a rock climbing wall built into a little hill, a roller slide, a big slide, climbing structures, slides, swings, net climbers, spinners, a pebble bridge, and music-playing equipment. It's kind of heaven on earth, and your kids might not know where to start playing. To my surprise, my little girl unleashed her inner Mozart and headed straight for the music-playing equipment.
There's plenty to do, so plan to spend at least several hours here—believe me, your kids won't want to leave. My child now has 4 newfound best friends, thanks to how easy it is for kids to play together here. Her new crew alternated between the area designed for little kids, and the one for bigger kids. They tried every single piece of equipment in the playground, not one was missed. My daughter only remembered my existence when she needed water!
RELATED: Recreation Park, Long Beach's Newest Playground, is Jurassic and Fantastic

Rock climbing walls are the draw for kids, but parents will be even more thrilled with the shade sails.
As for me, I didn't just stand there and watch, I had fun, too! Personally, I loved the rock climbing hill. I was looking for any excuse to go up and down to get my cardio covered for the day.
Hot tip: it's a short walk to Santa Monica Blvd. to grab pizza, burgers, shakes, and a variety of food, in one of the many restaurants and cafeterias that surround the area. It's a good bargaining chip to offer your kiddo some ice cream to get them to leave, otherwise be prepared to hear a lot of, "Please, just 5 more minutes!"
My girl loved this playground so much that she organized a play date with her new friends. So expect to go back soon. (As I said, we went back the very next day!)
RELATED: Hidden Gem: Ferndell is an Outdoor Oasis in the Middle of the City

If you have been to this park in the past, you'll be shocked by the total makeover!
A Few Tips Before You Go
The playground is open daily from 8am to 9pm.
There is a parking structure adjacent to the park that you can enter on San Vicente Blvd., which allows for 1-hour free parking. If you validate your ticket at the park you get an additional free hour. This is very convenient, as neighborhood parking is tricky on weekends.
If you're looking for a venue to host a kid's birthday party, look no further. There is a private area within the playground for smaller kids that can be reserved. It has picnic tables and a good amount of shade. Just bring pizza and cake and let the kids go wild; no other entertainment is needed!
The playground is just a few steps from the Recreation Center which has Tiny Tots and Tot Time programs. There you also find the Aquatic Center which offers swimming lessons and other programs for kids. And right next to it is the Library, where they have many cool activities for kids of all ages. It's a County Library, so anyone living in Los Angeles County can get a card.
Check the West Hollywood Park calendar for details on upcoming events and activities.
All photos are courtesy of the author.