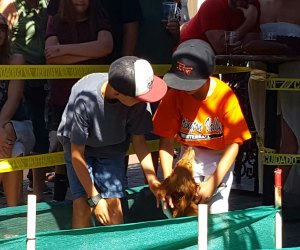 Oktoberfest for Families: Kinderfest at Old World in Huntington Beach
Oktoberfest conjures up images of raucous crowds in beer halls, but Old World in Huntington Beach turns the fall tradition into a family event on Sunday afternoons with Kinderfest. This is a great thing to know if your personal limit on pumpkins, ghosts, and haunted houses is in danger of being met; adult fun with a childish (and canine!) twist is on offer all month in the OC.
The dachshund wiener dog races are the main draw of Kinderfest festivities. The dogs, with names such as Mitzi, Gustavo, Smokey Bear, and Gidget, race head to head on a small outside track in a double elimination competition. Kids can watch from picnic tables set up along the course. And, honestly, what's funnier that racing wiener dogs?
The pups aren't always as into racing as their owners, mind you, which makes it all the more entertaining. Owners are admonished by the race announcer at the beginning, "Don't launch your dog.... This is not a dog-throwing contest." Kids in the crowd enjoy watching the pups that decide to switch lanes or turn around just as much as the ones that make it across the finish line in one straight run. And here's a hint: the dogs do plenty of "practice runs" with the owners before the actual races, which is a good time to have the kids meet the competitors, if they are so inclined.
The climax of these dachshund dashes happens on Oct. 30, the last day of Oktoberfest, when the event includes a Doggie Dress Up & Kid Costume Party to celebrate "Hallowiener." The wiener dog championship races take place, followed by awards for best costume, human and canine. Families with dachshunds to enter in the races may register on the Old World website.
Other Kinderfest activities include face painting, a bouncy house, and a couple of carnival games, overseen by superheroes such as Batman and Wonder Girl. Meanwhile, in the beer hall, kids can dance to a live German oompah-pah band while adults join in or sit and enjoy what Oktoberfest is generally known for: good beer. The dance floor highlight is the Chicken Dance, led by DoDo the Chicken.
Food offerings include traditional German food such as bratwursts, sauerkraut, and German potato salad, as well as other kid-friendly fare (i.e. burgers and fries).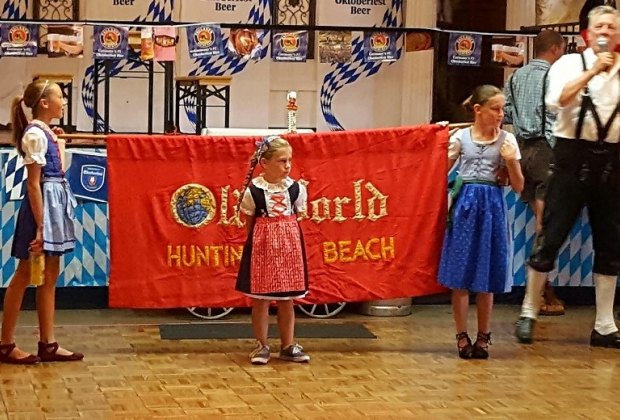 Girls in traditional Bavarian costumes carry the banner at the end of the parade to officially start the 2016 Oktoberfest at Old World.
Old World, which is across the street from the Bella Terra mall just off the 405 Freeway, has been the host of Oktoberfest celebrations since 1977. Oktoberfest itself traces its roots to a royal wedding held in Munich in 1810 and is an important part of Bavarian culture. Old World is steeped in that culture, with an authentic German restaurant, bakery, deli, European market, and other specialty shops.
After Oktoberfest ends, the wiener dog races continue on one Sunday per month at Old World. Check the website for dates and times.
Oktoberfest's Kinderfest at Old World runs Sundays through October 30, 2016, 2:00pm to 7:30pm.
Adults $7; Children (6-12) $3, (5 and under) free.
Photos are by the author.