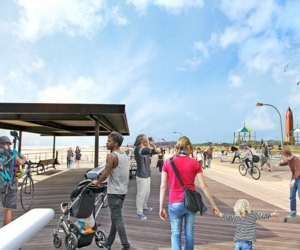 Millions in Upgrades Planned for LI State Parks in 2019
If you have especially adventurous or nature-loving kiddos, it's time to grab your sunscreen and sturdy shoes because state parks on Long Island will be millions of dollars more exciting beginning this Memorial Day.
Jones Beach, Robert Moses, Sunken Meadow, Heckscher, and Wildwood state parks are welcoming upgrades this season that include cottages, marina access, an outdoor adventure area, and more sure to leave your family eager for outdoor excitement.
These state-budgeted improvements are just the start of a summer full of promise on Long Island. For more ideas, check out these great sprinkler parks for kids, our rundown of Long Island's best family beaches, area petting zoos, and nature centers. Have a child with special needs? Check out these inclusive playgrounds in Nassau and Suffolk. Making plans for the kids after the school year ends? Visit our guide to Long Island summer camps.
The estimated $50 million in renovations, initially announced in 2018, will be a breath of waterfront air for Long Islanders this season. Natives remember the Boardwalk Cafe that once made a trip to Jones Beach an easy, one-stop day of entertainment and dining with kids. It was razed in 2004 due to structural problems, but reopened last July 4 weekend with an outdoor cafe, shaded seating options, and views of the ocean. In addition, a splash pad, game area, and grab-and-go food area debuted.
This year Jones Beach welcomes a new Adventure Park with a ropes course, zip line, and play areas, where you can watch your kids romp and climb while relaxing on picnic tables overlooking the indigo horizon. The upgrades are part of a multiyear, $65 million revitalization of Jones Beach that includes construction of an Energy and Nature Center offering families interactive education on ecosystems and sustainability. The center is scheduled to open in 2020.
For seafaring folks, Robert Moses State Park now offers overnight boating accommodations for the first time. The marina will house a maximum of 45 vessels up to 42 feet long with docking available on a first-come, first-served basis, and including plumbing and electrical service.
In addition, face-lift renovations such as new windows, tiles, and floors make the beach a more pleasant place to sun and frolic. Upgrades to the concession stand include organic and homegrown food options.
"We continue working to make the parks attractive and welcoming to all New Yorkers and visitors," says Dan Keefe, deputy public information officer for New York State's Office of Parks, Recreation, and Historic Preservation. "We are providing new recreational options, and offering new food and beverage choices."
Sunken Meadow State Park in Suffolk County welcomes a renovated entrance plaza that should improve traffic flow and allow for automated payment. Visitors will see renovations to the event space that is used to host weddings, family reunions, Sweet Sixteens, and other catered parties with music. Golfers can enjoy new doorways to the clubhouse and new irrigation on the course grounds.
Campers will relish the chance to reside in new vacation cottages at Heckscher and Wildwood state parks. The one- or two-bedroom units at Wildwood, in Wading River, include bathrooms, kitchenettes, and screened-in porches.
Heckscher, in East Islip, adds 10 cottages to the five it opened in 2018: All can be reserved online. Cottages are furnished with sleeper sofas, dining room tables and chairs, Adirondack chairs, and basic appliances such as stoves, coffee makers, refrigerators, and toasters.
If you are ready for sunny outdoor adventures, head over to your local state park for beautiful scenery, yummy cuisine, and the chance to burn some serious kiddie energy.