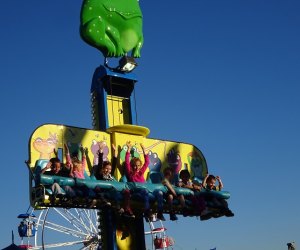 Columbus Day Weekend Events for Westchester Kids
Thank goodness Columbus Day weekend is three days—you'll need every minute to soak up the tons of fun we've identified for Westchester and Hudson Valley families!
For starters, the headliner of the holiday weekend is the Eastchester Columbus Day Carnival and Parade, featuring a big carnival, a parade, meatball contest, fireworks, and more.
There are all the big Halloween events recurring each weekend throughout October. Other seasonal fun can be had at the Pumpkin Picking Autumn Celebration (or pick your pumpkin at any of the other destinations we've rounded up), as well as a few of the fall festivals we've rounded up, such as Heritage Applefest.
While supporting a charitable cause for kids, get loads in return at Heroes for a Cure Carnival and Fall Festival, including hot-air balloon rides, helicopter rides, and extensive fun over the four-day event. The Yorktown Festival & Street Fair is a similar affair in terms of diverse sources of family fun.
If you're hoping for the return of Croton Comic Con, you'll have to wait till next year, we're told.
Read on for all our top weekend picks—but don't stop there! We've got fun happening all month long, so visit our Event Calendar, consult our guide for scenic autumn drives, and check out our October GoList for our hot-off-the-press top picks!

Tour Washington Irving's riverside home and take part in Halloween themed-activities. Photo courtesy of Historic Hudson Valley
All Weekend
Home of the 'Legend' – Irvington
Learn the story behind the story at this Halloween event. Tour Washington Irving's beautiful riverside home and learn about spooky seances and vampire lore. Engage in Halloween-themed art activities, a scavenger hunt, historic games, a shadow puppet performance, and more.
Eastchester Columbus Day Carnival and Parade – Eastchester
Whack a mole, cheer on the paraders, gawk at fireworks, enjoy live music and chow down like it's one of the last big carnivals of the year—which it is. The carnival runs Friday through Monday; the meatball contest is on Saturday, and the parade and fireworks take place Sunday.
Oktoberfest – Harriman State Park
This annual festival returns with plenty of oom-pah-pah. Situated in the mountains, there's a nice opportunity for leaf-peeping to boot. Free admission, but you'll pay to park.
Pumpkin Picking Autumn Celebration – Katonah
Muscoot Farm gets in the October spirit with assorted fun that includes pumpkin picking and decorating, hayrides, music, and more.
Heroes for a Cure Carnival and Fall Festival – Monroe
Support a charitable cause while having a blast with not only traditional carnival fun but also helicopter and hot-air-balloon rides, live bears, an illusionist, and more. Friday-Monday
Brick or Treat! – Yonkers
Brick or Treat will feature a Halloween-themed LEGO® mosaic build, haunted MINILAND takeover, spooky scavenger hunt, Brick or Treat bat build, and photo opps. Guests are encouraged to show their Halloween spirit with costumes to win LEGO® prizes.

Discover new authors and listen to live music at the free Warwick Children's Book Festival. Photo courtesy of the festival
Saturday, October 6
Warwick Children's Book Festival – Warwick
The street closes off for this large-scale event, featuring some 60 authors and illustrators of children's and young-adult books, as well as a concert by The Uncle Brothers. While books will be available for purchase (and for autographs), the event is otherwise free.
Heritage Applefest – Garrison
The lovely grounds of Boscobel House and Gardens is the setting for this celebration of the humble apple, featuring cider-pressing, cider sampling (both hard and sweet), live music, vendors, and family activities. Admission is pay what you wish.

Climb on hay bales, meet animals, and celebrate the harvest at the Hawthorne Valley Fall Festival. Photo courtesy of Hawthorne Valley
Sunday, October 7
Hawthorne Valley Fall Festival – Ghent
The fall harvest is celebrated at this annual festival, with hay mazes, children's crafts, puppet shows, an artisan fair, live music, and farm tours.
Yorktown Festival & Street Fair – Yorktown Heights
Browse the offers of some 200 vendors, enjoy live entertainment, food, kids' rides, a cupcake-eating contest, a classic car show, a dog costume-contest and parade, a walk-a-thon, and more. FREE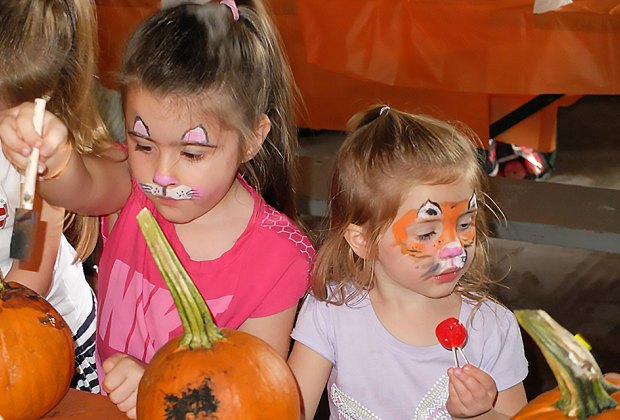 Enjoy pumpkin painting, face painting, treats, and more at the Pine Island Pumpkinfest. Photo courtesy of the fest
Monday, October 8
Pumpkinfest – Pine Island
This annual Columbus Day tradition features a bouncy house, pumpkin painting, touch-a-tractor, refreshments, and assorted kid fun. Visit the park's butterfly garden and playground before or after the event.
An Evening with Edgar Allan Poe – Sleepy Hollow
Older kids (and adults!) can listen to macabre stories and poems—read by the ghost of Edgar Allan Poe.

Watch five athletes from Montreal Defy gravity in Machine de Cirque. Photo by Loup-William Theberge
Beyond Westchester
Machine de Cirque — Manhattan
Five athletes from Quebec tumble, leap, bicycle upside down, and generally thumb their noses at gravity in this high-flying show at the New Victory Theater. The wacky premise finds the acrobatics trying to craft a communications contraption, but ultimately the scrap-metal set becomes a kind of circus playground. They not only use the bars, poles, and tubes to perform their cool tricks, they play them like percussive instruments à la Blue Man Group.
Bus Festival — Brooklyn
The NY Transit Museum brings out vintage vehicles for everyone to explore. More than a dozen buses are on display and kids can take part in crafts and other hands-on activities. When the little travelers get hungry, simply visit the main street fair for some great grub. FREE
Don't forget to check out our Event Calendar for even more events happening throughout Westchester!