Applefest 2017: A Hudson Valley Fall Festival Extravaganza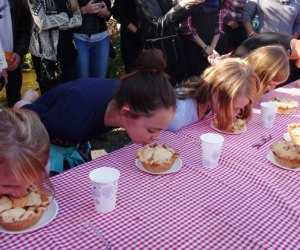 Looking to get the most bang for you buck when it comes to celebrating fall? Consider Warwick's Applefest on Sunday, October 1, 2017—one of the Hudson Valley's biggest annual festivals. With arts and crafts, food, live music and a small carnival, you can truly "do fall" all in one day.
Now in its 29th year, Applefest draws in around 35,000 people each year from all over the tri-state area and beyond. Warwick is located about an hour from central Westchester and is ideal for an autumn family day trip. Read on for everything you need to know about this Hudson Valley extravaganza, including what's new for 2017 and tips for navigating the crowds.
Looking for more fall fun? Check our Fall Activity Guide and follow us on Facebook!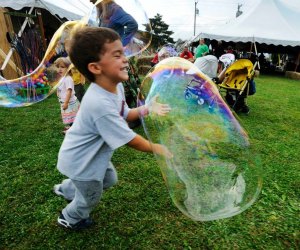 A variety of kids' activities can be found throughout the festival.
Applefest, a celebration of all things apple- and autumn-related, runs through the heart of Warwick Village in Orange County. Vendors are loosely organized into different sections, and while there's some overlap, you'll typically find the largest concentration of food vendors on Railroad Avenue, and arts and crafts vendors in the South Street and Chase lots. The farmers' market is held in the Kuiken Bros. lot, where you can also pick up plenty of apple cider doughnuts, muffins, strudels and other fresh-baked goodies.
A walk down the vendor-lined South Street brings you to Stanley Deming Park, which hosts music and even more vendors. The carnival will be a bit different for 2017, with just the smaller kiddie rides and a few games available. There will, however, be pony rides this year, along with a rabbit rescue and a car show. Stanley Deming also has a very large playground with swings and several climbing structures.
There are four stages with live music and entertainment at Applefest—find the schedule in the Visitor's Guide that's distributed at the event. Oakie Dokey the Clown can often be found throughout the day and making balloon animals. Other kid-friendly activities are scattered through the festival; many local non-profits use the festival for promotion and fundraising, and a lot of them set up activities at their tents. (The Warwick Assembly of God church often sets up car derby racing, for example.) You'll also find face painting and tattoos.
Still hungry? A pie-baking contest is held each year, with one group for ages 7-16 and one for 17 and older. Pre-registration isn't required; you just have to drop off your baked deliciousness between 8-11:30am at Booth 81 on Bank Street. More of an eater than a baker? Those winning pies will be sliced up for sale, and you can also enter the annual pie-eating contest (open to all ages).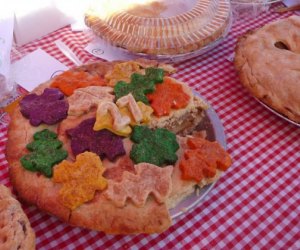 What to Know Before You Go
Applefest takes over Warwick Village on Sunday, October 1, 2017, from 9am-5pm (it's opening an hour earlier this year). The event is rain or shine. For GPS navigation, use one of the school addresses for parking or 2 Bank Street in Warwick. Admission is free with some paid activities throughout the festival.

Clusters of porta-potties are located throughout the festival, and they're generally your only restroom options unless you're dining in a restaurant.

If you must use a stroller, bring the smallest one you have and watch those ankles ahead.

There is free street parking, but expect it to be extremely difficult to secure (and to face a lot of traffic). Festival organizers strongly urge visitors to park at designated satellite parking lots. Park Avenue Elementary and Veteran's Memorial Park are both within walking distance to the action. If those are full, you can also park at Warwick Valley Middle School and Warwick Valley High School, and then make use of the shuttle buses running all day. There is a $5-$10 fee to park.

Warwick is home to multiple orchards and wineries, so you might want to squeeze in some apple or pumpkin picking, or perhaps a corn maze, while you're in the area. Keep in mind that everything will be even busier than usual that day, so allow plenty of time.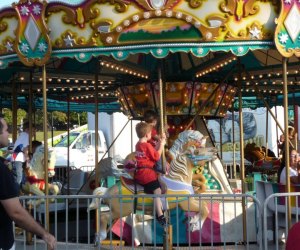 The carnival will only be in town on Sunday this year.
This originally posted in 2015 and has been updated for 2017.
Top image: Prizes are awarded to the Master Pie Scarfer. Photos courtesy of Warwick Valley Chamber of Commerce, © Bruce Balistrieri and © L. Hutchison.