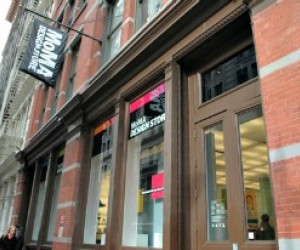 Soho Kids' Stores: Cool Clothes, Quirky Toys, Children's Books & High-Tech Workshops
Soho is famous for its high-end shopping. And even though its highest profile children's shop, the Scholastic Store, has closed, there are still some great places in the neighborhood to pick up cool kids' clothes and toys, and enjoy storytime or a high-tech children's workshop. So go beyond the outposts of national chains like Joe Fresh Kids and Diesel Kids, and check out these (mostly) independent small retailers.
McNally Jackson Books
52 Prince Street between Lafayette and Mulberry Streets
This bustling, two-story bookstore and cafe has a well-stocked children's section. It also hosts weekly story hours for babies on Fridays and older kids on Saturday mornings, which include a craft or other thematically related activity. Check its event calendar for other kid-centric happenings.

MoMA Design Store
81 Spring Street between Crosby Street and Broadway
A great place to find an offbeat designer gift, the downtown outpost of the Museum of Modern Art's gift shop sells an eclectic variety of funky toys like an animal parade puzzle, a sailing ship kite and a giant coloring poster of NYC.

The Evolution Store
120 Spring Street between Mercer and Greene Streets
Equal parts natural history haven and retail shop, Evolution is a fabulous place to browse with kids, assuming they're into skulls, insects, fossils, minerals and other morbid curios. The shelves are stocked with jewelry made from butterflies and seashells, fossil shark teeth, crystals and meteorites. Plus there are puzzles and other toys, and you can even commission taxidermy.

MakerBot
298 Mulberry Street near Houston
In addition to selling state-of-the-art 3D printers, this store hosts a drop-in, hour-long, 3D printing class for kids on Saturday mornings when children ages 8 and up can design and print their own creations. Other cool offerings include a 3D photo booth that prints out your pic, and a variety of small, preprinted 3D wares dispensed from a giant "gumball" machine.

Pearl River Mart
477 Broadway between Broome and Grand Streets
Though it's located in Soho, Pearl River Mart transports you to the heart of Chinatown in look and feel. It's jam-packed with Chinese wares like lanterns, parasols, teas, snacks, toys, traditional clothing and robes. Plus there are giant Chinese dragons hanging from the ceiling and a two-story water fountain by the stairs. You never know what you're going to find here but you rarely leave empty-handed.

Sunrise Mart
494 Broome Street between Wooster Street and West Broadway
If you have an adventurous eater (or are hoping to cultivate one), head to this Japanese specialty store to stock up on Asian eats, from staples like noodles and tofu, to more exotic and spicy candies and snacks. There's even a seating area and a microwave

Apple Store
103 Prince Street at Greene Street
Check out the latest Apple products and play computer games from the comfort of cozy bean bag chairs. In addition to perusing the company's latest electronics, Apple offers FREE hands-on workshops and youth programs for kids.

Giggle
120 Wooster Street at Prince Street
Yes, it's a chain. But I remember how much I loved getting Giggle gift cards when I had an infant. This is one-stop, high-end shopping for all baby must-haves (crib, stroller, diaper bag, mobile), and you can sign up for the store's registry sessions, which come with tours and the lowdown on what you really need. There's even a White Glove delivery service that includes home delivery, assemblage of all your purchases and cleanup.

Les Petits Chapelais
146 Sullivan Street between Houston and Prince Streets
This posh children's clothing boutique carries high-quality, European brands, along with a carefully curated selection of shoes and whimsical toys. If you have to ask how much things cost, it may be out of your price range, but it's a good bet if you're looking for something for a special occasion.

Piccolini
167 Mott Street between Broome and Grand Streets
Shop owner Alex Zagami has deep roots in the neighborhood. Her grandfather owned and operated a Little Italy bakery and his entrepreneurial spirit is at the heart of this quirky kids' shop. Zagami prides herself on finding unique gifts to stock her shelves. Expect anything from toys and books to NYC-themed gifts and clothes.

Sweet William
85 Kenmare Street at Mulberry Street
This mini-chain (it also has an outpost in Williamsburg) offers destination shopping for baby hipsters (or hipsters' babies). The shop touts its commitment to independent designers and high-quality, organic fabrics, along with handcrafted toys and gifts.

Read all of our posts about exploring Soho with kids or check out our NYC Kids' Shopping Guide.