Restaurants Near the 9/11 Memorial to Eat at with Kids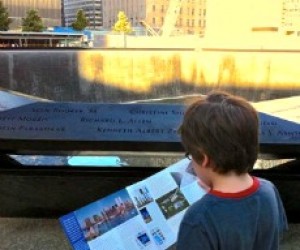 Ground Zero has become a must-see destination for many families visiting NYC. Making a visit to the 9/11 Memorial Museum meaningful for children may be challenging, but finding a decent place to eat nearby is even more so. Besides all the construction still under way, the neighborhood lunch spots mainly cater to office workers from the Financial District so there are a lot of fast-food chains and delis with limited seating.

If you are heading up to Tribeca afterward, you'll find many family-friendly restaurants but in the immediate vicinity of the World Trade Center site, options are a more limited. Luckily, I know the area well and can give you the inside scoop on where to look for the best inexpensive kid-friendly restaurants and eats near Ground Zero.
Restaurants Closest to Ground Zero
The easiest place to find a good, inexpensive meal near Ground Zero is the food cart area across from Zuccotti Park (Liberty Street and Broadway), the plaza that became famous for hosting the Occupy Wall Street protesters. There are several food carts there any day of the week offering a world tour of different ethnic cuisines like Asian dumplings, Indian biryani and kati rolls, Middle Eastern falafel and other above-average street eats. You can sit and eat in Zuccotti Park, whether permitting.

Ruchi's Indian Cuisine (120 Cedar Street) is right by Ground Zero and one of our favorite places for Indian food in Lower Manhattan. This hole-in-the-wall's food can be on the spicy side, but kid faves like chicken tikka masala, samosas and mango lassi should please.

Brasserie Les Halles (15 John Street) is the downtown outpost of a pair of restaurants owned by celebrity chef Anthony Bourdain. The eatery is surprisingly low-key, however, and serves moderately priced French bistro fare and even has a children's menu. I would not recommend going for dinner on a weeknight because the happy hour crew makes it unbearably noisy, but on weekends it's usually empty and I have even seen Bourdain himself strolling through the dining room.

If all you need is a snack, try consuming it in liquid form at Health King (65 Nassau Street) where real fruits and vegetables are blended into juices, smoothies and shakes. You can choose to have your drink mixed with frozen yogurt or not depending on how healthy you want to be. No seating.

The neighborhood offers several places for falafel and other Middle Eastern foods, but Alfanoose (8 Maiden Lane), a Lebanese restaurant, is generally regarded as the best.
Battery Park City and Brookfield Place Restaurants
Battery Park City is just across West Street from Ground Zero, but feels a world apart. The neighborhood is a mix of skyscrapers and pocket parks with a beautiful river esplanade. Directly across from Ground Zero, Brookfield Place (formerly known as the World Financial Center) houses the Winter Garden, a huge atrium with palm trees and a gorgeous view of New York Harbor. There are several good places to eat in the area and you can follow your meal with a stop at one of the neighborhood's great playgrounds, or a walk along the water to see the Statue of Liberty.

Brookfield Place has a few restaurants in it, but in good weather I prefer to go out back where there are outdoor tables on the river and gourmet food carts, typically a barbecue station and a lobster roll station. There are also a pair of food truck courts at North End Avenue and Vesey Street, and South End Avenue at Liberty Street on weekdays at lunchtime with a rotating roster of some of the city's best mobile eats.
Across the street from Brookfield Place are two super kid-friendly restaurants. El Vez serves eclectic Mexican in a festive atmosphere. There's stroller parking, a kids menu and children can even wear a sombrero as they eat. Next door is Blue Smoke, a barbecue restaurant where kids can make their own dessert while they wait for their food.

A few blocks north, the Battery Park City Shake Shack (215 Murray Street) serves the chain's famous burgers and shakes without the lines you'll find at most of the other locations.
Restaurants North of Ground Zero
Amish Market (53 Park Place) is a local grocery store that also offers prepared foods and has a seating area for eating in. Sandwiches, pizza, salad bar, sushi and burritos are available, as well as rotisserie chicken and other hot plates.

Pret A Manger (100 Church Street) is a chain that serves delicious pre-made sandwiches, salads and soups, and has pleasant tables for eating in. I also like the Aroma Espresso Bar next door, which has booths and offers great salads and sandwiches, as well as hot breakfasts.
Fulton Street Restaurants
The intersection of Fulton and Nassau Streets is the main junction for the food joints serving the Financial District lunch crowd. Hit Sophie's Cuban (141 Fulton Street) for huge plates of rice and beans, and rich meat stews. Walk a little further for Five Guys Burgers and Fries (112 Fulton Street), Chipotle (101 Fulton Street) and many others.

Read all of our posts about family-friendly dining in NYC.