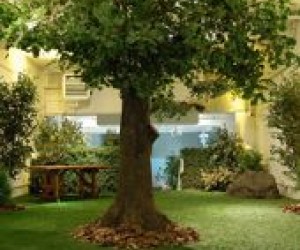 park here-- A Free Urban Oasis in Manhattan
During Tuesday's freezing rain, sleet, snow and ice storm, I left my warm and cozy (well, overheated and small) apartment to check out park here, the indoor temporary pop up park created in a gallery space on Mulberry Street that I have been reading about everywhere. Is it worth dragging the kids out in this weather? Read on to find out.

park here is the perfect oasis for a dreary and cold day in the city and there is no admission charge. Inside the 4,500 square foot space you will find grass, trees, birds twittering in the background and it is sunny and warm. Although nothing in the temporary park is natural and there are trappings of its urban space on view (heating ducts, pipes, white painted brick walls and electrical outlets) the experience truly is, well, natural. It has everything a park has just inside instead of out. As soon as you cross the threshold you will notice it is very quiet, with pre-recorded birds twittering from cleverly camouflaged speakers. There is astroturfy grass on the floor along with wood chips and strewn faux fallen leaves and the bright, hot heat lamps in every nook and cranny make the place feel warm and look sunny.

The park is actually three different rooms, the first is the smallest with a bona fide wood picnic table in the corner nestled among the trees and bushes. Downstairs is a large room with skylights in its super high ceiling, another park bench, a lawn for sitting among the trees and a bright pink teeter totter. Off this room is the "back" room, which is the most crowded, but also the most interesting. This room has realistic photo murals on the walls to give the illusion that you are in a forest, a pond (full of coins from wishers), giant rocks and huge black and silver fat boys cushions to lounge on. This room also has a small alcove with a wood chip floor and park bench seating. I saw adults reading, picnicking and chatting as well as a toddler exploring the place.

Check out these photos and see it for yourself:

Gallons of slush filled puddles, freezing rain and other winter fun outside.

A beautiful, peaceful oasis inside.
park here is pretty quiet during the day with the exception of the noontime yoga class (which closes off the back room.) During evening hours there are adult-only events like movie nights and cocktail parties. And during the weekends, summer time food trucks will be selling their wares here, too. Click here to find out more about the events.

So, is it for kids? Sure. Technically, it was created for adults but children are allowed and welcome. The child-friendly place is not however child-proofed: super hot heat lamps, exposed plugs and stairs all can pose a hazard to a little kid, so you really do have to keep your eye on them, and don't let them climb on the rocks. Don't worry, if you forget, the managers will remind you.
If you want to visit this urban oasis you should hurry. It is temporary and only open through the end of the month. If you don't make it, you may want to pay a visit to one of these free, indoor, public spaces around town.

park here
201 Mulberry Street
Open daily 11 am to 6 pm through January 30, 2011
FREE

There are a lot more indoor activities in the Mommy Poppins Indoor Activity Guide and tons of fun in our Winter Guide.


intro photo credit: openhouseflickr's photostream