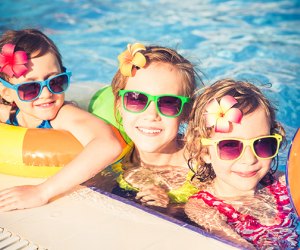 Swimming Spots to Host a Pool Party for Your NYC Kid
Hosting a swimming birthday party is a splashy way to celebrate your child's next big day. Kids can hit the water for an instant taste of summer no matter the season.
While FREE swimming spots abound in the summer months, the rules make it a little difficult to party there. So, expect to fork over some dough if you want to throw a good, old-fashioned pool party at one of these swimming spots in NYC that offer birthday party packages to the general public—most are offered year round.
Sign up for our FREE newsletters to get posts like this delivered to your inbox.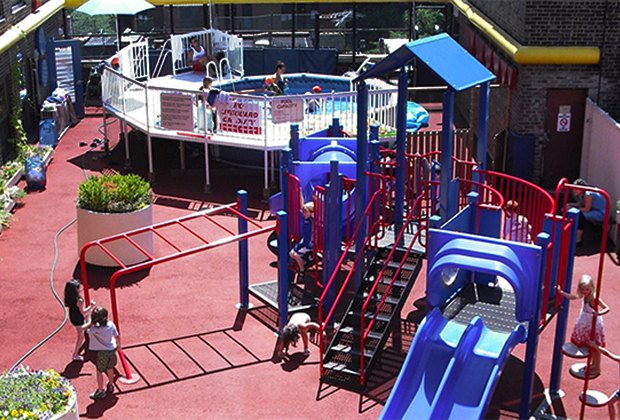 Wading pool and playground on the 92nd Street Y roof.
92nd Street Y — Upper East Side
1395 Lexington Avenue at 92nd Street
The 92nd Street Y offers two pool party packages, which include a private section of the 25-yard indoor pool for ages 6-9 or 10/18, or seasonal wading pool fun for kids ages 3-6. Swim instructors supervise free swim or, if you prefer, lead water games and activities. Finish up in the party room with food, cake, or whatever refreshments you provide.
Aquatic Solutions — Lower East Side
75 Columbia Street
Aquatic Solutions offers a wide range of options for upscale pool parties that all include exclusive use of the pool and deck area. Each party includes at least an hour of supervised pool play, pizza and beverages for the kids, decorations, and take-home gifts for every guest. Deluxe options include extra pool time, food upgrades, food and drinks for the adults, and more.
RELATED: Indoor NYC Swimming Pools with Day Passes for Year-Round Splashing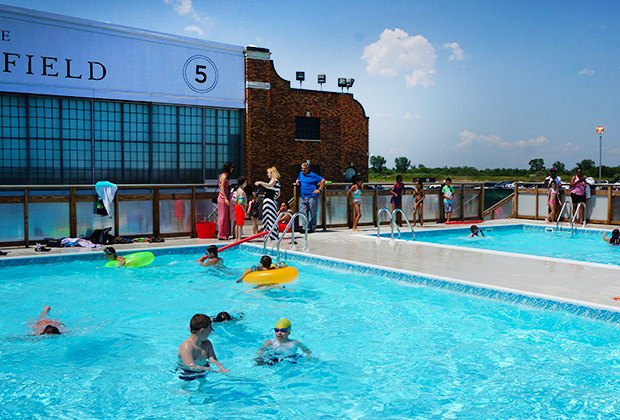 Opt for inflatables, even water slides, at the Aviator Sports Pool on its outdoor deck.
Aviator Sports & Events Center — Marine Park, Brooklyn
3159 Flatbush Avenue
Head to this Brooklyn sports mecca for an old-fashioned outdoor pool party on the deck. Parties include two hours of pool time, a private party room, and a lifeguard plus two staff members to supervise children. Add-ons include super-special perks like snow cone makers, inflatable water slides, even an ice cream bar!
Bronx House — Bronxdale, the Bronx
990 Pelham Parkway South at Hone Avenue
Bronx House offers swimming party packages for children ages 1-10, which include an hour in the water with a lifeguard followed by an hour in a private party room. Parents supply everything else—cake, food, paper goods, and decorations.
New York Sports Club — Manhattan and the Bronx
Select NYSC locations offer swim parties for children ages six and up. Guests can enjoy free swim or organized water games. Noodles, kick boards, and pool toys are included. Parties run two hours, including 15 minutes before and after for changing.
RELATED: Birthday Party Guide for NYC Kids: Venues, Entertainers, More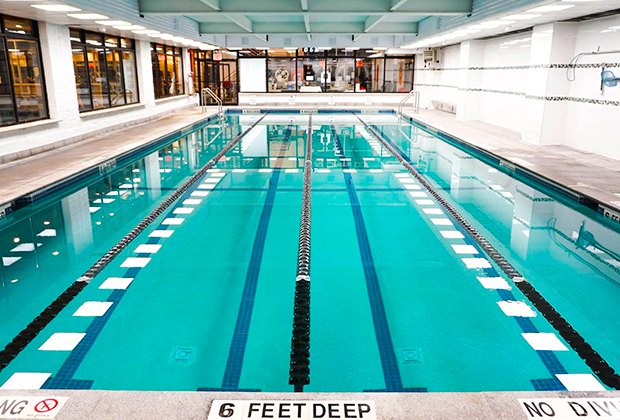 The heated pool at the Astoria Sports Complex is always inviting.
Astoria Sports Complex — Astoria, Queens
34-38 38th Street between 34th and 35th Avenues
At the popular Queens athletics center, kids can choose two party activities, including soccer, basketball, inflatables, or swimming in the heated pool. The basic two-and-a-half hour package includes hosts, invitations, music, paper goods, pizza and beverages for the kids, goodie bags, and a special gift for the birthday child.
YMCA — Citywide
While every location has different facility rentals, it's worth calling your local Y to see if a pool party is an option. If your Y offers a pool rental, chances are you'll be doing everything else yourself, including providing food, decorations, and cake.
Public Pools — Citywide
If you have a summer baby and you're determined to party at the local city pool, choose wisely, and remember that they don't open until June 27 in 2019. Some pools are located within vast greenspaces—so one parent can host guests in the water, while the other sets up an after-swim spread outside. Possible options include Lasker Pool, on the beautiful northern edge of Central Park; Van Cortlandt Park Pool, which is surrounded by acres of greenspace (with lots of good spots for serving cake and food); or the city's largest swimming hole, the Astoria Park Pool, located, you guessed it, in Astoria Park. If you choose to go this route, make sure parents are sticking around to help you supervise kids in the water, and bear in mind that food and cake will have to be set up well away from the pool area. Another wet-and-wild option is to head to one of the many cool sprinkler and splash pads city wide, and set up a picnic on the side.
Not near any of the pools listed above? If you know of a private pool in your area, at a gym or a hotel, it's worth inquiring as to whether you can rent it for a few hours. You never know! And if you're willing to travel, most indoor water parks near NYC offer amazing birthday party packages, too.
This post, originally published in March 2013, has since been updated.
Top photo via Bigstock. All others courtesy of the respective venues.