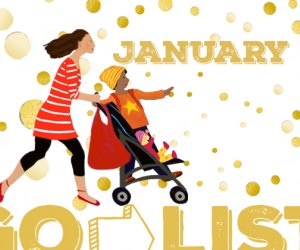 Best Things To Do with NYC Kids: January GoList
Get your calendars ready. Here are the top 10 things to do with kids in New York City this January, half of which are FREE.
While January traditionally is a mellow time—especially when compared with the nonstop action of the holidays—there's no way you can hibernate all month, not with kids around. Luckily, you don't have to. Our January 2020 GoList is packed with annual favorites such as the Three Kings Day Parade in East Harlem, Thomas the Train Engine at the NYBG, and the Black Comic Book Festival, plus some new shows, concerts, and other special experiences for kids (including the return of ice rink bumper cars to Bryant Park—exact dates are still to be announced). Don't forget that Martin Luther King Jr. Day is coming up, too, and the Brooklyn Children's Museum and others will host events just for families.
Find more seasonal fun in our NYC Winter Guide for Families.
If an event piques your interest, click through to our listing for all the details, including addresses, times and recommended ages. And remember: Cool things to do with kids in NYC often book up quickly. So buy your tickets ASAP, or, in the case of FREE events, arrive as early as possible.
Be sure to sign up for our FREE newsletters, so you can receive great local event picks in your inbox each day or week.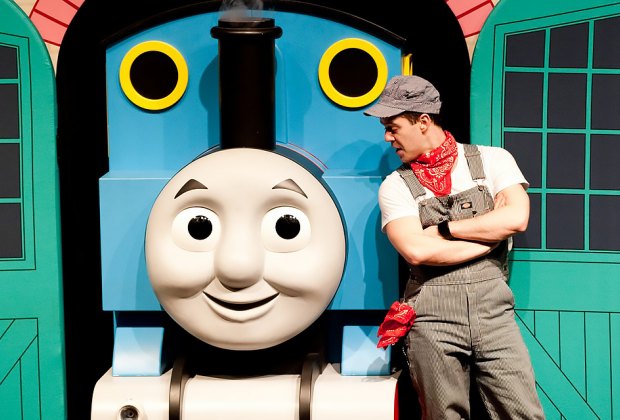 Join Thomas and Driver Sam on a fun-filled, sing-along adventure at All Aboard with Thomas & Friends at the New York Botanical Garden. Photo courtesy of NYBG
All Aboard with Thomas & Friends at the New York Botanical Garden — New York Botanical Garden, the Bronx
Weekends January 4–January 26
Join Thomas and Driver Sam as the friendly train finds his way from Knapford Station to Brendam Docks using teamwork, friendship, and discovery in this fun-filled sing-along, mini-performance adventure. Bring your phone/camera, as pictures are encouraged. Bonus: Your tickets also grant you access to the Botanical Garden's annual holiday train show where kids can see even more choo-choos.
Just Kidding: Beats, Rhyme, and Breaking — Upper West Side
Saturday, January 4
Manzana City Crew, an NYC-based dance arts collective, brings their breakdance action to Symphony Space for two kid-friendly shows in January. Kids can test out their own moves or just watch the jaw-dropping steps on the stage.
RELATED: NYC Kid Classes Guide: Sports, Music, Theater, Cooking

The Three Kings Day Parade marks the biblical adoration of baby Jesus by the kings. Photo courtesy of the museum

Three Kings Day Parade — East Harlem
Monday, January 6
While there are many ways to mark Three Kings Day (aka the "12th day of Christmas" or the feast of the Epiphany) in NYC, El Museo del Barrio's 43rd annual procession is the biggest celebration. Watch as kids march alongside colorful floats, festive bands, live camels, and the massive Three Wise Men puppets, which lead the parade and stay on display in the museum after the event. Find a spot at the start, on 106th Street and Lexington Avenue—there's always room—and then head to the end at La Marqueta for live music and delicious eats from local vendors. When it's all over, visit El Museo, where admission fees are waived all day. FREE​
Black Comic Book Festival — Harlem
Friday, January 17 and Saturday, January 18
​Check out panels, films, workshops, and discussions about African-American comics at the sixth annual Black Comic Book Festival at Harlem's Schomburg Center. Kids and costumes (and kids in costumes) are encouraged. FREE
RELATED: NYC Children's Museum and Art Guide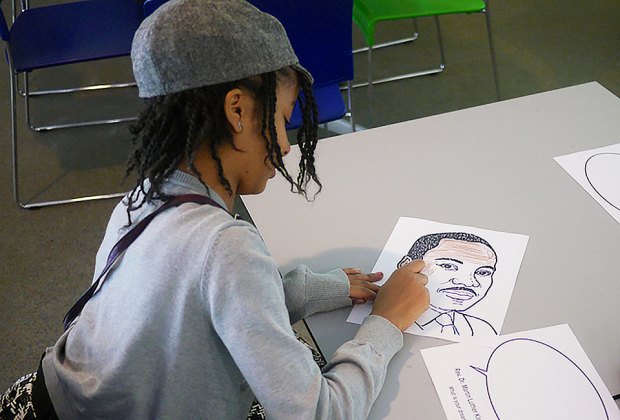 Explore MLK's life and legacy at The Brooklyn Children's Museum. Photo courtesy of the museum
MLK, Jr. I Have a Dream Celebration — Crown Heights, Brooklyn
Saturday, January 18–Monday, January 20
Kids can do a deep dive into MLK, Jr.'s life and his legacy at the Brooklyn Children's Museum. Every age group is covered throughout the three-day celebration and remembrance, with activities, performances, crafts, and storytelling.
Martin Luther King, Jr. Day Storytelling and Music Event — Prospect Lefferts Gardens, Brooklyn
Monday, January 20
Best selling children's book author Sharee Miller (Princess Hair and Don't Touch My Hair!) reads at this annual event at Grace Reformed Church in Brooklyn, where kid-friendly activities also include live music performances, crafts, and lunch. The event is run solely by volunteers, including local high school and college students. FREE
For older kids, on MLK Day BAM in Fort Greene hosts the city's largest remembrance of Dr. King, with musical performances, films, and a talk by keynote speaker Tarana Burke, founder of the #MeToo movement. FREE
RELATED: Indoor Family Fun Guide to NYC Play Spaces and Sports Zones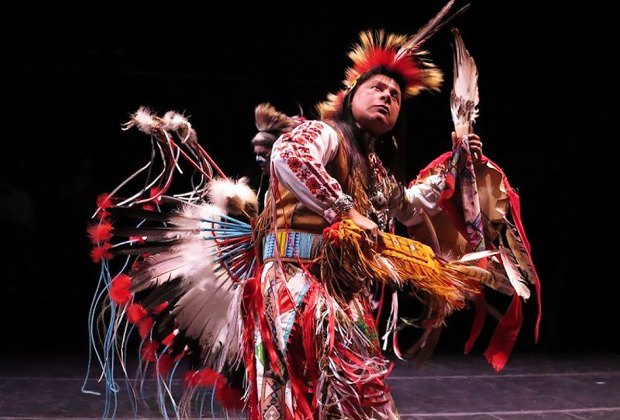 Dive deep into traditional Native American dance styles at the Thunderbird American Indian Dance Concert and Powwow. Photo courtesy of the event
Thunderbird American Indian Dance Concert and Powwow – East Village
Friday, January 24–Sunday, February 2
Dive deep into traditional Native American dance styles: Highlights will include storytelling, a Hoop Dance from the Cherokee and Seminole tribes, a Stomp Dance from the Southeastern tribes, a Deer Dance from the Yaqui Tribes of Southern Arizona, and more. Evening performances end with audience members joining dancers on stage for a Friendship Dance. Bonus: Tickets for kids under 12 are $1 when purchased with adult admission ($15).

Celebrate the Year of the Rat at this annual Chinese New Year celebration in Manhattan's Sara D. Roosevelt Park. Photo courtesy of NYCGo
Lunar New Year — Citywide
Saturday, January 25
The Year of the Rat officially kicks off Saturday, January 25 with a FREE firecracker celebration and cultural festival in Manhattan's Sara D. Roosevelt Park. Other Lunar New Year fetes this month include Oshogatsu at the Japan Society and Midtown East's modest annual shindig. FREE
Winter Spooktacular 2020 — Corona, Queens
Saturday, January 25
A Halloween party in January? Why not! Pull your Halloween outfits out of the closet for this long-running family favorite at the Queens Museum, with face-painting, performances, crafts, scavenger hunts, and more activities. This year's futuristic outer space theme pays tribute to Queens's famous World's Fair Pavilion.

Japan's New Year's Day Celebration: Oshogatsu happens at The Japan Society. Photo courtesy of the society
Japan's New Year's Day Celebration: Oshogatsu – Midtown East
Sunday, January 26
Celebrate the New Year at the Japan Society with music, crafts, calligraphy, rice pounding, mochi making, and more family activities. There will also be lion dances and live Taiko drumming performances and workshops.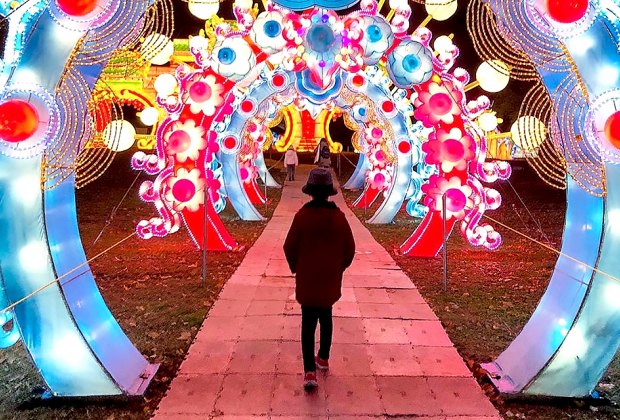 Wander through the amazing lantern display at the Winter Lantern Festival at Snug Harbor. Photo courtesy of the festival
Honorable Mentions
NYC always has incredible things going on, so it's difficult to choose what to include in our monthly GoList. Here are even more cool events worth considering for your January calendar.
Watch (or if you're brave, join) members of the Coney Island Polar Bear Club on their annual New Year's Day swim in the Atlantic Ocean, on Monday, January 1. FREE, although donations are encouraged for Camp Sunshine.
See the breathtaking Winter Lantern Festival at Snug Harbor in Staten Island before it closes January 12, with seven acres of parkland illuminated with colorful LED lanterns.
Dance off those weekend afternoon crazies at one of Rock and Roll Playhouse's weekly family dance parties, Saturdays at Industry City in Sunset Park and Sundays at Brooklyn Bowl in Williamsburg. Themed boogie fests this month include the music of Bob Marley, David Bowie, and Queen.
Sip tea with your stuffy at the historical Teddy Bear Tea at the Mount Vernon Hotel Museum and Garden on Sunday, January 5.
Broadway Week 2 for 1 ticket sales begin on Wednesday, January 8, and top shows sell out in minutes!​
Carry home a gingerbread masterpiece on January 12, when the New York Hall of Science dismantles its delicious Gingerbread Lane and gives away the houses and structures, first-come, first-served.
Be among the first to climb inside a giant indoor tree stump and attempt to break through a stretchy tropical wall at the unveiling of the Children's Museum of Manhattan's exciting new interactive exhibit Inside Art on January 18 and 19.
This post is updated annually.