Prismatica Lights Broadway With Rainbow-Filled Public Art Display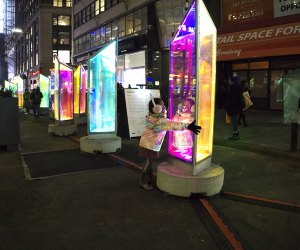 If you thought the end of the holiday season meant the end of stunning light shows, think again. The Garment District has unveiled a whimsical, rainbow-filled, kaleidoscope of colors with its latest public art installation, Prismatica.
The immersive art display is the latest piece of public art to light up Midtown and follows last year's playful, illuminated seesaws in the neighborhood, bringing a little bit of sparkle to New Yorkers.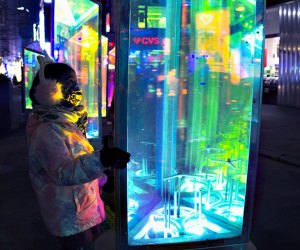 Prismatica is located on the Broadway pedestrian plaza, between West 39th and 40th Streets, and features a series of 25, 6-foot-tall light-up prisms.
When rotated by passersby, the glowing lights give off a rainbows-worth of colorations, aided by a dichroic film that reflects the interior light. Embedded within each is a series of chimes that radiate a range of sounds and give the entire block a twinkling appearance and soundtrack.
The prisms are spaced well apart, giving visitors plenty of room to social distance while taking in the open-air installation, but they do require a fair amount of touching if you want to manipulate their movement on your own, so pack plenty of hand sanitizer. Even if you just eye them from a distance, it's a fun scene to absorb. When we visited during an afternoon rush hour, the crowd was light.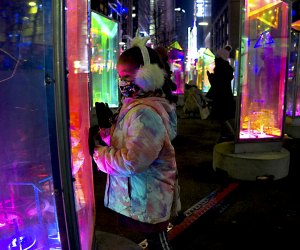 The installation was created by RAW Design, in collaboration with ATOMIC3. It was originally conceived for the 2014-15 Luminothérapie festival in Montreal.
Prismatica lights up Broadway through Saturday, January 30.
All photos by author