Giant Seesaws Invade Two NYC Neighborhoods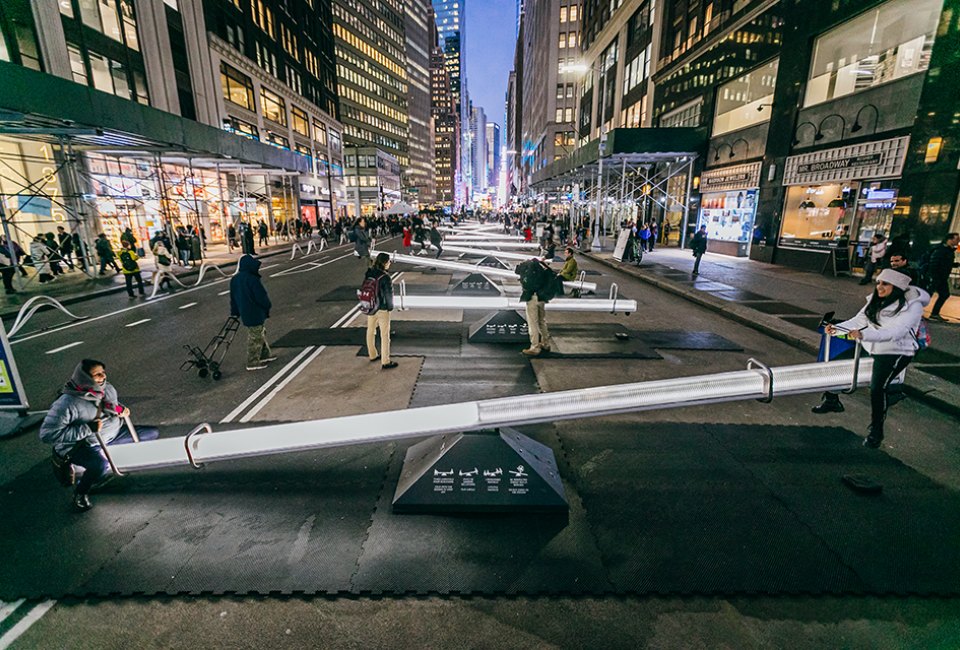 1/8/20
- By
Jody Mercier
It's no secret New York City is our favorite playground. Always on the hunt for a cool place to play, we were thrilled to visit Impulse, a public art installation that brings giant seesaws to the Garment District and to hear about a second similar installation entitled Wave-Field at the South Street Seaport.
These innovative installations give New Yorkers young and old a pair of unexpected new playgrounds in the heart of the city. Read on for details and plan your outing whether you live uptown or downtown. But hurry: Both displays are here for a limited run.
RELATED: More Parks & Playgrounds to Explore

The free seesaws delight riders young and old.
Impulse – Garment District
Debuting January 6, Impulse brings 12 larger-than-life, light-up, musical seesaws to Broadway, shutting down one block of traffic and extending the pedestrian plaza into the street to allow for some good, old-fashioned free fun.
Located on Broadway between 37th and 38th Streets, the seesaws range in length from 16 to 24 feet and seat up to four riders.
Beyond introducing a new generation to this old-school playground standby, Impulse seesaws are motion activated. As passersby bounce up and down, the seesaws come to life with illuminations and a cacophony of sounds.
Presented by the Garment District Alliance, Impulse is part of the NYC DOT's Art Program and the Public Space Unit's Seasonal Streets program.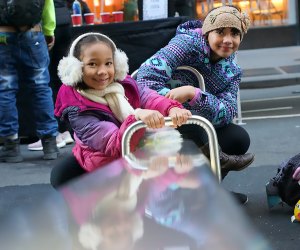 Up to four riders can balance on each giant seesaw at a time.
The smile-inducing giant seesaws are teetering and tottering on Broadway through the end of January and best experienced in the evening to appreciate the full effect of the lights.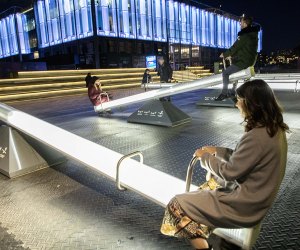 Head down to Seaport Square this month and get ready to play on Wave-Field, Variation O, a series of interactive, glowing seesaws. Photo courtesy of Wagstaff
Wave-Field – South Street Seaport
Wave-Field, located at Pier 17, brings eight larger than life seesaws to the cityscape. Organizers hope these giant playthings "encourage the development of interpersonal relationships between strangers and consolidate existing relationships between friends and family," as they work together to activate the seesaws.
While at rest, Wave-Field's seesaws produce a sonic thrum that beckons visitors to approach. Much like their uptown counterparts, when they're activated by motion, Wave-Field's seesaws come to life playing an electronic symphony of sounds.
Eight seesaws of various sizes are part of the activation, which continues to sway through March 29.
Unless noted, photos by the author
Places featured in this article:
---
Garment District Plazas
---
Wave-Field

Sign up for our free
newsletters.
Mommy Poppins is a family activity website that helps people find things to do with kids.
©
2023
MommyPoppins. All Rights Reserved.
mp-prod4-v4.32.99
We use cookies and other data collection technologies to provide the best experience for our customers.
Learn More