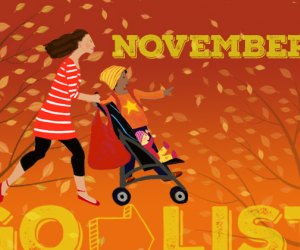 November GoList: The Best Things To Do with Philly Kids this Month
It's hard to believe the holidays are already right around the corner, but here we are! This month brings Thanksgiving and next up it's Christmas and Hanukkah. If you've already burned through all the fall fun the Delaware Valley has to offer, we've got plenty more to do this month. If you want to get in some relaxation before Santa comes to town, then try a fall-friendly weekend getaway with the family.
To see everything happening in November, visit our events calendar.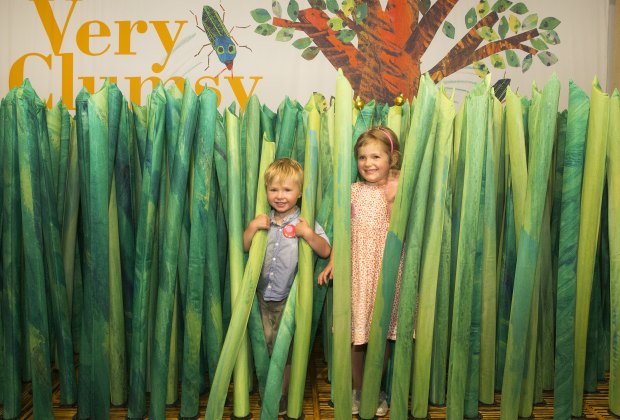 Children can dive into their favorite Eric Carle books at Please Touch Museum. Photo by Larry Rippel for Please Touch Museum
1. Very Eric Carle Exhibit - Philadelphia
Daily through January 12, 2020
Visit the Please Touch Museum and dive into class kids' favorite books from Eric Carle and learn about the themes of hope, persistence, and hard work.
2. Peddler's Village Apple Festival- Lahaska
Saturday & Sunday, November 2-3, 2019
Celebrate all things apple at this fun festival. Sample 12 different varieties of apple from local Bucks County orchard, Bechdolt's Orchards. Live entertainment, apple pie eating contests, and some sweet treats will also be available.
3. Sugarloaf Crafts Festival - Oaks
Friday - Sunday, November 8-10, 2019
Sugarloaf returns to the Greater Philadelphia Expo Center for its annual crafts festival. Shoppers can expect over 350 artists and crafters as they present their latest handmade creations such as clothing, custom jewelry, home furnishings, and well-stocked specialty food booths.
4. Train Festival - Camden, NJ
Saturday and Sunday, November 9-10, 2019
If there is a train lover in your house, a visit to the Camden Children's Garden is sure to keep him/her entertained. Children can make train-themed crafts, listen to train stories and play train-themed games..
5. Grand Illumination Celebration - Lahaska
Friday, November 15, 2019
It is that magical time of year when the world looks a little more peaceful decorated in lights. So, take a visit to Peddler's Village and watch Santa himself light up the holiday display at 6:15 PM sharp. Free cider and marshmallow toasting is available for visitors.
6. The National Dog Show - Oaks
Saturday and Sunday, November 16-17, 2019
Every year, The Greater Philadelphia Expo Center hosts The National Dog Show. Visitors can expect to see 2,000 show dogs representing over 150 breeds. Besides watching the dogs, family-friendly activities are available to keep children entertained. Saturday's hours are 8 AM- 6 PM and Sunday's hours are 8:30 AM - 5 PM. It is important to note that visitors are not allowed to bring their own dogs or strollers.
7. Chestnut Hill Circle of Trees - Philadelphia
Saturday, November 23, 2019
In this honored tradition, celebrate the annual tree lighting and kick-off to the holiday season in Chestnut Hill with the first appearance of Santa, music, hot chocolate, and the opening of Woodmere Art Museum's holiday exhibit. Families are encouraged to bring an unwrapped toy for an underprivileged child.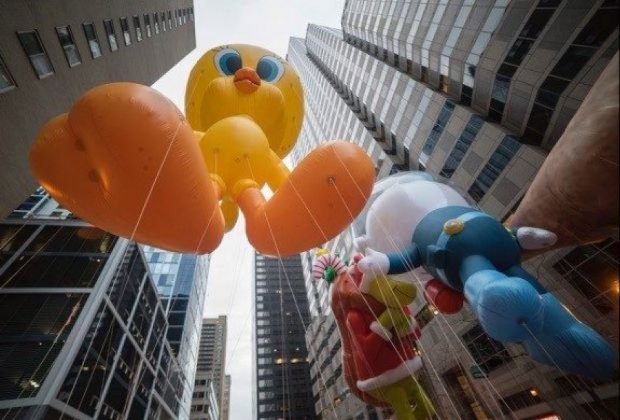 Everyone loves a parade...especially 6abc Philadelphia Thanksgiving Day Parade. Photo courtesy of 6abc
8. 6abc Philadelphia Thanksgiving Day Parade- Philadelphia
Thursday, November 28, 2019
No Thanksgiving Day is complete with out a parade. Whether you watch from home or celebrate downtown, the 6ABC Thanksgiving Day Parade is a great family tradition, celebrating its 100th year!
9. Wild Wizarding Weekend - Philadelphia
Friday-Sunday, November 29 - December 1, 2019
Explore the magical world of the Academy of Natural Science's phenomenal beasts with a weekend of spellbinding, hands-on activities. Guests can meet the Academy's own live beasts and learn about the real animals that inspire your favorite wizarding stories.
10. Macy's Christmas Light Show - Philadelphia
Daily, November 29-December 31, 2019
Experience a Philadelphia tradition at Macy's Christmas Lights Show. In addition to the light show, Macy's offers a free Christmas Concert which is open to all, as well as the charming Dickens Christmas Village on the 3rd floor.
Be sure to subscribe to our email newsletter to get our weekly roundups of events delivered to your inbox!