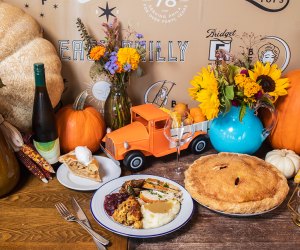 20 Philadelphia Restaurants Open on Thanksgiving
The meal takes center stage on Thanksgiving Day, but if you'd rather forget the dirty dishes, grocery shopping, and hours of cooking, there are plenty of family-friendly restaurants open on Thanksgiving in Philly for a hassle-free holiday. Catch the Philadelphia Thanksgiving Day Parade in the morning, then relax the rest of the day knowing that the family meal is being handled by the professionals. If you want to enjoy fine dining but don't want to change out of sweatpants, plenty of establishments also offer convenient pickup options.
From family-friendly hotels to family-style Italian eateries and perennial Philly faves, the city and surrounding suburbs are full of great restaurants open on Thanksgiving Day that are perfect for a holiday feast. Reservations are required or strongly encouraged for all of the following restaurants as many fill up in advance. Pre-orders for pickup are also required. Read on for our list of the best turkey day restaurants, and subscribe to our newsletters to get stories like this delivered directly to your inbox.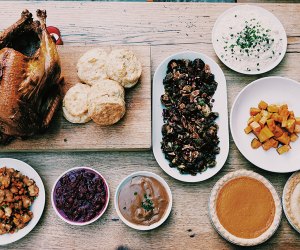 All the classics are available at El Camino Real. Photo by Eddy Marenco for El Camino Real.

Restaurants Open on Thanksgiving in Philadelphia
A go-to for delicious Thanksgiving fare, Bank and Bourbon will feature carving block prime rib, turkey, and salmon along with displays including seafood, ham, and local cheeses at $80 for adults and $25 for children 12 and under. Little people will find macaroni and cheese, chicken tenders, and beef sliders on the kids' menu. Adult diners can enjoy an optional wine pairing for $35. Reservations are from 11am-9pm.
OUR LATEST VIDEOS
Chima—Center City
This all-you-can-eat destination includes its usual rodizio menu in addition to Thanksgiving favorites. Adults can dine for $61.95 while kids 7-11 years old are half price. Children 6 and under eat free. Reservations are available from 12pm-8pm.
For a taste of southern Brazil in the heart of Philly, try out Fogo de Chao. A churrasco experience is on the menu for this Thanksgiving meal, which means indulgent bone-in cuts as well as seasonal recipes that highlight the best of the best. Pricing is $61.95 per adult, while 7 to 12 year-olds are half off, and children 6 and under are free. Bookings are available from 11am-9pm.
Italian cuisine is usually pretty kid-friendly, making Scarpetta a great Thanksgiving Day option. The restaurant will have a four-course prix fixe menu with Scarpetta signatures, like tagliatelle bolognese, plus some Thanksgiving-inspired dishes, such as pancetta-wrapped turkey. Bird alternatives include black bass and filet mignon with turkey stuffing accompanying all main courses. Dessert will be family-style. Scarpetta charges $90 per adult and $45 per child under 12. Afternoon serving times run at 2:15pm, 2:30pm, 2:45pm, and 3pm, with evening times at 5:30pm, 5:45pm, 6pm, and 6:15pm.
Square 1682 is offering all the fixings—whipped sweet potato, classic brioche stuffing, and french green beans—with each main course, which includes turkey, filet mignon, salmon, and cauliflower curry. Choose from the 3-course flat rate at $65 for adults, or à la carte. Book a spot from 10am-7pm.
Urban Farmer is serving up a bounty of options, offering à la carte brunch, a multi-course meal, a Thanksgiving dinner, or Thanksgiving takeout. Starters include dishes like chilled shrimp and roasted cauliflower soup, alongside mains like roasted turkey, salmon, squash risotto, and stuffed pork loin. Seasonal desserts like pumpkin pie and pumpkin cheesecake round out the menu. Adults dine for $95 and children ages 12 and under cost $45. Dinner is from 4pm-8:30pm.
At one of the most lavish Thanksgiving buffets in the city, parents can begin with a complimentary glass of champagne before indulging: a raw bar, over 10 appetizers, multiple entrées and carvings, and desserts await Thanksgiving diners. The buffet costs $80 for adults; $40 for children under 12. Serving times are 12pm and 2pm.
Back for its first Thanksgiving since a fire shut down operations, Bridget Foy's will resume its popular holiday dinners. A quintessential Thanksgiving meal is coming your way here: roasted turkey, mashed potatoes, stuffing, brussels sprouts, cranberry compote, gravy, and à la carte dessert. At $30 per person, Bridget Foy's is a steal. If it's warm enough, book a table outside and eat under the heated covered patio. It's open 1pm-7pm on Thanksgiving Day, and take-out is available.
Make the Thanksgiving holiday simple this year with pickup-only options from El Camino Real. Menu offerings include a variety of meats such as smoked, fried, or boneless turkey as well as bourbon-glazed ham and pot roast. For the sides, take your pick of stuffing, mashed potatoes, candied sweet potatoes, brussels sprouts, and more. Top things off with orange ginger cranberry sauce and gravy. À la carte entrees are $85, with side dishes for $25. Family packages vary by price for groups of 2-10 people. All orders must be in by Tuesday, November 23; pick up your selections on Wednesday, November 24.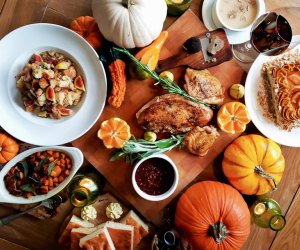 Beautiful colors and bold flavors from Panorama. Photo by Eddy Marenco for Panorama.
Panorama provides another delicious pick-up and take-home option; get your focaccia bread, roasted turkey, stuffing, rigatoni, green bean casserole, sweet potatoes, cranberry conserva, roasted fall vegetables, and ricotta cake, meant to serve 4 people, for $200. Want a little something extra? Panorama is also offering add-ons like antipasti misto and shrimp cocktail for $55. Order by Friday, November 19, and pick up on Wednesday, November 24 from 12pm-6pm. Heating instructions are included with your meal.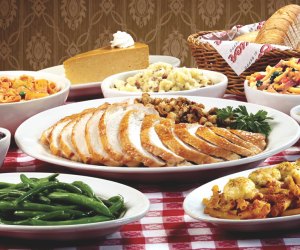 A sampling of the offerings at Buca di Beppo. Photo courtesy of the restaurant.
Restaurants Open on Thanksgiving in the Suburbs
Known for their steaks, the 3-course Thanksgiving-themed menu at this award-winning restaurant will focus on seasonal options like pumpkin bisque and house-made cranberry sauce. For those who prefer the standard fare, a limited á la carte menu is available. The 3-course meal comes in at $52.50 for adults and $25 for kids under 12. Service begins at 1pm and ends at 7pm for the last seating.
Four courses of delicious options await patrons at The Farmer's Daughter. Begin with a bisque, chowder, or salad before moving on to New York strip steak, turkey, lamb, salmon, or truffle gnocchi accompanied by family-style sides. Finish with a family-style dessert. Adults can dine for $59.95, and children 10 and under are $18.95. Seatings are available from 1pm-6pm. The restaurant is part of Normandy Farms, which is offering to-go meals for up to 10 people. The take-out meals can be picked up on Thanksgiving Day from 10am-1pm.
If you're fixin' to enjoy an earlier meal, The Farmhouse at People's Light is open for a Thanksgiving buffet, serving classic dishes and some with a twist, like bourbon mashed sweet potatoes. The buffet cost at this Malvern favorite is $47 for adults and $20 for children 12 and under. Hours are 11am-3pm.
This Springfield eatery will serve a special á la carte menu on Thanksgiving Day, with Italian staples like chicken parmesan and lasagna, alongside traditional Thanksgiving foods like sage stuffing, mashed potatoes, and of course, turkey. The kids' menu offers a mini Thanksgiving plate in addition to chicken fingers and penne pasta. Save your family's spot from 1pm-5pm.
Fleming's Steakhouse invites your family to be their guest for a special menu. Expect all the trimmings of a classic Thanksgiving with this 3-course meal. Choose from herb-roasted turkey, filet mignon, or prime bone-in ribeye. Traditional sides are shareable. Children can nosh on cheese and crackers along with their turkey or filet mignon entree. Adults pay $53, while kids are discounted at $23. Fleming's will be open 11am-8pm.
An old-world feast covers the fixed-price menu with 8 main course options; take your pick from classic turkey or seafood pasta. A starter, dessert, and tea and coffee are included, with traditional fare like cream of mushroom soup, and more interesting plates like cheesesteak dumplings. Clams, shrimp cocktail, and oysters are available from the raw bar. Indulge in apple bread pudding, pumpkin trifle, or creme brulée for dessert. Adult pricing is $54; children 10 and under are $21. The restaurant is taking carry-out orders. Reservations can be made from 2pm-6:30pm.
Seasons 52 is known for its uber-fresh, ever-changing menu. Thanksgiving diners can prepare for roasted turkey with savory pan gravy, yukon mashed potatoes, brioche and sage stuffing, green beans, mashed butternut squash, housemade cranberry relish, and of course pumpkin pie. With pricing set at $32.95 for adults, and $16 for children, this is among the most affordable dinners families will find. To-go boxes are also available, serving 4-6 people for $175.
Craft American fare is the specialty at Black Powder Tavern in Wayne, and Thanksgiving brings a buffet of cold dishes—salads, shrimp cocktail, and a meat and cheese board—as well as hot dishes like turkey, glazed ham, short rib, roasted salmon, and sides. End your meal at the dessert station with apple pie, pecan pie, and pumpkin pie. Adults pay $45 and children 11 and under pay $19. The Tavern will be open 12pm-7pm.
À la carte or buffet style, you can take your pick at the Concordville Inn. Both menus will serve roasted turkey and prime rib, amid a varied selection of sides, both traditional and non-traditional for the holiday. Younger guests can cruise the kids' buffet to swap turkey for chicken fingers, mac and cheese, mozzarella sticks, and french fries. The kids' à la carte menu serves similar plates. Prices are $48 for adults and $25 for children 3-10 years old. The Inn is taking reservations from 12pm-7pm, and has a to-go menu as well.
For an Italian-style take-home Thanksgiving this year, check out Tredici for á la carte options. Italian antipasto, a fall cheese and charcuterie board, various bisques, sides, quiche, and ham are on the market's menu. Place your order by Friday, November 12, and pick up your selections on Wednesday, November 24 between 10am and 2pm.
This article has been updated for 2021.