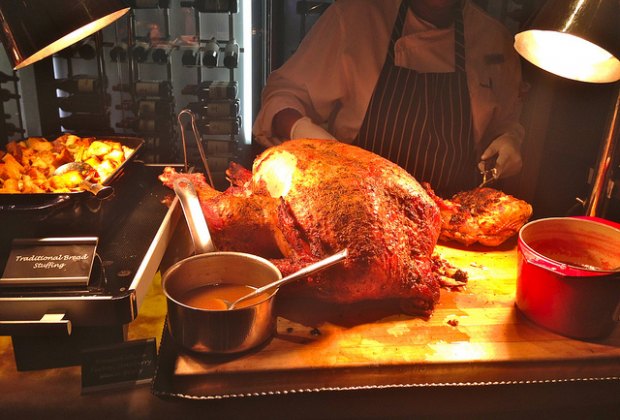 Restaurants Open on Thanksgiving in the Philadelphia Area
Thanksgiving Day is all about the food. But if cooking isn't your thing, or you would rather leave it to the professionals, there are some amazing options for a family gathering that won't leave you with the dirty dishes. Start the day off with the annual Thanksgiving Day Parade in Philadelphia, then leave the work to someone else. Reservations are strongly encouraged for all of the following restaurants as many fill up in advance.
Philadelphia County
Bank and Bourbon—Center City
This go-to for delicious Thanksgiving fare is doing things a little differently this year with a buffet featuring fresh seafood, local turkey and prime rib. Wine pairing is optional and children 12 and under will enjoy the meal for a reduced rate. Reservations are available from 11:00 am to 10:00 pm
Chima—Center City
This all-you-can-eat destination includes their usual Rodizio menu plus Thanksgiving favorites. Serving from 12–9 PM
City Tavern—Old City
In the mood to add a dash of history to your meal? Eat Thanksgiving like our four fathers, with costumed waiters who will serve a four-course meal, family-style. Reservations are required and there are three seating time options, so you can choose if you prefer a Thanksgiving meal at lunch or dinner.
Devon Seafood Grill—Rittenhouse
Thanksgiving favorites like roast turkey, cornbread, and sausage stuffing are on the menu for this three-course meal. If you prefer something other than the traditional Thanksgiving fare, Devon's regular menu is also available.
Fogo de Chao—Society Hill
A Fogo Churrasco is on the menu for this Thanksgiving meal which means indulgent bone-in cuts, as well as seasonal recipes that highlight the best of the best. Fogo de Chao is serving dinner options all day long (which means dinner prices all day). Serving from 11 AM–9 PM
Hard Rock Cafe—Center City
Looking for a really fun, festive Thanksgiving meal? The Hard Rock Cafe has you covered with the big bird and all the trimmings available. Serving from 11am to 10pm.
Lacroix—Rittenhouse
What better way to get exactly what you want for Thanksgiving than a holiday-themed buffet? I recommend wearing your extra-comfy/stretch pants for this one!
Seating from 11 AM–6:45 PM
Moshulu—Waterfront
Do something really special this Thanksgiving - enjoy dining on the water, on the always festively lit Moshulu. This destination dinner includes a holiday-inspired three-course prix fixe dinner menu. Children's offerings are also available if your little one is just not that into Thanksgiving. Serving from 12–8 PM
Scarpetta—Rittenhouse
Scarpetta signatures, like spaghetti tomato and basil, plus your Thanksgiving favorites. Who could ask for anything more? Serving from 2–8 PM
Square 1682—Center City
Square has all your favorite Thanksgiving fixings, and something for everyone with vegan offerings on the menu as well. Serving from 3–9:30 PM
The Twisted Tail—Society Hill
If you grew up in the South, the Twisted Tail might be the spot for you this Thanksgiving. Featuring family-style dining plus southern staples, it's almost just like home.
Serving from 12–10 PM. Children's prices are available.
Urban Farmer—Society Hill
Expect a bountiful meal at the Urban Farmer, including delicious sides and desserts. You can select a full course or order a la carte. Serving dinner only, from 4–9 PM
Chester County
Brandywine Prime—West Chester
Known for their amazing steaks, this three-course Thanksgiving-themed menu will focus on seasonal options but also allow you to order from the á la carte steak menu, if you prefer to go for their standard fare. Serving from 1:30–7:30 PM
Buca di Beppo–Exton
Enjoy a traditional turkey dinner plus Italian classics. Thanksgiving catering and to-go menus are also available from November 27-28. Serving from 11 AM to closing
Dilworthtown Inn—West Chester
Enjoy a traditional family meal at this adorable Inn in West Chester. It's a family tradition in the making!
The Farmhouse Bistro at People's Light—Malvern
Fill your belly with a super-indulgent Thanksgiving buffet at this Malvern favorite. Serving from 12:30–6 PM
Kimberton Inn—Phoenixville
The Kimberton Inn is going for the classics, with a traditional turkey as well as all your favorites from their regular menu. Limited reservations are available.
Vickers Restaurant—Exton
Holiday specialties plus classics from their regular menu means everyone in the family will be satisfied. Serving from 12:00–7:00 PM. Limited seating is available so you should book early.
Delaware County
Tavola Restaurant—Springfield
Get dressed up for this country club-style Thanksgiving buffet at Tavola Restaurant. Serving from 1–5 PM, Reservations are required.
Flemings Steakhouse – Radnor
Expect all the trimmings of a classic Thanksgiving meal. A children's menu is also available. Serving from 11AM to close
The Radnor Hotel—Wayne
Butternut squash bisque, roasted turkey or baked ham, candied yams, stuffing, and the house chocolate fountain are all on hand for this extravagant Thanksgiving buffet. Served from 12-5PM
Montgomery County
Blue Bell Inn—Blue Bell
Take your pick: A classic turkey, braised short rib, or even lobster ravioli! This meal is not to be missed. Dinner is served from 2–8 PM and children's pricing is available.
Joseph Ambler Inn—North Wales
With a three-course dinner and special pricing for children, this Thanksgiving meal is sure to please the whole family. Serving from 1-7 PM
Seasons 52—King of Prussia
Expect a delicious meal of Roast Turkey and Savory Pan Gravy, Herb Stuffing, traditional sides like Yukon Mashed Potatoes and Green Beans and, of course, Pumpkin Pie. Serving all day.
Updated 2019 for current information. Photo courtesy of Sarah Ackerman via Flickr.