15 Philadelphia Restaurants Open on Thanksgiving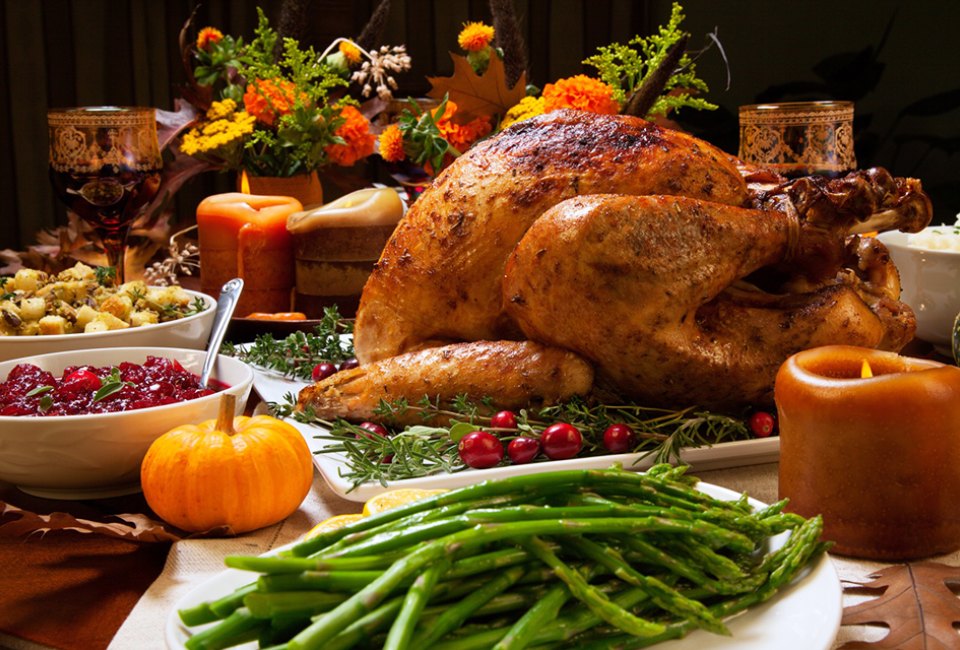 11/1/22
- By
Lindsay Li
The meal takes center stage on Thanksgiving Day, but if you'd rather forget the dirty dishes, grocery shopping, and hours of cooking, there are plenty of family-friendly restaurants open on Thanksgiving in Philly for a hassle-free holiday. Catch the Philadelphia Thanksgiving Day Parade in the morning, then relax the rest of the day knowing that the family meal is being handled by the professionals. If you want to enjoy fine dining but don't want to change out of sweatpants, plenty of establishments also offer convenient pickup options.
From family-friendly hotels to family-style eateries, the city and surrounding suburbs are full of great restaurants open on Thanksgiving Day that are perfect for a holiday feast. Reservations are required or strongly encouraged for all of the following restaurants as many fill up in advance. Pre-orders for pickup are also required. Read on for our list of the best turkey day restaurants, and subscribe to our newsletters to get stories like this delivered directly to your inbox.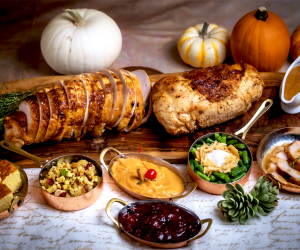 Chima
Restaurants Open on Thanksgiving in Philadelphia
A go-to for delicious Thanksgiving fare, Bank and Bourbon will feature a buffet that includes carving block prime rib, turkey, and salmon along with displays, such as seafood, ham, and local cheeses, at $85 for adults and $25 for children 12 and under. Little people will find grilled cheese, beef and cheese sliders, and chicken tenders. Adult diners can enjoy an optional wine pairing for $35. Reservations are from 11 am−9 pm.
2. Chima—Center City
This all-you-can-eat destination will include its usual rodizio menu in addition to Thanksgiving favorites: turkey, gravy, sweet mashed potato, stuffing, green bean casserole, cranberry sauce, and cornbread. Adults dine for $64.95 while kids 7−11 years old are half price. Children 6 and under eat free. Reservations are available from 12−8 pm.
For a taste of southern Brazil in the heart of Philly, try out Fogo de Chao. A churrasco experience is on the menu for this Thanksgiving meal, which means indulgent bone-in cuts as well as seasonal recipes (turkey, cranberry relish, sweet potato casserole, Brazillian sausage with apple dressing), highlighting the best of the best. Pricing is $64 per adult; 7−12-year-olds are half off, and children 6 and under are free. Bookings available from 11 am−9 pm.
Italian cuisine is usually a win for the kids, making Scarpetta a great Thanksgiving Day option. The restaurant will have a four-course prix fixe menu with Scarpetta signatures, like tagliatelle bolognese, plus some Thanksgiving-inspired dishes, such as pancetta-wrapped turkey. Bird alternatives include black bass and filet mignon with turkey stuffing accompanying all main courses. Scarpetta charges $105 per adult and $55 per child under 12. Serving times run from 3−6:30 pm.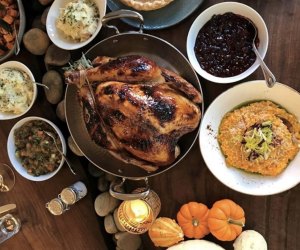 Urban Farmer
Urban Farmer is serving up a bounty of options, offering a multi-course meal or Thanksgiving takeout. Starters include dishes like chilled shrimp and blue hubbard squash bisque, alongside mains like roasted turkey, salmon, prime rib, roasted acorn squash, and stuffed pork loin. Seasonal desserts (pumpkin cheesecake—yum!) round out the menu. Adults dine for $105 and children ages 12 and under for $50. Dinner is from 4−9 pm.
At one of the most lavish Thanksgiving buffets in the city, parents can begin with a complimentary glass of champagne before indulging: a raw bar, appetizers, multiple entrées and carvings, and desserts await Thanksgiving diners. The buffet costs $80 for adults and $40 for children under 12. Serving times are 12 pm and 2 pm.
Quintessential Thanksgiving meal? Regular dinner? In addition to a Thanksgiving plate offering, Bridget Foy's will serve a limited number of items off the regular menu. And good news for kids (and their parents): the regular kids' menu will run. If it's warm enough, book a table outside and eat under the heated covered patio. It's open 1−7 pm on Thanksgiving Day, and take-out is available.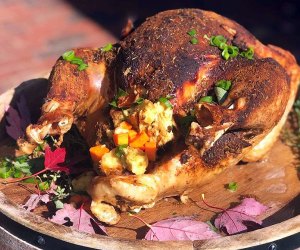 The Farmer's Daughter
Restaurants Open on Thanksgiving in the Suburbs
Known for their steaks, the 3-course Thanksgiving-themed menu at this award-winning restaurant will focus on seasonal options like pumpkin bisque and house-made cranberry sauce. For those who prefer the standard fare, a limited á la carte menu is available. The 3-course meal comes in at $55 for adults and $25 for kids under 12. Service begins at 1 pm and ends at 7 pm for the last seating.
Choose from many delicious options from the prix fixe menu. Begin with a bisque, chowder, or salad before moving on to turkey, New York strip steak, fish options, truffle gnocchi, or ham, accompanied by family-style sides and followed by a family-style dessert. Pricing depends on entree selection (with a "10 and under" children's discount), and seatings are available from 1−6 pm.
Fleming's Steakhouse invites your family to be their guest for a special menu. Expect all the trimmings of a classic Thanksgiving with this 3-course meal. Choose from herb-roasted turkey, filet mignon, or prime bone-in ribeye. Traditional sides are shareable. Children can nosh on their very own 3-course meal for $25 while adults pay $57. Fleming's will be open 11 am−8 pm.
An old-world feast covers the fixed-price menu with 8 main course options, which, of course, includes turkey. A starter, dessert, and tea and coffee are included, with yummy starters like baked brie and cheesesteak dumplings. Clams, shrimp cocktail, and oysters are available from the raw bar for an extra fee. Adult pricing is $59 (children 10 and under ring up at $22). The restaurant is also taking carry-out orders.
Seasons 52 is known for its uber-fresh, ever-changing menu. Thanksgiving diners can prepare for roasted turkey with savory pan gravy, yukon mashed potatoes, brioche and sage stuffing, green beans, mashed butternut squash, housemade cranberry relish, and pumpkin pie. With pricing set at $34.95 for adults, and $16 for children, this is among the most affordable dinners families will find. To-go boxes are also available, serving 4−6 people for $195.
Craft American fare is the specialty at Black Powder Tavern in Wayne, and Thanksgiving brings a buffet of cold dishes—salads, shrimp cocktail, and a meat and cheese board—as well as hot ones like turkey, glazed ham, short rib, roasted salmon, and sides. End your meal at the dessert station with apple pie, pecan pie, and pumpkin pie. Adults pay $55 and children 11 and under pay $25. The Tavern will be open 11:30 am−7 pm.
With Corcordville's buffet style, you can take your pick or have it all. Roasted turkey and prime rib, amid a varied selection of sides, both traditional and non-traditional, will be served up for the holiday. Younger guests can cruise the kids' buffet to swap turkey for chicken fingers, mac and cheese, mozzarella sticks, and french fries. Buffet prices are $52 for adults and $28 for children 3−10 years old. The Inn is taking reservations from 12−7 pm and plans to offer take-out as well.
For an Italian-style take-home Thanksgiving this year, check out Tredici for á la carte options. Italian antipasto, a fall cheese board, various bisques, sides, quiche, and ham are on the market's menu. Place your order by Monday, November 7, and pick up your selections on Wednesday, November 23 between 9 am and 1 pm.
This article has been updated by Corrie Stango for 2022.
Photos courtesy of the restaurant