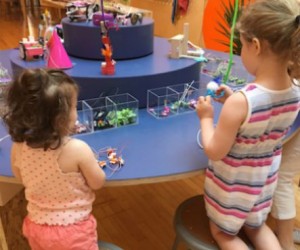 A LittleBits Electronics Maker Space Opens in Soho
The new littleBits electronics maker space in Soho is fast winning over New York's littlest tinkerers and inventors. The homegrown startup's first NYC store lets grade-school kids (and adults) play, invent and build for FREE using its electronic building blocks that snap together via magnets, making it simple for all levels to follow these STEM-inspired lesson plans. Of course, no need to tell the kids you approve of such tech play. Why spoil their fun?
The only problem? It's a pop-up shop, so though you can find littleBits at its West Broadway location through the 2015 holidays, it plans to close up in January.
Read on for the Mommy Poppins review of NYC's newest maker spot.
LittleBits' founder Ayah Bdeir, an MIT graduate, set out to "democratize hardware" in 2011 by creating easy-to-use electronic building blocks designed to encourage everyone to build and better understand the tech that has become part of our everyday lives. The littleBits storefront, which officially opened July 31, offers a large, open space that is bright and colorful—perfect for exploring and creating.
Upon entering, an associate will walk your family through how the electronic bits or building blocks snap together to create machines. After the quick demo, kids and adults are free to create. Worktables are set up with simple illustrations providing step-by-step tutorials for the assembly of suggested projects like a remote car or synth guitar, along with all the supplies you'll need.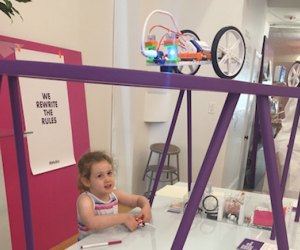 Fun for even the youngest inventors.
The walls are covered with colorful supplies like pipe cleaners, ribbons, markers and rubber bands that can be plucked off to add to your project. Other inspiration comes in the form of the "Musical Twister Wall" where the robotics really come to life and a pencil doodle machine that absolutely awed my 4-year-old.
Playing at the store is free and associates encourage you to experiment and spend as much time as you want building and inventing. We didn't feel rushed at all. If you want to take your project, home, though, you'll have to pay for those supplies you used. Read on for those details below.
The littleBits pop-up is located at 355 West Broadway and open seven days a week. Check the website for the complete schedule, including upcoming events.
Visiting Tips
Plan on leaving babies and tots at home. While projects are recommended for ages five and up, my 4 year old had a great time working on the projects with lots of help from Dad (who was also having a great time). My 2-year-old was just a liability. If your kids (or you!) want to try out all the projects, plan to spend about an hour in the store.

Projects are free to create and open to anyone who wants to give it a go; however, there is a fee to take your creation home ($24.95-$99.95, depending on the project). Kits are also available for purchase, so you can keep creating at home. If you want your creation memorialized but don't want to pay, head to the store's photo booth and snap a picture of you and your creation to have it sent to you. It may also be included on the store's slideshow.

Want more? LittleBits also hosts workshop series. The current workshop is about waveform synthesis. Check the website for more details.
If you have some extra time to play, Vesuvio Playground is a quick 5-minute walk from the store, and the Children's Museum of the Arts is just 10 minutes away. Three of my favorite places for sugary treats are also dangerously close: check out Laduree, Kee's Chocolates and MarieBelle. Lastly, if you're heading to weekend brunch, Cercle Rouge has a magic brunch for kids on Saturdays and Sundays, and White Street has an attended kids' room in the back where your little one can play games and get temporary tattoos and face paint.

For more science and technology-themed fun, check out the Mommy Poppins Geek Guide, or for more tips for checking out Soho, peruse our Soho Kids Neighborhood Guide.