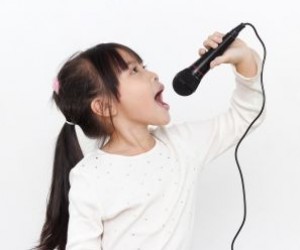 Karaoke for NYC Kids: Family-friendly Singing Spots
Ah, karaoke, a favorite activity for rowdy office parties and over-21 birthdays. The last time I went to a karaoke place, my coat ended up on the floor, soaking in a puddle of beer. It was a fun night out... but one I couldn't share with my children.

But karaoke-loving kids don't need to confine their singing to the shower. They can enjoy an authentic experience, minus the R-rated lyrics and copious amounts of alcohol, at a number of New York City karaoke spots that have family-friendly hours during the daytime. Many of these places even offer children's party packages where the bottomless pitchers of beer are replaced with juice or soda.
Chorus Karaoke – Midtown West
25 West 32nd Street between Broadway and Fifth Avenue, third floor
Most of the karaoke spots in Korea Town don't allow kids at any time. Not so for Chorus Karaoke, which offers a daytime Sunday Family Special. For $60, up to six members of one family (the staff checks the IDs of the adults for the same last name!) get two hours of karaoke, a large fruit plate, a snack and unlimited soda. If you bring your own USB drive, you can even record your performance.

Iggy's NYC Karaoke Lounge & Grill – Upper East Side
1452 Second Avenue between 75th and 76th Streets
Looking for a place that offers kids' karaoke parties? Iggy's has a variety of packages for birthdays, bar mitzvahs and sweet 16s, including themes like High School Musical, Hannah Montana, Rock Star, Pirates of the Caribbean, Teen Dance and Disco Diva. Motion light sensors pulse along to the music as you select from more than 300,000 songs, ranging from classics to the latest hits. Iggy's is also open to hosting fundraisers for nonprofits, including schools and sports teams. The club donates the space and music, and discounts the drinks, all for a good cause.

Nemo NYC – Union Square
54 East 13th Street between Broadway and University Place
Kids are welcome to belt out everything from Disney princess anthems to hits by the King of Pop before 8pm. Birthday party packages are also available and include pizza, fries, soda and balloons. Every day 1-7pm, Nemo offers 50% off all karaoke.

Playground Authentic Thai Cuisine – Jackson Heights
71-30 Roosevelt Avenue near 72nd Street
In addition to serving traditional Thai dishes, this Queens restaurant and bar offers karaoke for all ages. Kids as young as six (assuming they can read or have the lyrics memorized) can come in and belt out their best Taylor Swift, Maroon 5 or Rihanna impression while the wait-staff cheers them on. Afterward, everyone can share a nice crunchy plate of fried grasshoppers. What's not to love?

Krystal's Cafe & Pastry Shop – Woodside
69-02 Roosevelt Avenue at 69th Street
One of our favorite family-friendly restaurants in Queens, this bakery/eatery offers authentic Filipino dishes and karaoke for all ages in its spacious second floor dining room. The crowd is always friendly and cheers others on, and there is no cover charge. Just pay for what you order.

Karaoke St. Marks – East Village
6 Saint Marks Place between Second and Third Avenues
Management recommends minors drop by before 8pm to sing their hearts out. Bonus: You're welcome to bring your own food, as long as you clean up after yourself, while the bar offers drinks and beer on tap.

Karaoke Duet 35 – Manhattan
Multiple locations. Visit the website for info.
Here, kids are welcome before midnight (!!) on weekdays, and 8pm on Fridays and Saturdays. This isn't a restaurant or a bar, but a "room establishment." The smallest rooms are for two to three people, while the largest can hold up to 35. Feel free to browse the song list in advance.
Image by FreeDigitalPhotos.net