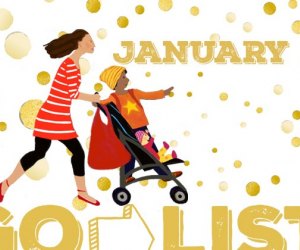 January GoList: Best Things To Do with LA and OC Kids This Month
Phew. Is it over? So much planning goes into December that it's a little hard to believe when it turns up in our rear view mirror; but the calendar page flips, and it's all eyes on 2020! Luckily we don't have to wait too long until the next holiday weekend (complete with its own parade), and of course January is the perfect time to enjoy a day of skiing or sledding. We've got 11 don't-miss events to recommend in January; so recycle that tree and fasten your seatbelts for another year of fabulous ways to enjoy being a family in LA!
In addition to the events below, several of the Southland's special holiday happenings continue for one last hurrah January's first week, including the zoo's LA Zoo Lights, the Discovery Cube's Science of Gingerbread, Descanso Gardens' Enchanted Forest of Light, the Arboretum's Moonlight Forest, and Orange County's Winter Fest.
As always, don't forget to check our daily calendar and our weekly newsletter, too, to stay on top of all the end-of-year fun.
Click through to the full listings, and you can automatically add them to your personal calendar.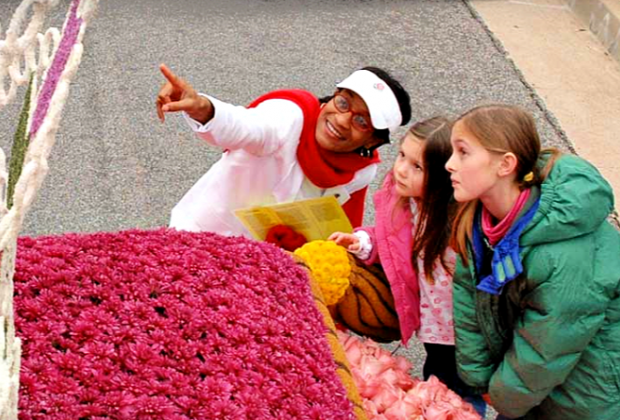 Get an up-close look at the colorful floats. Photo courtesy of Tournament of Roses
through January 2, 2020
Here's a bucket list item: though the parade is over, it's not too late for close-up viewing of the floats, before the mountains of flowers start to droop. Some of the floats then go on display in their communities of origin for a few more days.
January 1-5, 2020
This year Miguel from Coco joins the cast from Frozen and the rest of the skating princesses in Disney's marvelous ice show. This touring production never disappoints, and the stop in Ontario is your last chance to catch the final winter shows in the Southland. The cold never bothers this crew anyway.
January 5, 2020
The Japanese American National Museum celebrates the Year of the Rat with performances, candy making demonstrations, and rat-inspired crafts at the day-long free festival.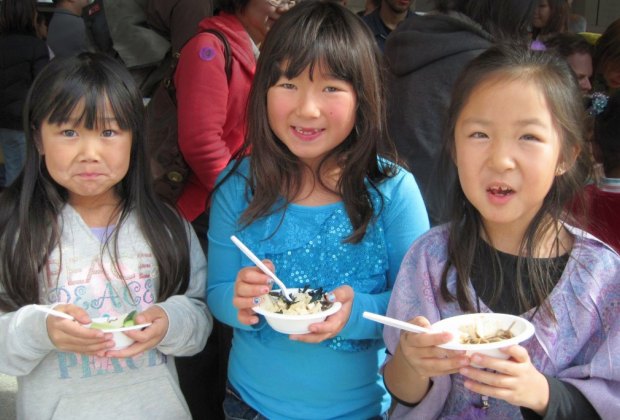 Tasting zaru soba at the Oshogatsu Family Festival. Photo courtesy of Japanese American National Museum
January 6, 2020
The Festival of the Three Wise Men (aka Epiphany) is an event with much history and pageantry in LA's Latino community. A free celebration with processions takes place on Olvera Street.
January 10-12, 2020
Ever wondered what it would be like to participate in the Pageant of the Masters in Laguna Beach? If you think your family will have the time to dedicate over the summer, 2019 could become a year to remember, as the year your kids became living works of art. Auditions are held all weekend; participation is free.
January 18, 2020
This annual event at the International Printing Museum in Carson features visits by a selection of Revolutionary War heroes, including presentations by the birthday boy himself, explaining some of hos most famous inventions.
January 20, 2020
One of the nation's largest events celebrating the life of Dr. Martin Luther King, Jr. takes place right down MLK Boulevard in downtown LA.
January 25, 2020
Snow sledding in Orange County happens just once a year. It's a big deal, and it requires pre-registraion.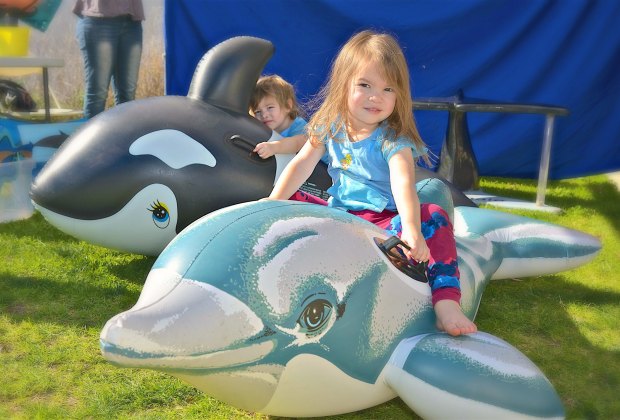 Cabrillo Aquarium's Whale Fiesta celebrates the start of the Pacific gray whales' yearly migration. Photo courtesy of Cabrillo Marine Aquarium
January 25, 2020
Pick a museum, any museum (or practically any). Dozens of LA and OC museums participate in the annual day of free admission on January 25. Try a new museum, or go on a museum crawl.
January 26, 2020
The Cabrillo Marine Aquarium celebrates the migration of the Pacific gray whale and the beginning of whale-watching season with a variety of family activities, including the sculpting of a life-sized humpback whale out of sand.
January 18 - March 8, 2020
Cirque du Soleil never fails to deliver, coupling gravity-defying athleticism with stunningly beautiful artistry. Add to that the chaotic energy of the street sports that inspire this show, and you get Volta, one of our most highly anticipated shows of the season.
Have fun—and if you'd like more ideas, subscribe to our weekly events newsletter!