SPONSORED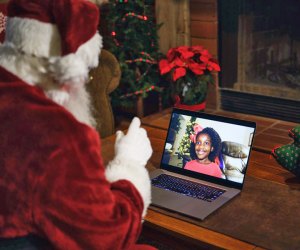 Safe Online Santa Visits: Zoom with Santa Claus and Virtual Santa Photos for Kids
In order to safely keep kids on the nice list, even Santa Claus has had to learn how to Zoom. Santa photos and visits 2020 style add a bit of extra technological magic to create a different, but plenty jolly, way for kids to meet Santa online.
From customized video calls to online Santa photo ops, plus interactive games and cameos from Mrs. Claus and the elves, there are so many ways to hang with the big guy himself from the comfort and safety of your own home. Silver linings: no long lines and the ability to really personalize your visit, making your 2020 Santa meet-and-greet a little extra special.
Read on for some of our favorite virtual Santa visits, coming to you from a few of our partners who sure know how to spread the holiday cheer when we need it most.
Dates: Nov. 27 - Dec. 23, 2020
When to Book: At least two days in advance is recommended.
North Pole Meetings is offering virtual Santa visits for 2020 that are completely customized for your family or group based on a brief survey that parents fill out when booking the video chat. The price and duration of the call with Old Saint Nick varies depending on the size of the group, but additional time can also be purchased. As a very special—and very 2020—keepsake, families get a complete video recording of every visit.
To get $15 off your virtual Santa call, head to NorthPoleMeetings.com and use the code "MERRY15"!
Dates: Dec. 1-24, 2020
When to Book: No requirement
This virtual Santa Claus visit transports families out of quarantine to magical places like Santa's Toy Factory and the North Pole, where they are greeted by an elf and get a behind-the-scenes peek at Santa's operations, as well as a visit with Mrs. Claus. The elf-guided journey includes exploring Santa's Mailroom, the reindeer stables, and even the inside of an elf's bedroom—answering the age-old question, "Do elves only have one outfit in their closet?"
The live video chat with Santa is 100% personalized; families input the personal information when booking their date and time. A video keepsake of the live chat with Santa is available for purchase as part of the ELFTASTIC Package.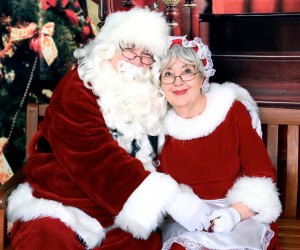 Choose from live or pre-recorded sessions with A Virtual Visit from the Clauses!
Dates: Through Dec. 31, 2020
When to Book: At least two days in advance is recommended.
Mr. and Mrs. Claus are looking forward to chatting with your kids, either live via Zoom call or in a pre-recorded message if that works better for you. Meetings range from 5 to 30 minutes, and parents can help customize their kids' calls with Santa by answering a brief questionnaire covering topics like Christmas wish lists, names of pets, and even a question about Elf on the Shelf activities (in my family's case, we would kindly request Santa to not mention his elusive shelf pal, but luckily the questionnaire also asks what not to mention!). Video recordings are available.
Families can also opt for virtual experiences that go beyond a chat with Santa—like virtual cookie decorating, reading The Night Before Christmas, or even a scavenger hunt. Basically, any Christmas magic your family can think of, Mr. and Mrs. Claus want to help make happen—even in the week after Christmas.
All photos and videos are courtesy the listed organizations.