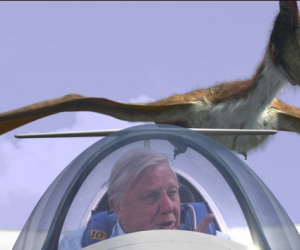 Flying Monsters in 3-D at the California Science Center IMAX Theater
What self-respecting kid wouldn't want to see a movie called Flying Monsters in 3-D?

The California Science Center reminds us once again how lucky we are to have the California Science Center, with the arrival of David Attenborough's IMAXsterpiece, Flying Monsters. It was almost too easy answering my son's "What are we doing today?" with the hero-making reply, "We're going to see a 3-D movie called Flying Monsters." I confess, though, I harbored a small doubt; what if he felt conned when he discovered that this impressive sounding title was in fact a cover for a documentary film narrated by some old English guy?
I needn't have worried. Apart from the fact that David Attenborough is way more interesting than the average old English guy, this film needs no Disney-fied dino drama to fascinate. The entire history of flying reptiles is traced with dramatic 3-D re-enactments that leave Attenborough's famous brother (head tour guide at Jurassic Park) in the dino dust. Fossils lift up from their multi-million year resting places bone by bone, to reassemble and come to life before our eyes. Reconstructed creatures from the past leap out of computer screens to stumble around the lab, demonstrating exactly how they need to evolve next to thrive. Giraffe-sized reptiles show us in slow motion precisely how they are able to catapult themselves into the air and take flight for thousands of miles.
Back when Jurassic Park first came out, I remember hankering after a film that was all CG dinosaurs without wasting any screen time on Laura Dern and Richard Attenborough eating ice cream; I see now that I was right to wish for it. Paleontological concepts that might otherwise be too advanced for my seven-year-old sprang to life and kept him riveted to the screen. He didn't ask me to explain bone density, because he traveled through the reptile's bones himself in 3-D during an MRI, and the different theories about the purpose of the Tapejara's head crest were all presented larger than life for him to consider.
(And yes, as it turns out there were a whole lot more critters in the air than just pteranodons.)
The film is appropriate for any child old enough to handle 3-D viewing. The only mildly disturbing scene (with the emphasis on mild) involves a mid-air collision dropping one flying reptile into a lake to drown, where it sinks to the bottom and becomes a fossil. Science leaps in to apply the cool factor so quickly that only a very sensitive child is likely to be bothered.
As a movie-goer who is not wowed by technology for its own sake, and is already sick of being asked to go back and see every movie ever made in its newly released but largely unnecessary 3-D version, I can say that Flying Monsters is exactly what this technology was created for. Science and history are brought to life in a way that fits our kids' imaginations and merits their attention. Fly, don't walk, to the Science Center's IMAX theater; you'll feel millions of years younger.
Flying Monsters 3D plays four times daily:
9:30am, 11:30am, 2:30pm, & 4:30pm
Oct 7 - April 19, 2012
Adults $8.25; Kids (4-12) $5, (13-17) $6
Parking $10 in lot

California Science Center
700 Exposition Park Drive
Los Angeles, CA 90037
323.SCIENCE