20 Fun Things to Do in Killington, Vermont Without Skis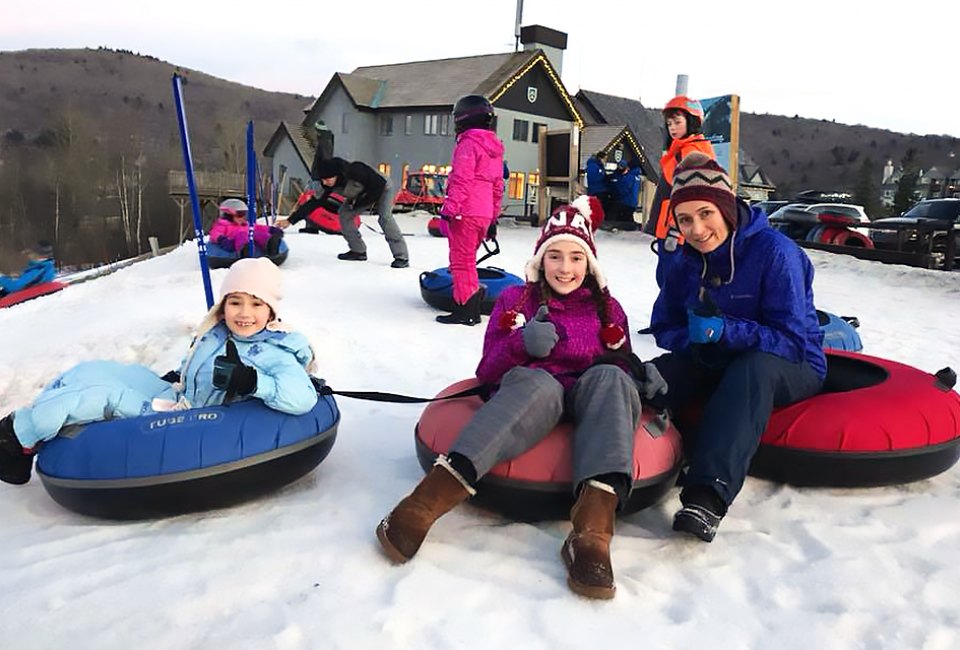 1/5/19
- By
Ally Noel
A family trip to Vermont in the winter months is like walking through a real-life winter wonderland. The natural beauty of the mountains and country terrain appeal to outdoor enthusiasts year-round, but when blanketed with a coat of snow, the Killington region really shines.
It isn't necessary to be an avid skier to enjoy this corner of New England come snowfall. The small villages and towns of central Vermont provide the perfect setting for winter activities for the kids and adults, both outdoor snow sports and even indoor arts and crafts. My family regularly visits the area, and though I hung up my skis some time ago, we're never bored.
Top Things to Do in Killington with Kids
1. Dogsledding
You don't have to go to Alaska to try dogsledding. The whole family can enjoy a sled excursion through the Vermont woods with Braeburn Siberians. This uniquely thrilling experience with friendly huskies at the helm of your sled is sure to be the highlight of the family vacation.
2. Snow tubing 

Feel the rush of cold air against your cheeks as you zoom down the mountain in an inflatable snow tube. Participants must be at least 36 inches tall to enjoy the thrill of mountain tubing at Killington Tubing Park with multiple lanes and a handy lift. 

RELATED: Best New England Ski Resorts for Families

Get up close with the dairy herd at the Billings Farm.
3. Billings Farm and Museum 

Billings Farm and Museum celebrates the history of rural Vermont with an open-air museum that includes livestock barns with a dairy herd, draft horses, sheep, and oxen. You can also take a walk back in time to visit the fully restored 1890 Farm House. 

4. Ice skating

Lace up the skates to slide across the ice at one of the area's skating rinks. Right at Killington, the Foundry at Summit Pond has $3 children's skating ($5 for adults). Rentals are also available. You can also try the locally run Proctor Skating Rink, or if you prefer gliding around indoors, consider Union Arena Skating Rink in nearby Woodstock.

Take a ride in a Snowcat-drawn sleigh at the Killington Resort. Photo courtesy Killington Resort
5. Sleigh ride

Sure, you can dash through the snow in a one-horse open sleigh at The Mountain Top Inn and Hawk Resort, but the kids might find it even more thrilling to be pulled through Killington's trail network by a Snowcat drawn sleigh!
6. Paramount Theatre
This beautifully restored local theater provides live entertainment and screened events year-round, including both adult and children's programming. Make sure you check out its calendar of ongoing events. 

7. Cross-country skiing
For a gentler intro to skiing, try cross-country skiing. It's a fun way to get outside without squeezing your feet into uncomfortable ski boots! The Mountain Top Inn has one of the oldest Nordic Centers in the United States. Purchase a day pass and explore the 60 km of trails as a family. Make sure you stop into the lodge and grab a cup of cocoa when you're through! 


Snowshoeing at Killington Resort is a great way to spend a ski-free day in the snow. Photo courtesy of Chandler Burgess

8. Snowshoe
Take a guided snowshoe tour with Bear Trax Adventures, which offers a range of outings for big kids, teens and up, or adults only. Most tours begin at age 8 and up, running an hour or more. Kids will enjoy clomping around the Killington golf course or through the woods, and you'll enjoy the peaceful mountain landscape.
9. Beast Mountain Coaster 

Get the rush of racing down the mountain without ever putting on a pair of skis via the Beast Mountain Coaster. Riders over 36 inches tall will enjoy a thrill ride down the 4,800 foot-long track that twists and turns through the woods at is located at the Snowshed Lodge on Killington Mountain.
10. Scenic gondola rides 

Why should skiers get all the good views? Soar to the top of the mountain in a gondola ride. Killington Mountain Scenic Gondola rides are FREE of charge for kids ages 6 and under. Stop by the ticket window to pick up your complimentary passes. 

11. New England Falconry at the Woodstock Inn
New England Falconry offers this once-in-a-lifetime experience with these stunning winged creatures at the lovely Woodstock Inn. An introductory session includes handling and flying a trained hawk, but you're also welcome to just observe.
RELATED: 25 Things to Do in Portland, Maine with Kids



Warm up at the Long Trail Brewery.

12. Family-friendly breweries
The Killington region has a handful of family-friendly breweries that are sure to whet your whistle. Long Trail Brewery is located about 11 miles from Killington and is a family favorite. Harpoon, and Killington Beer Company are also located close by. 

13. General stores
There is nothing quite as "New England" as a general store. Gillinghams in Woodstock is a perfect spot to browse for souvenirs and keepsakes. Comic books, candy, toys, local goods, and toiletries all stock the shelves at F.H. Gillingham & Sons. 

14. Montshire Museum of Science

The Montshire Museum of Science has over 150 science experiments for children to discover. Kids 5 and under will have a blast exploring Andy's Place, an area of the museum dedicated to preschool-aged explorers. There is also a bubble exhibit, Big Blue Blocks, and tons more fun to explore. 

15. Sugar and Spice 

It is impossible to visit the Killington region without stopping for breakfast (or lunch) at Sugar & Spice. The restaurant is situated inside a working sugar house and serves up some of the fluffiest pancakes in existence. It's the perfect pre-snow-sport fuel-up with the kids or last meal before the journey home.

Stop in to the Killington Art Garage for creative indoor fun. Photo courtesy of the venue
16. Killington Art Garage
Kids can book a creative session at the Killington Art Garage that includes a clay bar, painting, or more art fun with a steady rotation of artists.
17. Fat biking
Adventure seekers will love this relatively new sport. Fat biking uses oversized tires to ride on snow. Fat Bike Vermont has a variety of options that will work for families, including the option to join a short tour or rent the bikes out for half or full days.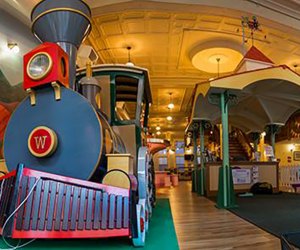 All aboard for fun at the Wonderfeet Kids Museum. Photo courtesy the venue
18. Wonderfeet Kids Museum
The Wonderfeet Kids Museum located in nearby Rutland is a perfect spot to warm up on cold days with kids. A clay modeling table, sensory table, wind tunnel, creative art space, and more beckon little ones to explore.
19. Indoor rock climbing

Those mountains may be covered in snow, but that doesn't mean you can't learn to climb one. Break a sweat indoors at Green Mountain Rock Climbing where kids (and adults) can challenge themselves to scale the wall.
20. Sledding 

Grab a gratis sled for a post-dinner sled down the hill behind the Mountain Top Tavern. (Free sleds are for patrons only but ice skating and snowshoeing are available to the public, including rental options.)
Photos by the author except where noted.