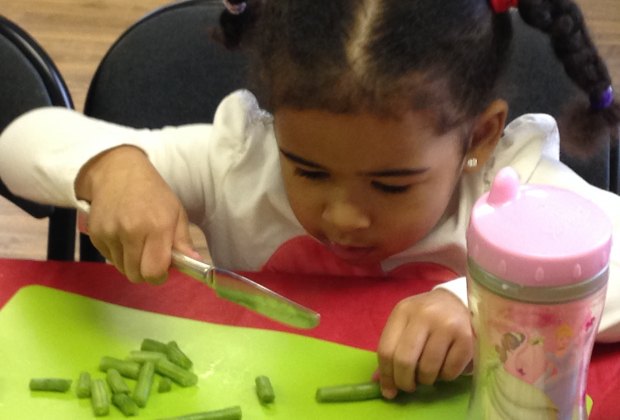 Cooking Classes for Kids in Westchester
Cooking is a favorite pastime in our house, so my daughter has been in the kitchen since day the day she came home--first in a sling, then in a bouncy seat and, eventually, on a stepstool at the kitchen counter. I'd like to say she's willing taste everything she cooks, but she's willing to at least touch it.
Whether your kids are just getting started on their culinary adventures or ready to step out of the home kitchen and work with the professionals, Mommy Poppins has you covered. Westchester County is chock full of classes for the littlest helpers, seasoned sous chefs and talented teens.
Looking for more fun ideas? Check out our Spring Activity Guide.
Cooking With Kids - Cold Spring and Peekskill
The Manitou School, 1656 Rt 9 D
New Era Creative Space, 1016 Brown Street
Aspiring young chefs ages 4-8 gather weekly to prepare new and exciting recipes from around the world. Held at NECS in Peekskill and The Manitou School in Cold Spring, instructor Sharon N'Diaye leads children as they learn to cook nut free, vegetarian friendly dishes with natural and organic ingredients (vegan and gluten free options available upon request!). Each child has his or her own dishtowel, cutting mat and knife and participates fully in the cooking process--often surprising their parents and caregivers by eating the dish they prepared, right down to the unfamiliar vegetables! Pre-registration is required at both locations; check the website for dates and sessions!
Kids Cook - Yorktown Heights
Hilltop Hanover Farm, 121 Hanover Street
Kids participating in the Kids Cook program at Westchester County owned Hilltop Hanover Farm get a soup-to-nuts look at where food comes from in this hands on class for ages 8-12. Veggie ingredients are harvested right there on the grounds of the farm by participating chefs and then transformed into delicious and healthy snacks. Now that's local! Pre-registration is required for this program.
Little Cooks and Gardeners - Pocantico Hills
Stone Barns Center for Food and Agriculture, 630 Bedford Road
This hands-on class for kids ages 3-6 (and their caregivers!) fosters an inquisitive can-do attitude in young children just as they are forming the food preferences and eating habits which they are likely to carry into adulthood. Little Cooks and Gardeners stresses both the growing process and the preparation process, offering participating parents and caregivers tips and tricks along the way. This program is offered in 6-session series throughout the year. Pre-registration is required.
Kids Cook - Croton-on-Hudson
Organic Teaching Kitchen, 18 Old Post Road
Designed to empower kids ages 8-16 to make healthier decision at the table and in the supermarket, Kids Cook is a nutrition and cooking class which focuses on food groups, label reading, the benefits of eating whole foods and the differences between farm raised and factory made foods and ingredients. Kids in this program prepare meals and snacks made from mostly organic ingredients free of dyes, additives, GMOs and pesticides. Classes take place on Fridays and preregistration is required.
Cooking for Kids and Teens - White Plains
Chef Central, 419 Tarrytown Road
Two separate series, the Cooking for Kids and Cooking for Teens programs at Chef Central take place in their newly designed teaching kitchen in the heart of the Hartsdale location (there are also classes at the Chef Central in Paramus!). Designed for boys and girls ages 3 to 10, and their adult helpers, the hour-long Kids Cooking classes focus on fun foods that kids love--pizza, fruit, cake, cupcakes, etc. The teen classes (ages 11-17) focus more kitchen skills and creating an entire meal centered on the monthly theme--sushi, for example, or Italian Cuisine or BBQ. During the summer, Chef Central runs mini-camps for teens that mirror the curriculum and progression of skills that would be offered in most adult cooking schools. These 3 day camps are themed and last from 9 to 1 each day. Pre-registration is required for all classes.
Kids in The Kitchen - White Plains and Yonkers
Sur la Table
With one store in The Westchester Mall and other at Westchester's Ridge Hill in Yonkers, kids and families have access to a wide variety of on-site cooking classes at this upscale store. Mommy and Me (though any caregiver is welcome!) and Family Funtime classes are for ages 5 and up while Kids in The Kitchen is for ages 8 and up. In addition to these staples, holiday themed classes, teen classes and camps often pop up on the online calendar. Most classes last 2 to 2 ½ hours and advanced registration is required. At the end of each session participants receive a 10% off coupon to use during the week of the class.
Junior Chef Classes - White Plains
William Sonoma, 125 Westchester Avenue
Several times a month, Williams Sonoma in The Westchester Mall offers Junior Chef classes for kids. Most classes are for either ages 5 and up or 8 and up and focus on preparing and tasting simple snacks and meals--salsa, burgers, fudge or waffles, for example. Though classes are FREE, space is limited. Pre-registration is very strongly recommended.
Parent and Teen Day - Hyde Park
Culinary Institute of America, 1946 Campus Drive
Have a teen who is on the path to career of culinary stardom? Enjoy bonding over bread dough and cookies? Did you have THE TALK while making soufflés? If cooking is more than a way to render food edible, then Parent and Teen Day at the Culinary Institute of America might be the perfect getaway for you and your teen. Experience what it is like to cook in a professional kitchen during these one day workshop and take home an official CIA Apron and a copy of the cookbook used during class. These classes happen twice a year and participants can choose from a wide range of classes focusing on the skills it takes to be a home cook and, perhaps someday, a professional chef.