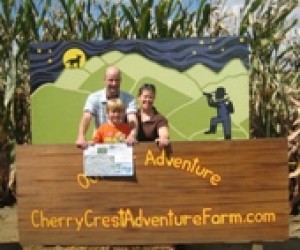 Enjoy a Fall Weekend Getaway of Family Fun at Cherry Crest Adventure Farm
We have been telling you about lots of fun farm trips to take this harvest season, most in the tri-state area that are a short drive, train trip or subway ride away. We recently visited Cherry Crest Adventure Farm, which could be considered the pinnacle of family-friendly farms. Located in the heart of Amish Country, it's just a little too far away for a day trip, but a perfect destination for some family farm fun on Columbus Day weekend (or any other weekend, for that matter.) Read on for our highlights of the farm and find out what else to do in the area.
Cherry Crest Adventure Farm is about three hours from midtown Manhattan and it is totally fantastic and completely worth the drive. A real 200-acre working farm has carved out a little niche business offering high-quality agri-tainment that is a hit with the kids. Where most farms offer tractor rides, crops to pick and some farm animals, Cherry Crest offers this plus two fast, super high sack slides, two amazingly fun bouncing pillows and a five-acre corn maze—these are a few of their 50-plus fantastic farm attractions. There is no limit to the number of times you can do the activities, and trust me, the kids will want to do them over and over and over.

The Amazing Maize Maze:
The highlight of a day at Cherry Creek is the five-acre maze. It's easy to get lost, lots of fun to find your way out of and worth every second of the three hours it can take to find your way through. There is a shortcut that whittles it down to 20 minutes if you are traveling with little ones who can't handle three hours in a corn maze and helpers that can point you in the right direction. There is also a mini-corn maze in the barnyard area if you don't have time to commit to this one, but it isn't as fun. Older kids will love to travel through the maze looking for clues which can be assembled into a map of the maze.
OUR LATEST VIDEOS
The labyrinth offers little pit stops with zip lines, spelunking, mock canoeing, rope climbing and other outdoor pursuits. My son is 5.5 years old and enjoyed the entire experience of the maze and so did we! It was a great family adventure—don't skip it. For extra fun, try a night time flashlight maze.
The rest of the activities are divided between the Courtyard and the Barnyard Areas. Both areas have fun activities for toddler and older kids. With more than 50 activities on the farm, we can't list them all—below are some of our favorites.

Courtyard Area Activities: The area surrounding the corn maze and the entrance.

Pedal Carts: Depending on your size you can travel the inner or outer loop and pedal your way around a real track on a sort of trike/tractor thing. Kids go really fast and have a blast.

Lil' Wagon Express: A short wagon ride through the cornfields pulled by a tractor just for little ones.

Farm Wagon Tour: This hay wagon ride around the whole farm takes about 20 minutes. You'll learn the history of the farm, see the working animals and relax.

This area also has rope mazes to explore, rubber ducky races that require you to pump water from an old-fashioned pump, the farm animal center for feeding and petting ducks, llamas and pigs and the chick hatchery where you can see and hold baby chicks.

Cherry Creek offers a large variety of food in the courtyard—burgers, dogs, sandwiches, homemade fudge and their amazing sweet roasted corn. You can also bring a picnic with you to eat in the picnic area up the hill.
Barnyard Activities: This area isn't really a barnyard at all. There are different stalls set up with lots of fun activities to keep the kids busy for hours.

Barnyard Jump: The highlight of the barnyard are these two huge blow up "pillows" in the ground. There is a smallish one for toddlers and a giant one for big kids. They are kind of like giant trampolines but I think they may be filled with hot air. Just try to pull the kids away.

Straw Bale Racer: Climb up a big hill, sit on a sack and zoom back down into a bunch of hay bales.


Giant Hay Chute Slide: This slide is located on the same hill and shoots you down a long and steep tunnel slide on a sack.

Slingshots: Launch balls into a huge net by pulling back on a giant slingshot.

What is a farm without hay? Kids can maneuver through a hay bale obstacle course, get lost in hay tunnels or take part in the age old tradition of hay jumping. Build a log cabin with life sized Lincoln Logs, play volleyball with a five-foot ball or try to hit the target with a basketball, baseball or football in the ball-cade (Dad's really like this area.) There is also a special playground area for toddlers.
Festivals: Special themed days during the fall that pump up the fun with cool activities.
Pumpkin Madness: Saturday, October 31 is time to clean out the pumpkin field by destroying all the pumpkins left in it. Throw them, bowl with them, launch them from a catapult or stomp on them. The fun ends when the pumpkins are gone so get there early.
Other farm fun events can be found on Cherry Crest's events calendar.