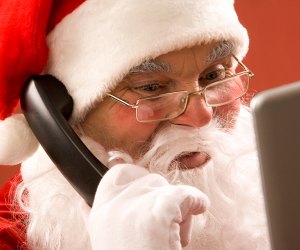 Call Santa: How to Call Santa Claus for Free
Ready or not, Santa Claus is coming to town! If the kids can't wait another minute, let them call Santa for a big thrill. We've rounded up several ways to call Santa, get Santa to call your kids (or text them), and more Christmas fun, like receiving a letter from Santa or tracking Santa on the big night.
Want to really blow their minds? There are apps that let you share a photo of Santa handing out presents in your very own living room. Christmastime is already among the most magical seasons for children, but these fun tools take it to the next level. Read on for our favorite ways to check in with Santa before Christmas Our special gift for you: These special Santa calls and experiences are (mostly) FREE!
Call Santa Claus Options
Christmas Dialer
While this Santa call isn't personalized, it allows parents to pick from a few options that make it better than the average prerecorded call. Choose between a call from Santa or the "Elf on the Shelf," and then select one of four possible messages. This call comes within seconds of clicking submit on the website, so make sure the kids are at home when you do it. This call is strictly one-sided, meaning kids just listen and don't actually get to talk to the caller. You can opt for a premium package, though, which allows you to schedule the call in advance and save the message as a computer file. The first call is FREE; additional calls require an upgrade to premium, which starts at $1.99 for two calls. Pro-tip: Save the number (858-225-7702) in your phone with a picture of the big guy to really up the believability factor!
Portable North Pole
Available on iTunes and Google Play
I used my 3-year-old as a test case for this service which creates well-made video messages where Santa and his elves check in from the North Pole. Type in your child's name, birth date, and age, then upload a photo, which appears in the video to make it look like your child is calling Santa. The app even offers various pronunciations of your child's name to get it just right, though didn't actually recognize my daughter's full name, Pollyanna. I had to shorten it to Polly to get it to work. I was able to create a free video on the website, though the app offers plenty of premium options. Be warned, though, the video "call" does open with an ad. In-app purchases also allow you to record your child's reaction as they watch the video, as well as create personalized phone calls, and more. There are two sides to this app—one for the children to interact with and see their personalized videos, as well as play a couple of games, and talk to an elf who repeats whatever you say; and a passcode-protected parents corner where you can "help" Santa craft the perfect video or call. Though the apps are FREE, the premium options add up quickly.
Santa Texting Campaign
Santa must have gifted himself a smartphone last year and he's not afraid to use it. Visit this website to input your phone number, plus family information, including kids' names, for personalizes text messages from the man himself leading up to the big day. He promises to share everything from jokes to recipes as he helps you count down the season. You'll receive messages about once every five days from December 1 to the final week before the holiday when they'll arrive daily. Described as a digital advent calendar, this is definitely a low-effort way to keep in touch with the man of the season.
Alexa, Call Santa
If you thought Santa was everywhere when you were a kid, wait until you find out how well connected he is today. If you have an Alexa device at home, the kids can call Santa themselves with the three key words. Alexa hooks you up with a recording which encourages your kids to sing carols to spur on Santa's reindeer and hear what the elves are up to. Parents need to enable this Alexa skill before the kids can chatter away on their own.
Hey Google, Call Santa
Santa also uses Android, of course, and Google Home and Google Assistant users can dial up Santa from their devices to chat or get an update on life at the North Pole. Try saying "Hey Google, call Santa", and you'll be able to help the jolly man in red compose a new Christmas song. But that's just the start. Ask "what's new at the North Pole", and listeners will be rewarded with a news cast from chief North Pole correspondent, Dimplesticks the Elf.
Get a Letter from Santa
USPS Letters from Santa
For some good, old-fashioned, analog holiday fun, participate in the USPS Letters from Santa program. Sneakily remove your child's Santa letter from the mail and write a response. The USPS even offers some examples to cure your writer's block. Then take both letters and insert them into an envelope addressed to your child with a "Santa, North Pole" return address and appropriate first-class postage, and mail them (in yet another envelope) to: North Pole Postmark Postmaster, 4141 Postmark Drive, Anchorage, AK, 99530-9998. Hurry, though. Letters must be received by December 14 to be returned to your child with a North Pole postmark before the big day. Organizers suggest mailing no later than December 7.
Post-Card from Santa
Available on iTunes and Google Play
If the USPS program involves a few too many steps for your crunched holiday schedule, Touch Note has an easy solution. The app, which allows you to turn your photos into postcards to loved ones all year long, has added cards from Santa to its holiday offerings. Log in by December 16 to send your kids a card. You can choose from four different designs, ranging from cartoon-y Santas to realistic ones, with a variety of messages, all of which are editable. They'll include a map in the corner denoting that the card has come from the North Pole. Post-cards cost $3, though you can purchase multiple credits or become a member if you want to use the service long-term.
Tracking Santa 2019
NORAD Santa Tracker
Also available on iTunes and Google Play
Growing up in Colorado, the fact that Santa's every move was tracked via NORAD, less than 100 miles from our living room, was common knowledge, but as we watched the local news for updates or read about Santa's adventures in the paper on Christmas morning, I never knew the charming story behind NORAD's entree into the Santa tracking business. I guess I thought it was classified! All these years later, NORAD's best people are still hard at work tracking Santa's every move, only now they've brought their technology to the masses via the web and smartphone apps. Log on before December 24 and you'll see a Christmas countdown, plus be able to explore the North Pole with some interactive games, or watch videos about Santa and NORAD. Come Christmas Eve, the military's top Santa trackers man the command center at Peterson Air Force Base in Colorado Springs, Colorado, and transmit live updates on Santa's every move via the digital platforms. FREE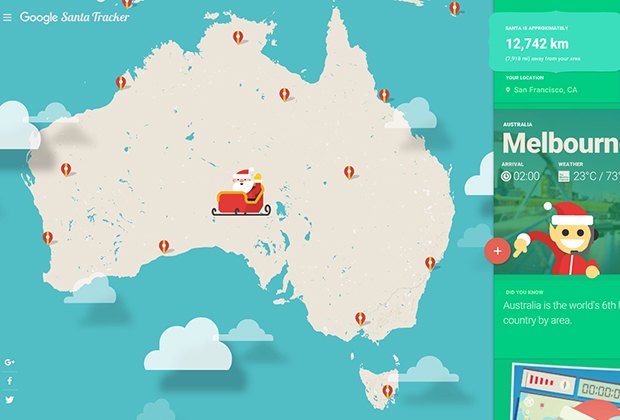 Follow Santa's sleigh with the Google Santa Tracker, plus enjoy holiday-themed kid games.
Google Santa Tracker
Also available on Google Play
Google's Santa Tracker app doubles as an advent-calendar-type game by revealing new holiday activities throughout the month leading up to Christmas Eve, and that's when the fun really gets started as Google's brightest minds stay up all night following Rudolph's light as it guides Santa across the night sky. Previously-released activities include an elf maker, a map quiz (that stumped me with Northern Europe on Level 4!), a present drop, a translator that allows you to hear "Santa Claus," "ho, ho, ho," "season's greetings," and "Happy New Year" translated into 25 different languages, including Elvish, and much more. FREE
Catch Santa! With an App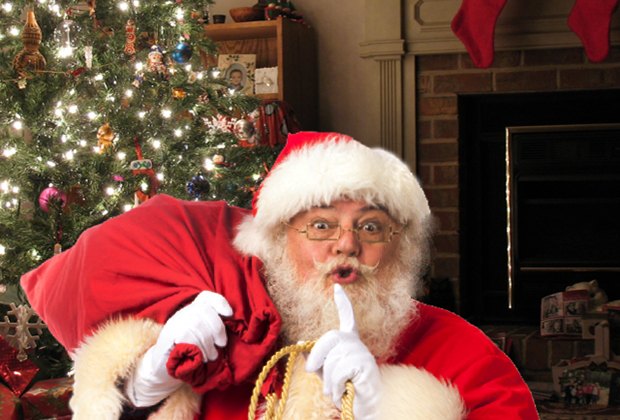 Catch Santa in my House app screenshot. Background photo by James Emery via Flickr.
Catch Santa in my House
Available on iTunes and Google Play
Once the presents are unwrapped and the paper is bunched up and thrown away, blow your kids minds by letting them think you caught Santa in your living room with the help of this app, which lets you upload a photo of your Christmas tree, presents piled high around it, and import a Santa into the scene. From a Santa busy at work barreling through his bag for the perfect present, to one of him looking surprised, or another shushing you to keep his secret, this app (out of many like it) offers more "free" Santa's (12) to add to your creation than its competition, though a 99-cent fee unlocks 13 more. Beware of all the annoying pop-up ads that come with this and other free apps.
Capture the Magic
Available on iTunes, and Google Play
Another photo editing tool to show kids Santa was really here! Just like Catch Santa, use this service to essentially Photoshop Santa into your lives. Merge a photo of your tree laden with gifts with one of their Santa poses (unloading the bag of gifts, standing, smiling, you get the idea), and then share with kids on Christmas Day. There are a dozen-plus Santa poses from which to choose, as well as a black Santa. The price varies. While you can get two Santa's free, prices for other options start at 99-cents; a premium upgrade is $4.99 and includes 57 Santas. If you create your photo online, prices start at $1.99. By the way, come back to the app for Easter or when that first tooth is lost. There are Easter Bunny and Tooth Fairy options, too!
More North Pole Fun for Kids on Christmas Eve
Reindeer Cam
If you're anything like me, you're probably reminding the kids incessantly that "Santa's helpers are watching," this time of the year. Turn the tables a bit, and let your kids spy on those helpers—at least the furry, antlered variety with this live Reindeer Cam. Become a supporter for $5 and add your kid's name to the "Nice List" that scrolls above the barnyard feed (or maybe you can perpetuate that you-better-shape-up storyline by not doing so). You'll also unlock access to some premium video content by doing so. FREE
Top image: Catch Santa in my House app screenshot. Background photo by JD Hancock via Flickr. Unless otherwise noted, all images from the apps.
This article first published in December 2014, but has since been updated.