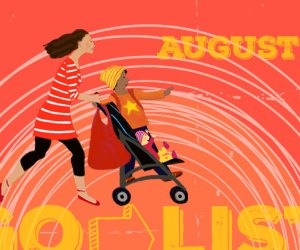 August GoList: The Best Things to Do in Westchester with Kids
Summer is half over, but don't despair: There's still plenty of summer fun for Westchester kids happening in August, and we've rounded up some of the things we're looking forward to most this month.
At the New York Renaissance Faire, Elizabethan England is recreated with a decided sense of humor and frivolity, along with rides, games, food, roving monarchs, and gads of entertainment. There are lots of other summer fairs and festivals to enjoy, including the sprawling and multi-faceted Dutchess County Fair.
Have earthy fun at the Muddy Puddles Mess Fest, or look to the sky at the New York Air Show. The Hudson Valley Shakespeare Festival Family Shows provides outdoor theater intended for an all-ages audience, plus pre-show theater workshops for kids.
Read on for our top picks for the month, and consult our Event Calendar and Summer Activity Guide for many more options.
Sign up for our weekly newsletters and like us on Facebook to stay in the know!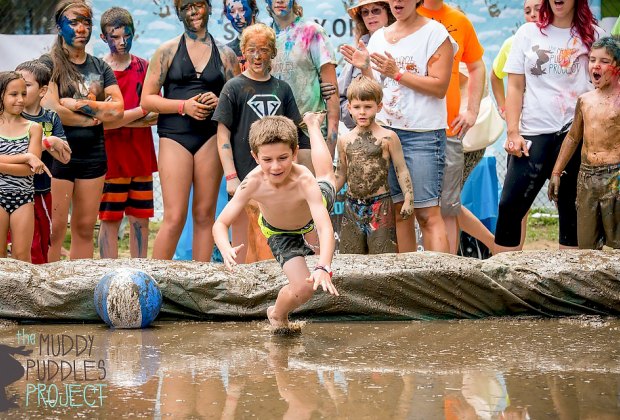 Get ready for messy fun at the Muddy Puddles Mess Fest. Photo courtesy of the Muddy Puddles Project
Muddy Puddles Mess Fest – Carmel
Saturday, August 3, 2019
Not a day to discourage getting dirty, this monstrous mess fest piles on the goop—from pie tosses and food fights to splatter paint and, of course, muddy puddles. There are also zip lines, paddleboats, magic shows, and a whole smorgasbord of fun. The best part? It all benefits the Ty Louis Campbell Foundation in support of pediatric cancer research.
Hudson Valley Exposition – Peekskill
Saturday, August 3, 2019
This annual exposition includes an artisan marketplace with more than 100 vendors, four main-stage acts, a fireworks display, and an interactive kids zone featuring face painting, the Bubble Bus, exotic animals, and more—all FREE.
Sand Castle Competition – New Rochelle
Saturday, August 3, 2019
Form a team with family and friends and test your skills at sculpting in sand, as you compete for a trophy prize in this annual tournament. Music and games add to the fun.
Shakespeare for Family Audiences – Mamaroneck & Garrison
Whether you choose Julius Caesar (Mamaroneck, August 3) or Much Ado About Nothing (Garrison, August 20), the Hudson Valley Shakespeare Festival creates interpretations of Shakespeare's plays that are more accessible to younger viewers. The troupe is also presenting Stephen Sondheim's Into the Woods (Garrison, August 13), and both of the Garrison productions are preceded by an interactive theater workshop.
South Salem Fire Department's Carnival – South Salem
Wednesday, August 7 – Saturday, August 10, 2019
Enjoy a traditional carnival with all the trimmings—plus a parade on Wednesday.
Beacon Corn Festival – Beacon
Sunday, August 11, 2019
The annual event, held at Pete and Toshi Seeger Park, offers assorted food (beyond corn!), live music on multiple stages, kids' activities, environmental displays, craft vendors, and more. FREE (except for the cost of food)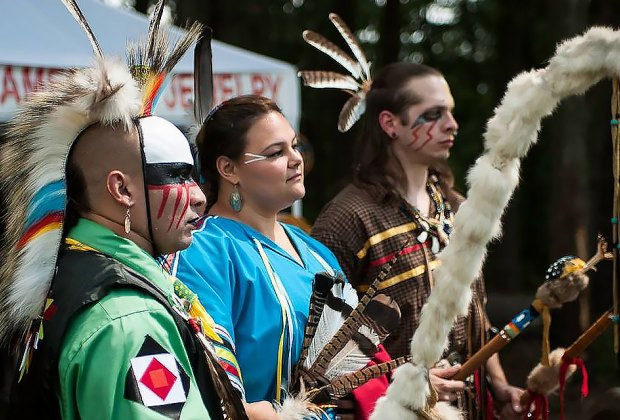 The Nimham Pow Wow returns to Carmel August 17–18. Photo courtesy of the event
Nimham Pow Wow – Carmel
Saturday, August 17 – Sunday, August 18, 2019
Celebrate Native American culture with teepees, traditional cuisine, a hand-drum competition, performances, birds of prey, and more. Admission is only $1 and benefits the Wounded Warrior Project.

Little lords and ladies go free on opening weekend of the New York Renaissance Faire. Photo by the author
New York Renaissance Faire – Tuxedo Park
Saturdays and Sundays, August 17 – October 6, 2019, plus Labor Day
Go back in time to Elizabethan England and enjoy games, rides, arts, crafts, food, music, and dance. Watch jousting tournaments, meet Robin Hood, and marvel at the jugglers, musicians, pirates, parades, and more. Kids go free (and enjoy added perks) opening weekend.
Pop-Up Roller Skating – Yonkers
Saturday, August 17 – Monday, September 2, 2019
The Cross County Shopping Center is introducing a pop-up roller-skating rink, featuring music and occasional theme nights.
Dutchess County Fair – Rhinebeck
Tuesday, August 20 – Sunday, August 25, 2019
The second-largest fair in New York State has lots of family fun to offer. Check out the petting zoo, racing pigs, games, rides, music, jugglers, science shows, and loads more.
Summer Hoot – Olivebridge
Friday, August 23 – Sunday, August 25, 2019
The three-day Summer Hoot features assorted musical acts, local food, square dancing with a live caller, juggling and other workshops, sheep, blacksmithing demos, campfires, camping, a performance by the Arm of the Sea Theater, and more. What's not to love?
New York Air Show – New Windsor
Saturday, August 24 – Sunday, August 25, 2019
Aerial maneuvers, parachute jumps, aircraft displays, and more await at this two-day event featuring military, civilian, and historic crafts and performers.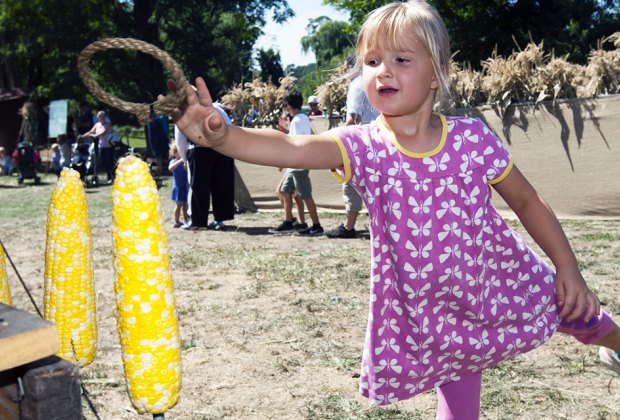 Corn isn't just for eating at Cornucopia. Photo courtesy of Historic Hudson Valley
CORNucopia – Sleepy Hollow
Saturday, August 31 – Sunday, September 1, 2019
Games, crafts, activities, and—of course—refreshments are all truly corn-y at this festival. Pair that with 18th-century activities and you've got a truly a-maize-ing event! Read our review to learn more. (The 2019 event runs two days instead of the usual three.)