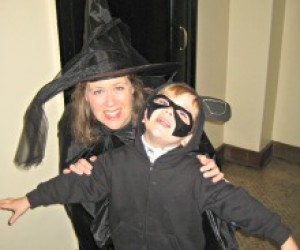 At-Home Halloween Party: How to Throw a Frighteningly Good Celebration in a Scarily Small NYC Apartment
Most families host at-home holiday parties in December. But in my house (make that jam-packed two-bedroom apartment), Halloween is when we throw our big annual shindig. Although my Halloween parties have changed over the years from adults-only spooky suppers with deadly cocktails to more family-friendly affairs, the haunted holiday still gets my creative juices flowing. We host a kids' party every year, and my son and his friends always look forward to it—in fact they usually start asking me about it on the first day of school!

While some aspects of our party remain the same from year to year—revelers come in costume (yes even the parents) and candy is handed out—I try to switch up activities so it's never the same celebration twice. In a few weeks, we'll be hosting our seventh annual party, so I have a lot of tips and ideas for families who want to throw their own Halloween party—yes, even in a tiny New York City apartment.
Ghoulish Games and Frightful Fun
Apple Bobbing: Fill up a large bucket of water and pop some apples in. (Don't have a bucket? You can use the bathtub!) No matter how gross adults think this game is the kids love it. But if you want a more hygienic take on this classic, thread apples on rope, get two adults to hold the ends and let the kids try to eat them without using their hands. For an extra challenge, jiggle the rope while they're biting.
Gross Out: Creep out the kids by blindfolding them and having them plunge their hands into a bowl of grossness like "witches' intestines," a.k.a. cold spaghetti doused with olive oil. Other options: "zombie guts" (the seeds and flesh of a pumpkin), eyeballs (peeled grapes) and petrified toes (slightly dried baby carrots). Or get creative, we're sure you have something gross to touch around the house.

Costume Parade: Have the youngsters strut their stuff in an indoor procession. No room in your place? Parade up and down your hallways. Ideally do it right before pick up so their parents can watch and cheer.

Mummy Wrap Races: I find a way to incorporate this game into every party I throw—Halloween or otherwise. Organize your guests into two-kid teams and have one wrap the other mummy-style in toilet paper. The mummy then has to walk to the other end of the room without ripping the paper. Repeat for the other child. You'd be surprised at how much fun the kids have!

Freeze Dance Zombie Style: While freeze dance isn't specifically a Halloween activity, you just need the right tunes to make it so. Put on Michael Jackson's "Thriller," "Monster Mash" or other fun Halloween songs and have kids bust their best monster moves. Demonstrate a zombie shuffle or Frankenstein stomp and the kids will really have a blast imitating you.

Virtual Tarot Reader: This one is always a hit with school-age kids. Hook up your computer to your TV and go to the website Peter Answers and have the kids ask a question, any question. Peter's answers are always right! See if your youngsters can figure out the trick... or cheat by showing them the secret.

Creepy Craft Sessions: When my son and his friends were younger, I would have them make a craft to start. Decorating a treat bag or a mask are both good options. This year we're going to decorate mini pumpkins although brave parents could try carving jack-o-lanterns.

These are lots of other great Halloween party games and activities. My favorite resource is Family Fun Magazine.

Gruesome Grub
Creepy Cupcakes: What's a kids' party without cupcakes? While I would love to bake a batch of adorable Halloween cupcakes my son always wants his friends to decorate their own. You can go classic with orange frosting and candy corn for jack-o-lantern faces or go gross with chocolate frosting and ground-up Oreos for "dirt" and gummy bug candy.

Customized Caramel Apples: I often make caramel apples in advance of the party and wrap them up as favors, but if you make them at the start they will be sticky enough for the kids to adorn with candy.

Spin It: A lot of Halloween party food can be the same old stuff you'd serve at any gathering, just change your marketing strategy. Pigs in blankets become mummy fingers and barbecued chicken drumsticks are bloody legs. There are a ton of ideas like this in the book Ghoulish Goodies.

Savory Pumpkin Pies: I take pie crust (store-bought is fine) and use a cookie cutter to make pumpkin shapes with it. Then I layer ham, cheese and honey mustard between two cutouts, crimp together and bake for hot sandwiches.

Creepy Cookies: I have served these simple Witches Finger Cookies every Halloween since I read about them in a Mommy Poppins post!

Party Tips and Tricks
We usually throw our shindig the Saturday before Halloween for just a couple of hours so it won't conflict with all of the other seasonal activities going on in NYC. Of course many people schedule their parties on October 31 so they end just as trick-or-treating begins in their building, so the kids can hunt for candy together. Might be tricky this year though since Halloween is on a weekday.

Halloween parties can quickly turn into sugar-fueled insanity, so be a good neighbor and inform those living beneath and beside you of your plans. And if they have kids, invite them too!

Wear a costume! It sounds like a no-brainer but so many parents just let their kids have all the fun. My husband and I always wear something kooky and urge the other parents to do it, too. It really adds to the atmosphere.

Read about other ghoulish activities, events and ideas in our Halloween Guide.